AirDye Aims to Save Oceans of Water by Retooling Textile Mills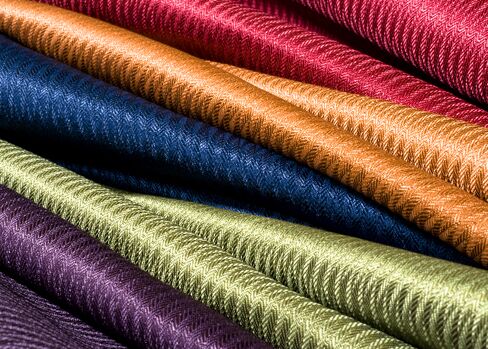 The textile industry uses massive amounts of water and causes significant pollution, according to the Natural Resources Defense Council. Data on the extent of the problem worldwide are difficult to find, says Susan Egan Keane, a senior environmental analyst at the advocacy group, because governments do not often focus on water as a regulatory priority. She pegs textile factories' annual water consumption in China alone at more than 9 billion tons -- that's 110,000 times the amount of water in San Francisco Bay.
Despite the waste, the typical fabric-dyeing factory still relies on decades-old processes, using 200 tons of water per ton of fabric, Keane estimates. AirDye Solutions wants to improve the industry's environmental footprint by replacing the traditional dyeing process with a more efficient method: printing. It licenses textile coloring technology that mills can use to retrofit their existing equipment and also offers its own line of fabrics. AirDye can cut water use by 95 percent, energy consumption by 86 percent, and greenhouse gas emissions by 84 percent compared with traditional dyers, according to a consulting firm AirDye hired to assess the new method's impact on the environment.
The savings come from the process. Rather than dip fabric into vats, textile makers buy the 140-person New York City company's dye-laden materials and use them to impregnate fabric fibers with color. The degree of penetration can be controlled, so two different prints can decorate both sides of a fabric, enabling reversible clothing. Apart from a special attachment for reversible items, new equipment isn't needed; AirDye's method works with presses that are standard equipment in most textile plants, says Chairman and Chief Executive Officer Larry Levy, a former Xerox (XRX) executive.
Beyond its sustainability appeal, AirDye touts the brightness of its colors and sharpness of designs at a cost equivalent to dyeing. "AirDye's innovation is like the difference between color TV and HDTV," says New York City dressmaker Patrick Argenti, who started using AirDye's fabrics in 2009. "The flowers seem so real you almost want to bite them." But he says his buyers, mainly boutiques, don't care about the environmental impact of the materials he uses. "They say, 'Hey, Pat, give me a hot dress, man. If it saves some water, great. No chemicals? Great. But you better ship me a hot dress.'"
AirDye's 150 customers include designers such as Argenti, apparel brands that license its technology, and hotel chains that use its special printing process to decorate room interiors. AirDye owns a library of 16,000 copyrighted designs and a 140,000-square-foot printing facility in Harrisonburg, Va. Levy says AirDye had more than $10 million in revenue in 2010, and he's optimistic about 2012, because more potential customers are ordering more fabric samples: about 600 a month so far this year, compared with 150 a month last year.
What About Cotton?
Levy acknowledges AirDye's process has a major limitation: It works only for synthetics such as jersey and satin -- not natural materials such as cotton or wool. Ingrid Johnson, a textile development and marketing professor at the Fashion Institute of Technology in New York, says this limitation undercuts AirDye's potential impact on the industry. "It's a great idea, but we can't use it on the fiber that has an everyday impact in our lives -- cotton." Levy notes that the textile industry spends $100 billion annually to decorate manmade fabrics, excluding the cost of the fabric. "That's a pretty huge market." he says, "If you get one-tenth of 1 percent, you build a nice business."
Although Levy won't say if AirDye is profitable, he has raised a total of $80 million in equity capital, including $38.5 million from the Quercus Trust, philanthropist David Gelbaum's family fund. In July, AirDye completed a $25 million credit facility with Platinum Capital, a hedge fund in New York. Platinum portfolio manager Ari Hirt says AirDye's innovation will shrink lead times because of faster textile sampling and printing. He underscores how rare it is to find an "economic good-value proposition" that is also "great for the environment."
After Argenti's AirDye dresses hit the runways in 2010, sales doubled from the previous year. "We expect to triple or quadruple sales come 2012," he says. Argenti would like to offer reversible dresses, too, but needs to overcome some technical hurdles first. In the meantime, clothes horses can consider his designs in dozens of colors, not just green.
Before it's here, it's on the Bloomberg Terminal.
LEARN MORE