World Bank Sees China Soft Landing, Asia Stimulus Room: Economy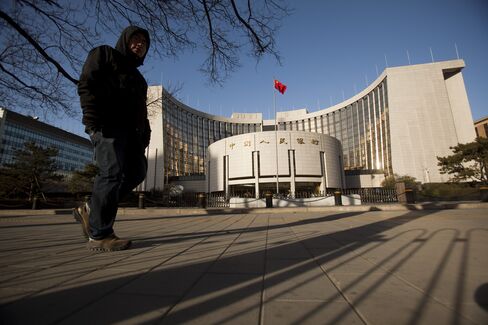 The World Bank said China is heading for a soft landing of growth in excess of 8 percent next year, and with most Asian nations has fiscal scope to cushion its economy from an escalation in Europe's debt crisis.
Developing East Asia, which excludes Japan, Hong Kong, Taiwan, South Korea, Singapore and India, will see its expansion moderate to 7.8 percent in 2012 from 8.2 percent this year, the Washington-based development lender said in a semiannual report today. While China faces the risk of a "strong" impact from a real-estate correction, its gross domestic product will rise 8.4 percent next year and about that pace thereafter, the bank said.
The report signals that Asia, which led the world out of the 2008-2009 recession, is poised to withstand the blows from any slump in demand for its exports or pull-back in credit by European banks. The World Bank said countries with high investment rates, such as China, should focus on boosting consumer spending in any fiscal stimulus, such as with social security and pension provision.
"Clearly the region is being affected by Europe and the global environment has weakened," Bert Hofman, the World Bank's chief economist for the East Asia and Pacific region, said in an interview with Bloomberg Television. At the same time, "imports into China are holding up quite nicely and it is becoming increasingly a market for consumption goods of manufacturing countries in the region."
Retreat in Stocks
Asian stocks have retreated amid concern that the region's export-reliant economies will suffer the impact of diminished global demand as the euro region struggles to stem its debt crisis. The MSCI Asia Pacific Index traded 0.2 percent higher as of 5:40 p.m. in Tokyo, paring this year's decline to 18.2 percent.
In other economic releases today, Taiwan's unemployment rate increased for the first time in five months in October. Hong Kong's inflation unexpectedly held at 5.8 percent, exceeding the 5.7 percent median estimate of eight economists surveyed by Bloomberg News.
The U.S. Commerce Department may say today the economy expanded at a 2.5 percent annualized rate in the third quarter, the same as the government's prior estimate, according to the Bloomberg survey median of 81 estimates. Mexico's economic growth probably accelerated last quarter, with GDP climbing 3.9 percent from a year earlier, a separate report may show.
Canada Consumers
Canadian retail sales probably rose 0.5 percent in September from August, economists surveyed by Bloomberg News predict ahead of a Statistics Canada report today.
The World Bank's growth projection for developing East Asia in 2011 was unchanged from a March estimate. For next year, the lender said in March that growth would be around 8 percent.
Asian policy makers have shifted their focus to shielding growth, rather than stemming inflation, as Europe's debt woes and a struggling U.S. economy increase the risk of another global recession. Australia and Indonesia have cut interest rates this month, while the Philippines in October unveiled a fiscal stimulus package to spur the economy.
In China, "the risk in the short term of any hard landing is very limited -- we believe that a soft landing will take place," Hofman said. The World Bank predicted China's GDP growth will ease next year from a 9.1 percent pace in 2011.
A real-estate bust would have a "strong impact on domestic demand and consumer sentiment" in China, according to the report. Even so, the government has "ample fiscal space and room for monetary policy normalization should such a need arise, more so now that inflation seems to be on the wane again," the bank said.
Sliding Currencies
The World Bank forecast China's inflation rate to slow to 4.1 percent next year -- still "elevated" -- from 5.3 percent in 2011.
"Investors still do not fully discount the possibility of a disorderly sovereign debt restructuring in the advanced economies," the World Bank said in its report. "Should such an event occur, it may well trigger another recession in Europe. Spillovers to developing East Asia will be substantial, through trade, financial flows, remittances, and consumer and investor sentiment."
Emerging Asian nations felt the impact of Europe's woes in September, when their currencies slid against the dollar, prompting them to use some of their foreign-currency holdings to limit the impact. The World Bank said that reserves "should be sufficient to withstand further shocks."
India's rupee fell to a record of 52.73 per dollar today, prompting Subir Gokarn, deputy governor at the central bank, to say he's weighing the possibility of action to stem the declines.
'Ready to Act'
East Asian countries had a median value of foreign-exchange reserves equivalent to 50.4 percent of gross domestic product as of mid-2011, or enough to cover 8.9 months worth of imports, according to the World Bank.
Policy makers in the region are "likely to hold off further policy tightening and stand ready to act should further negative shocks to growth occur or in the extreme case of a disorderly resolution of the euro zone debt problem," it said.
In China, monetary conditions "remain accommodative" and there's space for further fiscal stimulus if necessary, the World Bank said. The central bank said Nov. 16 that it can't relax vigilance over inflation, as "the foundation of price stability is not yet solid," while reiterating Premier Wen Jiabao's pledge to "fine-tune" policies when needed.
'Lingering Vulnerabilities'
"Policy makers will need to walk a fine line guarding against the short-term risks to growth and the lingering vulnerabilities associated with a still-buoyant, if not overheated, economy," the World Bank said. "To mitigate the vulnerabilities of continued low real interest rates, an easing of fiscal policy appears the most appropriate line of defense before the monetary policy stance is eased."
While new capital rules being introduced in Europe will constrain the ability of the region's banks to lend in Asia, high reserves and current account surpluses in most East Asian countries will protect them from the impact of possible renewed financial stress, the World Bank said.
"Bank credit flows remained stable through the first half of 2011 but represent an important risk, should European banks start deleveraging," the Washington-based lender said. "Even if a definitive euro zone settlement is implemented successfully, European banks would likely need to deleverage and could reduce exposure to emerging markets."
International banks reduced loans available to East Asian companies by about $36 billion between the middle of 2008 and the first quarter of 2009, the World Bank said.
"An impact of similar proportions now could mean that over $30 billion dollars flow out, constraining credit available to the private sector," according to the report. European banks have about $427 billion of loans outstanding to developing East Asia, it said.
Before it's here, it's on the Bloomberg Terminal.
LEARN MORE