Tokyo Exchange Enters $30 Billion Merger Wave With Osaka Bid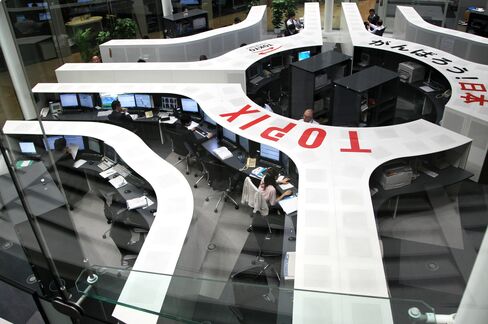 Tokyo Stock Exchange Group Inc.'s takeover of Osaka Securities Exchange Co. marks its entry into a global wave of mergers that has seen $30 billion in proposed acquisitions over the last 13 months.
TSE offered 480,000 yen a share for its smaller rival, a 14 percent premium to Osaka's close the previous day and 23 percent above its average price since the talks were announced March 10, according to data compiled by Bloomberg. Osaka Securities, whose derivatives platform hosts Nikkei 225 Stock Average futures, rose 4.6 percent to 440,500 yen. The offer implies the bourse is worth 129.6 billion yen ($1.68 billion).
Two decades of slowing growth and recession have reduced the value of Japanese stocks since the market peaked in December 1989. The country lost its place as the world's second-largest equity market to China in 2008 and hosted less than 1 percent of global initial public offerings this year.
"It will make the combined entity a weighty partner in future cross-border deal discussions," said Sam Hilton, a Hong Kong-based exchange analyst at Keefe Bruyette & Woods Asia.
Tokyo's exchange, home to Sony Corp. and Toyota Motor Corp., will buy between 50 percent and 66.67 percent of Osaka's outstanding stock. The stock hit a high for the year of 482,500 yen on Feb. 18.
'Eroded Presence'
"The presence of Japan's market has greatly eroded," said OSE's President and Chief Executive Officer Michio Yoneda at a press briefing in Tokyo yesterday. "We would like to be in full force as a global exchange in the 21st century."
Tokyo's Topix Index slumped 75 percent through yesterday from a December 1989 peak. As of Nov. 22, Chinese shares were priced at $3.50 trillion, compared with $3.43 trillion for Japan, according to data compiled by Bloomberg.
The merged company, tentatively called the Japan Exchange Group, will have four separate businesses operating a cash equity market, a derivatives venue, a regulatory unit and a clearing company, according to the bid document. The new structure will save 7 billion yen a year and increase revenue by offering improved services, the release said.
TSE President and Chief Executive Officer Atsushi Saito will be made CEO of the Tokyo-based company, while Osaka's Yoneda will be chief operating officer. Japan's Fair Trade Commission is expected to begin reviewing the proposed deal next month, according to the statement.
'Economies of Scale'
"With the TSE and Osaka, there's a significant amount of overlapping and there's competition that results in a waste of resources," said Ronald Wan, a Hong Kong-based managing director at China Merchants Securities Co., which oversees about $1.5 billion. "The merger could create some sort of synergy. They want to achieve economies of scale and stimulate their market share. Also this has been a global trend for the stock exchange business. "
Australia's government rejected in April a takeover bid by Singapore Exchange Ltd. that valued ASX Ltd., the southern country's main bourse operator, that was 42 percent above its 20-day average share price before negotiations were reported. The Tokyo bourse own 4.99 percent of Singapore Exchange.
The board of Canada's TMX Group Inc. on Oct. 31 endorsed a C$3.73 billion ($3.65 billion) bid by Maple Group Acquisition Corp. that pays owners of Toronto Stock Exchange 24 percent more than the shares' average price in the 20 days before London Stock Exchange Group Plc made a bid in February. That transaction was rejected by shareholders.
NYSE, TMX Deals
Deutsche Boerse AG, the Frankfurt-based owner of Europe's largest derivatives exchange, offered an 8.1 premium for NYSE Euronext in an all-stock deal that is now valued at $6.8 billion to create the world's largest exchange.
The Istanbul Stock Exchange and TurkDex, Turkey's main derivatives exchange, may merge as the government seeks to develop Istanbul into a regional financial center, the Financial Times reported Nov. 23, citing an interview with Huseyin Erkan, chief executive officer of the ISE.
Turnover on the Tokyo exchange's first section fell to the second-lowest level this year on Nov. 21. Shares worth 757 billion yen were traded, compared with 729 billion on Nov. 15, the lowest since December, according to exchange data.
Japan has hosted $551 million in initial share sales this year, less than 0.5 percent of the global total, according to data compiled by Bloomberg. China was the site of $39 billion in initial public offerings in the same period, the data show.
"Unless they can stop the decline of the Japanese stock market, this merger isn't going to do anything other than buy a bit of time," said Akio Yoshino, chief economist in Tokyo at Amundi Japan Ltd. "This merger is happening for reasons other than a company trying to get synergies or increase efficiency or market share. These bourses are merging for survival amid a shrinking market."
Before it's here, it's on the Bloomberg Terminal.
LEARN MORE