Scene Last Night: Susan Golick, Maria Ramirez, Frank Lautenberg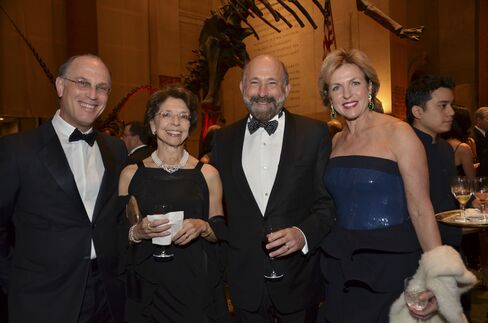 Lenard Tessler of Cerberus Capital Management LP, Morris Mark of Mark Asset Management and Peter May of Triarc Companies Inc. mingled around the Barosaurus skeleton at the American Museum of Natural History last night.
They had gathered for the S.L.E. Lupus Foundation gala honoring U.S. Senator Frank Lautenberg and his wife, Bonnie Englebardt Lautenberg, and featuring a performance by Carole King, including the apt "You've Got a Friend."
The event, attended by 700 guests, raised more than $2 million to provide advocacy and support for people with the autoimmune disease and fund lupus research.
"One of the interesting things about lupus is that most people pass," Susan Golick, a founder and vice president of the S.L.E. Lupus Foundation, said during cocktail hour, referring to the disease's "invisible" symptoms such as swollen joints and fatigue. "If I started pointing out some of the people here with lupus, you wouldn't believe me."
Golick called over Sheri Alexander, a guitar teacher, who has one of her sister's kidneys.
"If it weren't for the S.L.E. Lupus Foundation, I wouldn't have my daughter," Alexander said. It was through the foundation that she learned about gestational surrogacy, which spared her from health risks during pregnancy.
Golick, 64, was diagnosed with lupus 42 years ago. She spent most of this past year in and out of the hospital, battling infections related to her hip joint.
'Amazing Fighter'
"I've done 10,000 hip replacements and Susan is in the top three in terms of level of difficulty," said Dr. Thomas Sculco, surgeon in chief at the Hospital for Special Surgery. "Susan is brave, courageous and an amazing fighter."
"I won't be in a wheelchair at next year's benefit," interjected the patient.
Guests included Maria Fiorini Ramirez, president and chief executive of Maria Fiorini Ramirez Inc. and Jack Lavery, chairman and chief executive of Lavery Consulting Group LLC. Lavery is a co-chairman of the Lupus Research Institute, the research-focused arm of the S.L.E. Lupus Foundation.
New York City Mayor Michael Bloomberg, the founder and majority owner of Bloomberg News parent Bloomberg LP, served as the event's honorary dinner chairman. Bloomberg Philanthropies, which manages the charitable giving of the mayor's personal fortune, last month made an $8 million grant to the Lupus Research Institute.
(Amanda Gordon is a writer and photographer for Muse, the arts and leisure section of Bloomberg News. Any opinions expressed are her own.)
Before it's here, it's on the Bloomberg Terminal.
LEARN MORE