Pimco's El-Erian Says U.S. Economic Setting 'Terrifying'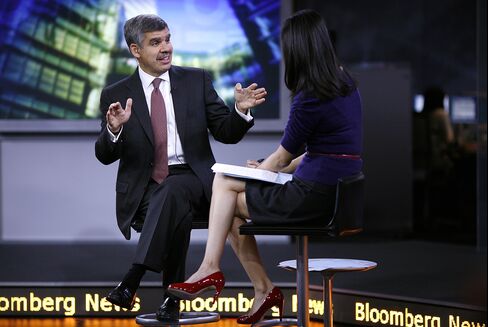 Pacific Investment Management Co.'s Chief Executive Officer Mohamed A. El-Erian said U.S. economic conditions are "terrifying" as the nation struggles to recover from recession.
The odds of the U.S. returning to recession are as high as 50 percent, El-Erian said during an interview on Bloomberg Television's "In the Loop" with Betty Liu. U.S. economic growth was worse than expected and congressional policy makers are gridlocked over what to do about the economy and the deficit, which risk exacerbating an already weak recovery, he said.
"We have less economic momentum than we thought we had and we have no policy momentum," said El-Erian, who also serves as co-chief investment officer with Pimco founder Bill Gross at the world's largest manager of bond funds.
"What's most terrifying," he said, "we are having this discussion about the risk of recession at a time when unemployment is already too high, at a time when a quarter of homeowners are underwater on their mortgages, at a time then the fiscal deficit is at 9 percent and at a time when interest rates are at zero."
The economy in the U.S. expanded less than previously estimated in the third quarter, reflecting a drop in inventories that points to a pickup in growth as 2011 comes to a close.
Structural Issues
Gross domestic product climbed at a 2 percent annual rate from July through September, less than projected and down from a 2.5 percent prior estimate, revised Commerce Department figures showed today in Washington. The median forecast of 81 economists surveyed by Bloomberg News called for no revision. Excluding stockpiles, so-called final sales climbed 3.6 percent, the most since last year's fourth quarter.
Conditions may worsen if policy makers in Washington and in Europe do not act quickly to address structural economic issues, El Erian said.
The debt crisis that began more than two years ago in Greece and snared Ireland, Portugal, Italy and Spain is close to reaching France. U.S. lawmakers yesterday failed to agree on spending cuts to address budget deficits.
"The big concern is us being tipped over by Europe. And things in Europe are getting worse, not better," he said. "Unlike Europe, the U.S. doesn't have an engineering problem. It faces a political problem."
European policy makers have to choose between a full fiscal union or a smaller euro zone, two options with heavy costs that have paralyzed policy makers, El-Erian said from Pimco's headquarters in Newport Beach, California.
Total Return Fund
"The muddled middle is no long sustainable," El-Erian said. "Europe needs to make a choice if it wants to save the euro," he said.
Pimco's $244 billion Total Return Fund, the world's largest mutual fund, has returned 2.3 percent in the past year, lagging behind 79 percent of its peers, according to data compiled by Bloomberg. Over the past five years, the bond fund has returned 7.7 percent on average, topping 97 percent of rival funds.