Patriots Beat Chiefs 34-3 to Extend NFL Division Lead Over Jets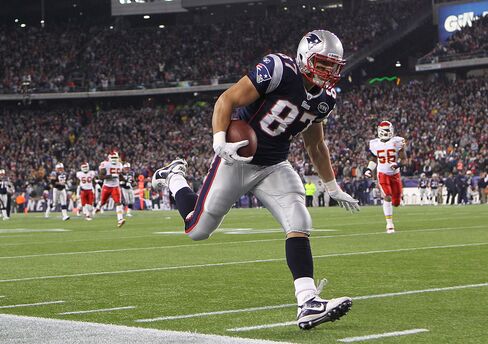 Tom Brady threw two touchdown passes to Rob Gronkowski as the New England Patriots defeated the Kansas City Chiefs 34-3 to extend their National Football League division lead.
Gronkowski hauled in touchdown passes of 52 and 19 yards, Julian Edelman scored on a 72-yard punt return and the Patriots' defense had three interceptions last night at Gillette Stadium in Foxborough, Massachusetts.
New England improved to 7-3 with its second straight win and moved two games ahead of the New York Jets and Buffalo Bills atop the American Football Conference's East Division. The Patriots trailed 3-0 after the first quarter before rebounding with 34 unanswered points to send the Chiefs (4-6) to a third consecutive loss.
"We got some turnovers on defense and got a big punt return for a touchdown," Brady, who finished with 234 yards passing, said in a televised interview. "It's frustrating when you come out on offense and don't play the way I think we're capable of, but we'll try to get it corrected and move on."
None of the Patriots' final six regular-season opponents has a winning record, with the Philadelphia Eagles (4-6) next on the schedule on Nov. 27.
Before it's here, it's on the Bloomberg Terminal.
LEARN MORE