Non-U.K. Investors Own Most of City of London for First Time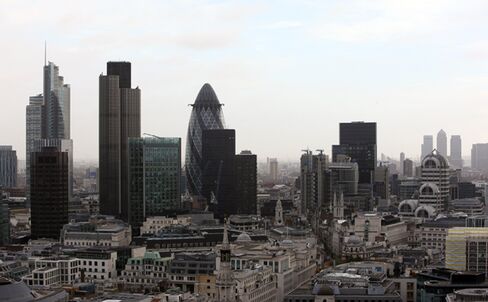 More than half the office buildings in the City of London financial district are owned by foreign investors for the first time following a three-year acquisition spree, Development Securities Plc said.
Foreign companies own 52 percent of all office properties in London's main financial district, up from 50 percent in 2010 and 8 percent in 1980, according to a report commissioned by Development Securities, a property developer and investor based in the U.K. capital.
Overseas investors accounted for two-thirds of office acquisitions by value in the City of London during the past three years as they took advantage of falling prices, Development Securities said. Property values fell 50 percent from 2007 through 2009 and were 37 percent lower at the end of 2010 than they were before the global financial crisis, the company said, citing Investment Property Databank.
"The dominance of foreign ownership is particularly applicable to prime office space," the company said.
South African billionaire Nathan Kirsh's Kirsh Group is in exclusive talks to buy Tower 42, the first skyscraper built in the City, for more than 280 million pounds ($438 million), the sellers said Nov. 18.
Asian Purchasers
Other deals this year include the purchase by Chinese Estates Holdings Ltd., controlled by Hong Kong billionaire Joseph Lau, of buildings that are part of Goldman Sachs Group Inc.'s European headquarters. Kuok Khoon Hong and Martua Sitorus, the billionaire founders of Singapore-based palm oil processor Wilmar International Ltd., bought Aviva Plc's base in the financial district for 288 million pounds in June.
The average value of buildings bought by overseas investors from 2008 through 2011 was 91 million pounds, compared with an average of 27 million pounds spent by U.K. purchasers, Development Securities said.
German companies own 16 percent of the district's office buildings, unchanged from last year, while the share of properties owned by U.S. companies rose to 10 percent from 8 percent, the report showed. Six percent of the district's properties have Middle East owners.
The report was written by Professor Colin Lizieri of the University of Cambridge.