Gillard Regains Lead as Preferred Premier, Shoring Up Leadership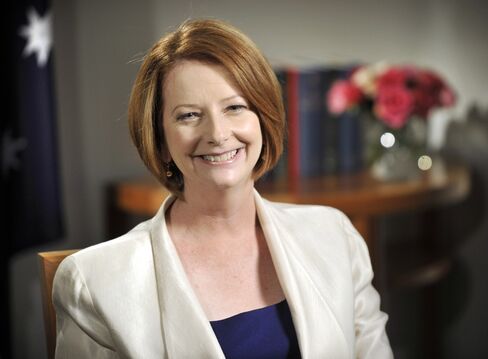 Australian Prime Minister Julia Gillard overtook opposition leader Tony Abbott as the nation's preferred leader for the first time in six months in an opinion poll, reducing the chance of a challenge to her position.
Gillard's rating rose to 40 percent from 39 percent two weeks earlier, her highest level since July, according to a Newspoll survey of 1,143 people conducted Nov. 18-20. Support for Abbott as preferred leader slipped 5 points to 35 percent, his lowest standing in nine months, the poll published by the Australian newspaper showed today.
Speculation that Gillard, the nation's first female prime minister, faces a challenge within her Labor party was reported in Rupert Murdoch's News Ltd. newspapers less than three weeks ago. Polling on the preferred leader is key to morale among lawmakers between elections and today's survey will "resonate in the party rooms," political analyst Haydon Manning said.
"Gillard has shored up her position going into the end of the year, which is something we really didn't foresee even two months ago," said Manning, an associate professor in the Department of Politics and Public Policy at Flinders University in Adelaide. "She still faces a long haul to narrow the differences in party polling. The position of the government and the party still looks ominous."
Labor trailed the opposition Liberal-National coalition, with support falling two points from a seven-month high to 30 percent, according to the Newspoll, which had a margin of error of plus or minus three percentage points. Support for the opposition rose 4 points to 48 percent, it said.
'Regime Change' Campaign
Murdoch's Daily Telegraph, the best-selling daily newspaper in Australia's largest city of Sydney, reported Nov. 3 that former Prime Minister Kevin Rudd was being urged by colleagues to mount a leadership challenge. Communications Minister Stephen Conroy said in July that the Daily Telegraph is "running a campaign on regime change."
Gillard ousted Rudd as Labor's chief in June 2010 as his ratings slumped.
The Newspoll survey released today was conducted after Gillard and President Barack Obama announced a defense accord to deploy American Marines on Australian bases next year as the U.S. moves to counter China's regional influence.
"There is a big advantage in incumbency," said Ian McAllister, a political science professor at Australian National University in Canberra. "When you see a prime minister introducing the American president and generally having a sense of being a leader, along with another most important international leader, that gives them an added advantage in their standing with the public."
Carbon, Mining Taxes
Two weeks ago, Gillard passed legislation that will make polluters pay for carbon emissions and her government yesterday won support from independent lawmakers for a levy on coal and iron-ore profits, ensuring the bill will gain approval in the lower house of parliament.
Even so, Gillard's standing as preferred prime minister needs to improve further to help the government's chances of winning the next election, due in 2013.
Paul Keating was preferred as prime minister by 45 percent in a Newspoll at the end of February 1996, just before losing the March election in a landslide to John Howard, who had trailed Keating as preferred leader by 5 percentage points.
Before it's here, it's on the Bloomberg Terminal.
LEARN MORE