Euro Drops to Six-Week Low as German Bond Auction Fuels Concern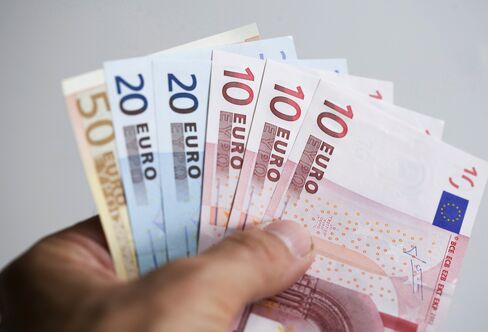 The euro fell to a six-week low against the dollar after Germany received insufficient bids at a bond auction, adding to concern Europe's sovereign-debt crisis is driving investors away from the region's assets.
The dollar climbed versus all of its 16 most-traded peers as a gauge of European services and manufacturing shrank and data signaled China's manufacturing will slip. The euro weakened further as European Union Economic and Monetary Affairs Commissioner Olli Rehn said the crisis is "ravaging Europe." Brazil's real was the biggest loser versus the greenback.
"The U.S. seems like a lonely safe-haven destination, and the dollar is the safe haven by default," said David Mann, regional head of research for the Americas at Standard Chartered in New York. "The feeling we are getting is that people are looking to sell the euro on any rally, which may mean that any rallies will be very shallow at this point."
Europe's 17-nation currency dropped 1.2 percent to $1.3342 at 5 p.m. New York time and touched $1.3320, the least since Oct. 6. The euro fell 0.8 percent to 103.15 yen. The dollar was 0.4 percent higher at 77.31 yen.
The Standard and Poor's 500 Index tumbled 2.2 percent.
Germany missed its 6 billion-euro ($8 billion) maximum sales target at a 10-year bond auction today by 35 percent, prompting investors to question the status of the securities as a haven from the region's debt crisis. The bunds drew a yield of 1.98 percent.
'Increased Worries'
"The bunds sale increased worries about what's going on in Europe and instability there, especially since Germany is the leading economy," said Joe Manimbo, a market analyst in Washington at Travelex Global Business Payments, a currency-exchange network.
The euro fell 0.3 percent today against nine developed-nation counterparts tracked by the Bloomberg Correlation-Weighted Currency Indexes. The dollar gained 1.1 percent and the Japanese currency was 0.6 percent stronger.
The cost for European banks to fund in the U.S. currency increased to the most expensive since December 2008. The three-month cross-currency basis swap, the rate banks pay to convert euro payments into dollars, increased to 1.40 percentage points below the euro interbank offered rate.
Goldman Sachs Group Inc. recommended investors end a money-losing bet that the euro will gain against the dollar after Greece and Italy got new governments.
'Failed to Materialize'
"We recommended going long euro-dollar on Nov. 11, based on the view that the nomination of 'technocrat-led' governments in Italy and Greece could lead to a clear reduction in risk aversion," Thomas Stolper, Goldman's London-based chief foreign-exchange strategist, wrote in a client note. "This has failed to materialize."
He said the close of the recommendation translates to a potential loss of about 2.3 percent.
The euro extended losses after Rehn addressed a European Parliament committee in Brussels.
"We all know that the current situation in the financial markets is extremely worrying," Rehn told the panel in response to a question about the German debt sale. "It's becoming worse by the day."
Fitch Ratings said France, Europe's biggest economy after Germany, risks losing its top credit rating in the event of further economic shocks, adding to evidence the region's debt crisis is spreading.
The Dollar Index rose to its strongest in more than six weeks after Commerce Department data showed consumer spending in the U.S. rose 0.1 percent in October, less than forecast, increasing demand for refuge. Orders for durable goods fell, another report showed, indicating manufacturing may also cool.
Aversion 'Intensifying'
The gauge of the greenback, which is weighted 57.6 percent to movements in the euro, rose 1 percent to 79.042. It reached 79.184, the highest since Oct. 6. IntercontinentalExchange Inc. uses the index to track the greenback against the currencies of six major U.S. trade partners.
"Our iFlow FX flows confirm risk aversion is intensifying, as a result of which the U.S. dollar is now the strongest net bought across developed currencies as market participants unwind riskier exposure," said Samarjit Shankar, a managing director for the foreign-exchange group in Boston at Bank of New York Mellon.
A composite index based on a survey of purchasing managers in European manufacturing and services rose to 47.2 from 46.5 in October, Markit Economics said in an initial estimate today, suggesting the sovereign-debt crisis is starting to affect economic growth in the region's core nations.
Krona Declines
Sweden's krona fell for a third consecutive day as central bank Deputy Governor Barbro Wickman-Parak said yesterday at a seminar that policy makers may cut interest rates if Europe's debt crisis persists. It weakened 1.4 percent to 6.9214 against the dollar and slipped 0.2 percent to 9.2350 per euro.
Australia's dollar declined against 13 of its 16 major peers and Brazil's real tumbled to a seven-week low versus the dollar as a report signaled China's manufacturing will shrink amid a faltering global economy.
The HSBC Flash Manufacturing PMI for China, Australia's biggest trading partner, fell to 48 this month, predicting the biggest contraction since March 2009. That compares with a final reading of 51 in October.
"This means we're definitely going to see a much lower worldwide growth rate next year," said Lutz Karpowitz, a senior currency strategist at Commerzbank AG in Frankfurt, in a telephone interview. "We're obviously going to have much weaker development than last year."
The Aussie dropped 1.5 percent to 96.88 U.S. cents and weakened 1 percent to 74.90 yen.
Brazil's real tumbled 2.6 percent to 1.8662 per dollar. It touched 1.8743, the weakest since Oct. 4.
Before it's here, it's on the Bloomberg Terminal.
LEARN MORE