Deficit Panel's Failure Aims at Defense While Sparing Medicaid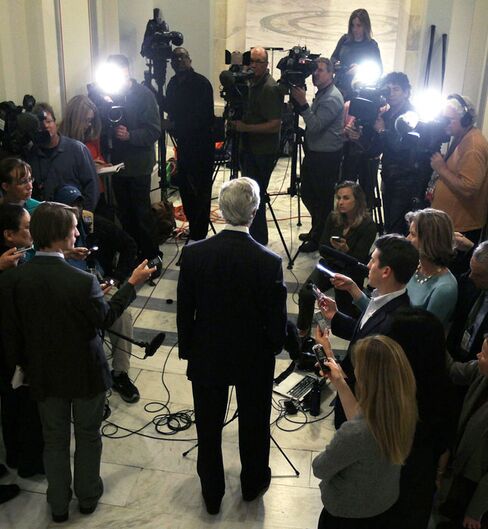 The supercommittee's failure to reach a deficit-reduction agreement puts into motion $1.2 trillion in spending cuts over 10 years targeting defense and domestic agency budgets while sparing entitlement programs such as Medicaid.
Barring congressional action to thwart the reductions, starting in 2013 spending on education, transportation and the environment will face automatic cuts, known in Washington as sequestration, after the 12-member panel was unable to reach an agreement this week.
More immediately, the lack of a deal means programs intended to give the economy a boost will run a greater risk of expiring at the end of the year, such as a payroll tax holiday and expanded unemployment benefits. Democrats had looked to the supercommittee to include these extensions in its final product.
Here is a look at how the automatic cuts could affect specific areas:
Defense
If Republican efforts to reverse the automatic defense cuts fail, the Pentagon's budget would face reductions of about $1 trillion over a decade, the most of any department.
The Defense Department already is cutting about $450 billion from its budget over the next decade as a result of the budget control act that President Barack Obama signed into law Aug. 2. Sequestration would increase the defense cuts by about $500 billion, excluding interest savings, starting in January 2013.
Republican senators Lindsey Graham of South Carolina and John McCain of Arizona are looking for alternative cuts. So far they've proposed a 10 percent reduction in pay for members of Congress and a 5 percent cut elsewhere in the budget.
"I do not expect a sequester because we are headed into an election campaign," said Gordon Adams, a professor at the American University in Washington and a former official in the White House Office of Management and Budget during the Clinton administration. "Congress can change anything that it wants to."
McCain has warned that $1 trillion in defense cuts would "impair" national security. Also opposing the cuts are two Democratic committee chairmen in the Senate, Daniel Inouye of Appropriations, and Carl Levin, of Armed Services, as well as Defense Secretary Leon Panetta.
Panetta said on Nov. 14 that cutting $1 trillion from defense could lead to the termination of Lockheed Martin Corp.'s F-35 jet and would reduce the "size of the military sharply." If Obama exempts military personnel from cuts, other Pentagon programs could be slashed in 2013 by 23 percent, Panetta said.
House Armed Services Committee Chairman Howard "Buck" McKeon said he'll introduce legislation to prevent the automatic defense cuts. According to an analysis by his committee, the Navy may have to mothball as many as 60 ships if automatic spending cuts take effect.
Taxes, Unemployment
Congress faces pressure to address the Dec. 31 expiration of extended unemployment benefits and a 2 percentage-point reduction in the payroll tax for employees. Democrats on the supercommittee had aimed to use some of the savings to cover the more than $150 billion cost of the extensions.
"It's really good stimulus because it goes right in on necessities and stimulates the economy," said Heidi Shierholz, an economist at the Economic Policy Institute, a research group in Washington that supports policies that help lower- and middle-income workers.
Shierholz estimates that allowing federally funded unemployment benefit extensions to expire would cost more than 500,000 jobs. The expiration of the payroll tax cut would be felt immediately, said Eric Solomon, former assistant Treasury secretary for tax policy.
"If it lapses, it will affect paychecks," said Solomon, now a principal at the National Tax Department of Ernst & Young LLP in Washington.
The payroll cut extension, along with the unemployment insurance and changes to prevent a cut in doctors' reimbursements under Medicare "will all get done," Senate Finance Chairman Max Baucus, a Montana Democrat, said in a statement. "They are each too important not to do so."
Many Republicans, however, have criticized the payroll tax cut as "sugar-high" economics.
Health Care
The supercommittee's inability to agree on deficit reduction takes the Medicaid health insurance program for the poor off the table for potential cuts. Cuts to Medicare, the federal insurance program for the elderly and disabled, are limited to a maximum of 2 percent for payments to hospitals, doctors and other health providers and to private health plans participating in the Medicare Advantage program.
Medicare paid about $168 billion to hospitals in 2010, and about $116 billion to health plans, according to the program's trustees.
Government health programs funded through the congressional appropriations process are subject to the same across-the-board cuts as other non-defense programs: about 7.8 percent in fiscal 2013. Medicare's administrative expenses --about $7 billion in 2010 -- would also be subject to the larger cuts.
The American Medical Association, the nation's largest lobby group for physicians, had pressed the supercommittee to include in its plan repeal of a 27 percent cut in Medicare pay for doctors scheduled to take effect Jan. 1. The committee's failure "jeopardizes access to care for seniors and military families who rely on the Medicare and Tricare programs," said the association's president, Peter Carmel, in a statement.
Discretionary health programs include the Food and Drug Administration, which spends about $4.4 billion a year to regulate food, drugs and medical devices.
The $31 billion National Institutes of Health, the largest single source of money for biomedical research in the world, could see a cut of about $2.5 billion in 2013. Medical research advocates say a cut of that size would hinder work on treatments for cancer, heart disease and Alzheimer's, and discourage young researchers from pursuing careers in basic science.
By comparison, the NIH took a cut of $317 million in the fiscal year than ended Sept. 30.
State Programs
States and localities received some $630 billion from the federal government in the 2010 budget year and could have faced deeper cuts under a broad supercommittee deficit agreement. Now they stand to get some relief.
In addition to the exemption from across-the-board cuts for Medicaid, the health-care program for the poor that's the single biggest expense for states, programs such as the Temporary Assistance for Needy Families welfare program will be spared. Also lifted is a potential threat to the tax exemption for municipal bonds, which saves governments billions every year by driving down the cost of borrowing for public works projects.
Still, states won't escape the budget ax. Funding for education, health care, urban development and dozens of other programs may be cut by about $11 billion, or roughly 6 percent, when the cuts take effect in 2013, according to an analysis by Federal Funds Information for States. States with economies closely linked to the military, such as Virginia, Hawaii and Alaska, could also be hit by required defense cuts.
"States get saved on the Medicaid side while they get punched in the face on education, transportation, energy, environment, labor and all the other programs that are out there, many of which have gotten mandated activities in them," said Michael Bird, a lobbyist in Washington for the National Conference of State Legislatures.
New York Governor Andrew Cuomo said his state stands to lose $5 billion over the next decade.
Energy and Environment
The supercommittee's impasse will set back environmental programs, according to David Goldston, director of government affairs for the Natural Resources Defense Council.
"Any kind of deficit solution needs to include revenues," Goldston told reporters in Washington. "Otherwise too much comes out of the discretionary budget, which can't carry that burden."
Maintaining parks, enforcing anti-pollution regulations and conserving environmentally sensitive habitats may be tougher because of the automatic cuts, Scott Slesinger, legislative director for the group, said at its Washington offices.
With the supercommittee's failure, gas and oil producers survived another threat to repeal as much as $40 billion in tax breaks. The American Petroleum Institute, a Washington-based oil and gas lobbying group, has said calls from Democrats to rescind the industry's tax benefits would have cost jobs.
"We regret that no deal was reached for the greater national good, but we are pleased the oil and natural gas industry was not singled out for punitive tax increases," Carlton Carroll, a spokesman for the petroleum group, said in an e-mailed statement.
Airline Security
Obama's proposal to triple an aviation security fee also will fall by the wayside with the supercommittee's collapse. The fee increase would have generated another $280 million this fiscal year for the U.S. Transportation Security Administration, according to a September Senate appropriations report.
Passengers pay $2.50 per leg, or as much as $5 per one-way-trip. Obama's September deficit-reduction plan called for raising the fee to a flat $5 per one-way trip, and increasing it to $7.50 per trip by 2017. The plan would have doubled the TSA's revenue over 10 years, according to the White House, with Obama suggesting some of it be used for deficit reduction.
Security fees paid by passengers and airlines covered about 30 percent of the TSA's budget in fiscal 2011; the rest was allotted by Congress.
Last week, 77 lawmakers joined airline executives and the Air Transport Association, the industry's Washington-based trade group, in opposing the security fee increase. In a letter to supercommittee leaders, Democrats and Republicans wrote that increasing the fee would "further exacerbate an already weak travel and tourism industry."
TV Airwave Auction
The panel's failure reduces prospects for an auction of television airwaves that could produce as much as $24.5 billion for the U.S. Treasury, Jeffrey Silva, a Washington-based analyst with Medley Global Advisors, said in an interview. Four of the supercommittee's 12 members had expressed support for auctions, including two Democrats and two Republicans.
The airwaves would help mobile carriers led by AT&T Inc. and Verizon Wireless handle growing wireless data from smartphones and tablet computers. The Obama administration wants more airwaves for wireless use, and the Senate Commerce Committee in June approved a bill setting up the auctions of airwaves surrendered voluntarily by TV stations owners.
"The chances are reduced dramatically" in part because the House may not be able to surmount disagreements including whether to give a nationwide swath of airwaves to emergency workers, or to auction that portion, Silva said.
"The differences are going to be so great," Silva said. "They're going to run out of time."
Broadcasters are wary of the auctions, in part because they worry that signals could be sapped by channel reassignments for the TV stations that are still operating. "They have plenty of clout in Congress" and lawmakers may be reluctant to fight with broadcasters in an election year, Silva said.