China E-Commerce May Pass U.S. in 2015, Boston Consulting Says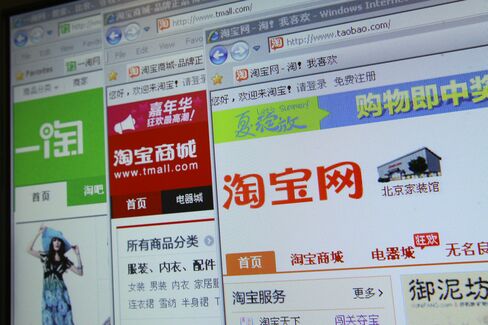 China's Internet retailing market may overtake the U.S. as the world's largest with transactions valued at more than 2 trillion yuan ($314 billion) in 2015, according to Boston Consulting Group Inc.
E-commerce sales in China almost quadrupled to 476 billion yuan in 2010 from 128 billion yuan in 2008 as 23 percent of its urban population shopped online last year, the Boston-based consulting firm said in a report released today. Forty-four percent of city dwellers in the world's most populous country will shop on the Internet in 2015, the report estimates.
Taobao Mall, the online business unit of Hangzhou-based Alibaba Group Holdings Ltd., led China's online business market with 79 percent of the value of all transactions in 2010, Boston Consulting said. China has the biggest number of Internet users, with 485 million as of June 2011, data from the China Internet Network Information Center show.
"Internet access has far outpaced the reach of the top physical retailers," the consulting firm said. "China's massive geography hampers the effectiveness of physical retailing."
Consumers in China are shopping more as incomes rise. China's retail sales rose 17.2 percent in October from a year earlier and have climbed an average of 17.7 percent a month in the past two years, according to data compiled by Bloomberg. Per-capita disposable income for households in towns and cities rose 8 percent to 19,109 yuan last year, almost doubling from five years ago.
"The e-commerce industry has benefited from China's low cost of shipping -- $1 on average to ship a 1-kilogram parcel, versus $6 in the U.S," Boston Consulting said.
China plans to establish regulations for third-party transaction platforms, including Internet malls, to facilitate the industry's growth, Shen Danyang, a Ministry of Commerce spokesman said on Oct. 19.
The traditional "brick and mortar" retail model faces the problems of rising rents and difficulties reaching some lower-tier cities, according to the consulting firm which surveyed more than 4,000 online shoppers.
— With assistance by Michael Wei
Before it's here, it's on the Bloomberg Terminal.
LEARN MORE