Chavez Activates Price Law to End Capitalist Speculation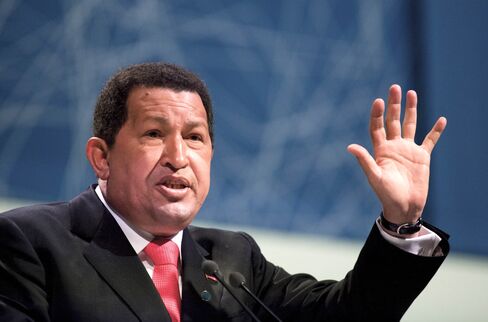 President Hugo Chavez stepped up his control of the Venezuelan economy today as a new price regulation law came into effect that allows his government to set price caps on as many as 15,000 goods.
The cost of 18 products will immediately be frozen, including soap, toothpaste and diapers, Vice President Elias Jaua said. Transnational corporations such as Colgate-Palmolive Co., the world's largest toothpaste maker, Johnson & Johnson, HJ Heinz Co and Unilever Plc, will have to report their production costs to enable the government to set prices, Jaua said.
"The market has become a perverse mechanism where big monopolies dominate and ransack the people," Chavez said during a phone call broadcast on state television. "This idea of an invisible hand of the market that generates an equilibrium between supply and demand is a lie."
Chavez is seeking to curb the region's highest inflation rate by stamping down on what he terms price "speculation." Further regulation of the economy will discourage investors and lead to more shortages before elections in October in which Chavez aims to win a third consecutive six-year term, said Boris Segura, Latin America strategist at Nomura Securities Intl Inc.
"Implementing this law is a logistical nightmare and has been proven so time and time and again in Latin America," Segura said in a phone interview from New York. "If Chavez becomes draconian with this law, shortages will get worse and that is a political liability that will affect his popularity."
Speculators
The price of bleach, dish soap, fabric softener, shampoo and toilet paper, along with 13 other products will be frozen until the price superintendency sets a "fair price," Jaua said. Other industries will be subject to similar scrutiny beginning in January, he said.
"It's a system in which the capitalists won't have any way of fooling and defrauding us," Jaua said in comments broadcast on state television. "The only ones who should fear the law are the speculators who have become accustomed to robbing the Venezuelan people."
Venezuela's inflation rate, which at 26.9 percent is the highest among 78 economies tracked by Bloomberg, rose to a seven-month high in October as the government adjusted price caps on food products to avoid shortages.
'Blind-Sided'
Multinationals operating in Venezuela depend on regular price adjustments to combat inflation, said Ali Dibadj, a consumer analyst at Sanford C. Bernstein & Co.
"Many of our companies -- especially Colgate and Avon where 4 percent to 5 percent of sales is from Venezuela -- have relied heavily on pricing in Venezuela where inflation has, of course, been rampant," Dibadj said in an e-mailed response to questions. "We wouldn't be surprised if many of our companies are somewhat blind-sided by this news."
Procter & Gamble Co. is evaluating the price controls and will continue to serve Venezuelan customers "to the best of our abilities," said Paul Fox, a spokesman for the company.
"Venezuela represents less than 2 percent of our global sales," Fox said today in an e-mailed response to questions. "We are actively managing our business and have been effectively handling the fast changing laws and regulations that have been a characteristic of the business environment in Venezuela."
Tom DiPiazza, a spokesman at Colgate-Palmolive, had no immediate comment when reached by telephone.
'The Monster Within'
The government, which already regulates the price of 100 food products, raised prices on milk and vegetable oil twice this year following a devaluation of the bolivar in January to 4.3 bolivars per dollar.
Under guidelines published in the Official Gazette Nov. 18, companies must register with the national price regulator and disclose information about production, distribution and commercialization costs as well as details of local and international suppliers, sources for raw materials and technological transfers.
About 100 inspectors will work "inside companies" to uncover "the monster within capitalism" and reveal the truth about how much it costs to produce goods, Jaua said.
There are about 15,000 products sold in Venezuela, and monitoring their costs will be a difficult task for the price regulator, said Armando Leon, a director at the central bank.
"It's a very complicated, complex law," Leon said in an interview today on state television. "It needs to be evaluated very well or it could have a boomerang effect because an economy can't be subject to a mechanism of price laws."
Unorthodox
Shortages of certain food products in Caracas reached 22 percent this month, their highest level since March 2008, according to Luis Vicente Leon, president of polling firm Datanalisis. Powdered milk could not be found in 66.2 percent of shops in Caracas visited by Datanalisis, Leon wrote on his Twitter account.
Unorthodox attempts by Chavez to slow inflation have had little or no effect in the past, said Segura. In 2008, the government shaved three zeros off the bolivar and rebranded it the "strong bolivar" in what they said would slow inflation by making Venezuelans believe their currency was stronger.
Chavez in 2010 dismantled a parallel currency market and closed down more than 50 brokerages after accusing them of speculating on the bolivar and driving inflation. He replaced the market, which operated by trading dollar-denominated bonds, with a central bank-administered system known as Sitme, which has traded at 5.3 bolivars per dollar since it opened.
In the meantime, the central bank has more than doubled the amount of money circulating in the Venezuelan economy since November 2007, according to data compiled by Bloomberg. Chavez increased spending this year by 22 percent in real terms after subtracting inflation, according to an e-mailed report by Bank of America Corp. economist Francisco Rodriguez.
"The government has become progressively more unorthodox in its public policy approach and that has taken a toll on economic activity," Segura said.
Before it's here, it's on the Bloomberg Terminal.
LEARN MORE