Volkswagen Aims to Make Electric Vehicles in China From 2013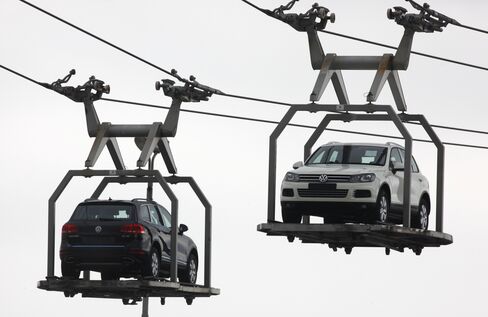 Volkswagen AG, Europe's largest automaker, aims to build electric vehicles in China from 2013 to meet demand for models that are less polluting, the head of the company's business in the country said.
VW may build two electric models with venture partners in China, starting as early as end-2013, said Karl-Thomas Neumann, chief executive officer and president of the Wolfsburg, Germany-based automaker's China unit. The models may have a range of 100 kilometers (62 miles) to 200 kilometers, he said.
Governments in China and Europe are getting "more realistic that electric cars could quickly replace internal-combustion engines," he said. Electric cars need "some time" to develop, Neumann said today in Guangzhou, south China, where he is attending the city's auto show.
Volkswagen is counting on China to help it surpass General Motors Co. and Toyota Motor Corp. as the world's biggest automaker by 2018. VW will spend 14 billion euros ($19 billion) from 2012 through 2016 to expand in the nation it first entered three decades ago, as part of a push to increase sales in emerging markets.
Production Capacity
Neumann reiterated VW's plans to double production capacity by 2015 and said it will exceed 2 million deliveries in China this year. The maker of the Jetta sedan and Tiguan SUV sold 1.89 million vehicles in the first 10 months, an increase of 15 percent from a year earlier, it said on Nov. 11.
China's total automobile demand may grow less than 2 percent this year, while passenger-car deliveries may increase 9.4 percent, Neumann said. VW is "very optimistic in the medium term" on the outlook for car demand in the country given the low rate of ownership, he said.
The China Association of Automobile Manufacturers has projected nationwide vehicle sales to grow less than 5 percent this year, slowing from last year's 32 percent gain, after the removal of government purchase incentives hurt demand.
VW produces cars and sport-utility vehicles in China through ventures with SAIC Motor Corp. and China FAW Group Corp. The two ventures have each created a prototype EV and will introduce test fleets next year, said Neumann. VW aims to have 10,000 EVs in the country by the end of 2018, he said.
"It's not clear what the rules will be around the electric car," he said. "That's one thing I'm asking for, that we get clear guidance from the government."
VW also markets the Audi, Skoda and Bentley brands in China, the world's largest auto market. It will introduce the Seat brand at the Guangzhou show.
Before it's here, it's on the Bloomberg Terminal.
LEARN MORE