U.K. Needs Export Support to Gain 'Rich Prize,' CBI Says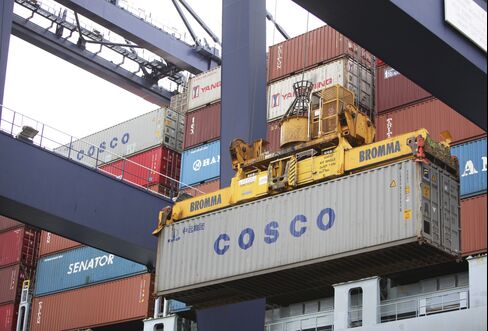 Britain should introduce a tax credit for exporters and ramp up its guarantee program to help companies tap growing Asian and South American markets and claim a "rich prize," the Confederation of British Industry said.
The employers' group estimates that boosting exports to nations such as Brazil, Russia, India and China could add 20 billion pounds ($31.7 billion), or 1.5 percent, to gross domestic product by 2020. Currently, these markets account for 4 percent of U.K. overseas sales, according to a report published by the CBI and Ernst & Young in London today.
Britain's share of global exports has fallen to 4.1 percent from 5.3 percent in the last decade. With the economic recovery struggling as the euro area, which buys about 43 percent of U.K. exports, slips toward another recession, the need to act is "pressing," CBI Director-General John Cridland said at a news conference.
The CBI, which holds its annual conference today, called on the government to introduce a tax credit similar to its research-and-development credit to incentivize companies to seek new markets. It also wants an increase in the state Export Finance program, which it said is "not geared up to deliver for the mass market." The agency provides guarantees, insurance and reinsurance against loss to exporters.
"Ambition can only be delivered by companies, but you need a change agent and a lot of businesses look to government," Cridland said. "There is a rich prize of 20 billion pounds for the economy."
The CBI recommended that more be done to help small and medium-sized companies get financing from banks, though Cridland said there is a "frustrating conundrum of strengthening banks' balance sheets and getting them to lend." It also said the U.K. Trade & Investment agency needs to do more to lobby on behalf of exporters and help conclude trade deals.
Before it's here, it's on the Bloomberg Terminal.
LEARN MORE