U.K. Home Sellers Cut Prices by Most in a Year, Rightmove Says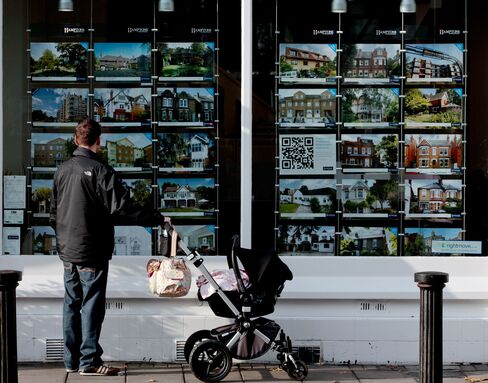 U.K. home sellers cut asking prices by the most in a year this month as the escalation of the euro-area debt crisis deterred buyers and increased uncertainty about the outlook for the economy, Rightmove Plc said.
Average asking prices in England and Wales fell 3.1 percent from October to 232,144 pounds ($367,650), the biggest monthly drop since November 2010, the operator of Britain's biggest property website said in a report published in London today. A separate British Retail Consortium study showed consumer visits to U.K. stores dropped in the quarter through October.
"Markets dislike uncertainty, and so do people who are deciding whether or not to enter the property market," said Miles Shipside, commercial director of Rightmove. "Many would-be sellers are postponing their marketing until the new year, influenced by the current wall-to-wall media coverage of the Greeks and Italians attempting to get their own far-flung houses in order."
U.K. consumer confidence fell to a record low in October as the unemployment outlook worsened and yields of Europe's most indebted nations rose, heightening concern that Italy may follow Greece, Ireland and Portugal in needing a bailout. Bank of England Governor Mervyn King said last week that the U.K. economy faces a "markedly weaker" outlook amid persistent danger from the turmoil in the euro area.
No Surprise
All 10 regions in England and Wales tracked by Rightmove showed falling asking prices in November, the first time in more than three years they have all declined together. Shipside said that it's "no great surprise" that property owners looking for a sale "have had to accept a substantial haircut on their asking prices." Nationally, values were up 1.2 percent from a year earlier in November.
A shortage of new properties being put up for sale in London helped limit price declines in the capital to 1.2 percent, Rightmove said. In the city, five of 32 areas showed gains.
Nationally, the number of new properties being listed for sale fell 13 percent on the month, Rightmove said. The weekly supply of homes put on the market is now at the lowest since the aftermath of the collapse of Lehman Brothers Holdings Inc. in 2008. While that should have supported values, prices were undermined because 70 percent of house movers think this is a bad time to sell, the company said, citing a survey.
Data last week showed that the number of unemployed rose to 2.62 million in the third quarter, the most since 1994. The BRC said today that number of shoppers in U.K. malls, town centers and out-of-town shopping parks declined 2.3 percent in the three months through October from a year earlier. In October, high streets saw the number of consumer visits drop 4.7 percent on the year, the most since December 2010.
Separately, the Engineering Employers Federation and JAM Recruitment said the average pay settlement among British manufacturers slowed to 2.4 percent in the quarter through October from 2.5 percent in the previous three months.