Tin Exports From Indonesia May Drop 26% This Month on Curbs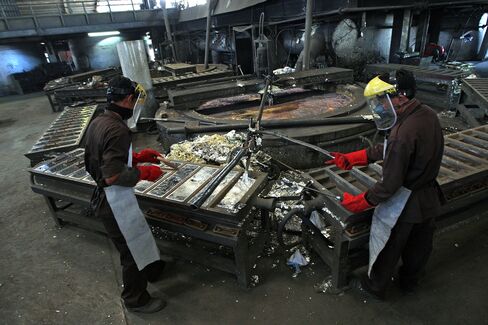 Tin shipments from Indonesia, the world's largest exporter, may slump 26 percent this month to the lowest level in almost three years after producers agreed to ban spot-market sales to try to reverse a decline in prices.
Exports may drop to 4,000 metric tons, according to the median estimate in a Bloomberg News survey of eight traders, analysts and producers compiled last week. That compares with 5,442 tons in October and an average of 8,136 tons in the first nine months, before the ban took effect. The trade ministry may issue the data for November in the second week of December.
Falling supplies from the country, which accounts for about 40 percent of global exports, may help to support prices that fell 22 percent in the third quarter on concern that Europe's sovereign-debt crisis may hurt the global economy. Indonesian producers halted exports from Oct. 1, seeking $25,000 per ton.
Exports "may only come from PT Timah as they're still allowed to meet their term contracts," said Andrian Tanuwijaya, a Jakarta-based analyst at PT Trimegah Securities, referring to the nation's largest exporter. "The smaller producers mostly trade in the spot market, which is banned."
Tin for three-month delivery dropped 2.2 percent to $20,800 per ton on the London Metal Exchange at 5:31 p.m. in Singapore, declining for a third day. Inventories of the metal used as solder monitored by the LME plunged 23 percent in October, the biggest fall since October 2008, and stood at 13,325 tons today.
December Outlook
Shipments of 4,000 tons this month would be the smallest quantity since exports of 3,805.5 tons in December 2008, according to data from the trade ministry tracked by Bloomberg. In November last year, exports were 8,986 tons. The Bloomberg survey also forecast shipments of 4,000 tons for next month.
Twenty-eight companies agreed earlier this month to extend the halt until the year-end, Johan Murod, general secretary of the Indonesia Tin Association, said Nov. 14. Timah, the world's biggest tin-exporting company, may meet contractual orders while halting spot sales, Eko Mulana Ali, provincial governor of Bangka Belitung, the main producing region, said on Nov. 2.
The halt will "certainly help support prices, but I don't see a lot of upside potential in the next couple of months," Peter Kettle, research manager at St. Albans, England-based ITRI Ltd., said by e-mail on Nov. 14. Tin may trade between $21,000 and $24,000 a ton, influenced by news from Europe, he wrote.
Indonesia shipped 78,715 tons of tin in the first 10 months of the year, 3.9 percent more than the 75,778 tons a year earlier, the trade ministry said on Nov. 10.
Registered Exporters
Five companies exported tin last month, including two Bangka-based producers, Timah and PT Refined Bangka Tin, the ministry said. The other three -- PT Eunindo Usaha Mandiri, PT Singkep Timas Utama and PT Tambang Timah, a unit of Timah -- are based in Riau Islands province. Indonesia has 39 registered tin exporters, according to the ministry.
Producers' discipline is key for the success of the export halt, according to Nick Trevethan, Singapore-based senior commodities strategist at Australia & New Zealand Banking Group Ltd. "Will the small smelters really be able to hold off exporting?" Trevethan said by phone on Nov. 14. "Do they have the money to continue without making sales?"
Before it's here, it's on the Bloomberg Terminal.
LEARN MORE