Thailand Says GDP May Shrink 3.7%, Adding to Rate-Cut Case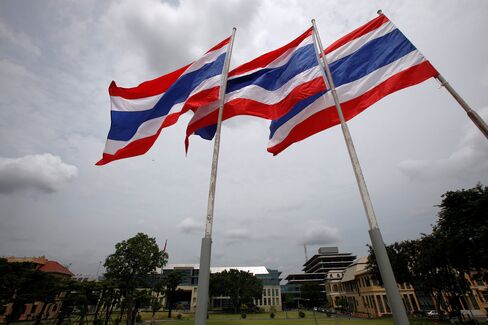 Thailand's economy may shrink 3.7 percent this quarter following the worst flooding in almost 70 years, the government said, adding to the case for an interest-rate cut as early as next week.
Gross domestic product rose 3.5 percent in the three months through September from a year earlier, after climbing a revised 2.7 percent in the previous quarter, the National Economic and Social Development Board said in Bangkok today. It also forecast the contraction and lowered its estimate for 2011 growth to 1.5 percent, from as much as 4 percent earlier.
The floods have killed more than 600 people, swamped thousands of factories and disrupted supplies for companies from Apple Inc. to Toyota Motor Corp. The damage may reach 300 billion baht ($9.7 billion), the board said, and the Bank of Thailand has signaled room to cut rates to prop up growth as well as counter threats from Europe's sovereign-debt crisis.
"Third-quarter expansion was lower than expected, raising the chance of a temporary interest-rate reduction," said Usara Wilaipich, an economist at Standard Chartered Plc in Bangkok. The central bank may make a "one-off, 50 basis point" rate cut at the Nov. 30 policy meeting, while a post-flood recovery will enable it to keep borrowing costs unchanged next year, she said.
The median of 11 estimates in a Bloomberg News survey was for a 4.5 percent third-quarter GDP gain from a year earlier.
Stock, Currency Slide
The baht weakened 0.1 percent to 31.03 per dollar as of 11:29 a.m. local time, while the benchmark SET index of stocks declined 0.4 percent. The currency is down about 3.9 percent in the past three months and the SET index has tumbled about 8 percent over the period as investors shun emerging-market assets.
The economy is set to contract in the three months through December because of the floods, Arkhom Termpittayapaisith, the board's secretary general, said at a briefing in Bangkok today.
"The situation will be 70 percent to 80 percent back to normal in the first quarter," he said. "The economy next year will be boosted by reconstruction spending. The government's policies to increase income will aid local demand, and machinery replacement after the floods will bolster private investment."
The development board said the economy may expand 4.5 percent to 5.5 percent in 2012.
Thailand's GDP gained 0.5 percent in the third quarter from the previous three months. The median of seven estimates was for a 1.5 percent increase. Another report today showed Singapore's economy expanded 6.1 percent from a year earlier, with the city-state's trade ministry predicting growth of as little as 1 percent in 2012.
Interest Rates
The Bank of Thailand has room to cut interest rates, Governor Prasarn Trairatvorakul said Nov. 18. While inflation held above 4 percent for the seventh straight month in October as floods damaged crops, the central bank forecasts consumer-price growth of 3.5 percent in 2012.
The monetary authority left its one-day bond repurchase rate unchanged at 3.5 percent last month, after increasing it by a quarter-point for seven straight meetings.
The cost of the flood damage may amount to 400 billion baht or about 4 percent of GDP, according to Barclays Plc.
"If the Bank of Thailand wants to take any monetary action to shore up confidence, it needs to cut rates by at least 50 basis points to have the desired impact," Rahul Bajoria, a Singapore-based regional economist at Barclays, said in a note. Such stimulus would probably be described as an "emergency response," he said.
Southeast Asian Growth
Expansion in Southeast Asian economies may have peaked last quarter, with authorities in Singapore and Indonesia cutting growth forecasts in recent weeks. Indonesia lowered interest rates to a record low this month and Malaysia left them unchanged to sustain domestic spending.
Third-quarter Thai expansion was aided by a stabilization in industrial production and exports, as trade interruptions caused by the March 11 earthquake and tsunami in Japan eased, the board said. Thailand makes about a quarter of the world's hard-disk drives and serves as a production hub for Japanese carmakers and electronics firms.
The floods since July threaten to hurt the $319 billion economy's attraction as a manufacturing base. Honda Motor Co. and Pioneer Corp. are among those to have scrapped profit forecasts after the deluge shut factories.
Prime Minister Yingluck Shinawatra, fighting to sustain investment from overseas as anger grows over the government's response to the crisis, has proposed spending 130 billion baht on rebuilding and measures to prevent future inundations.
Before it's here, it's on the Bloomberg Terminal.
LEARN MORE