Sri Lanka Devalues Rupee, Plans Tax Cuts to Support Growth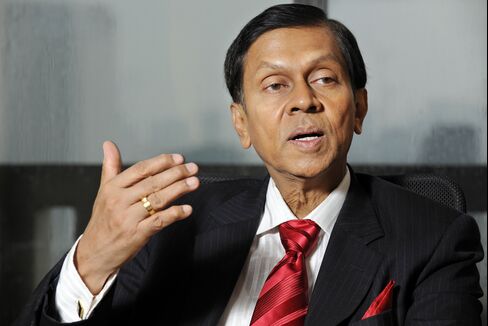 Sri Lanka said it devalued its rupee and plans to cut taxes to spur economic growth as Europe's debt crisis spoils export demand.
The central bank has given a guidance to state banks to buy U.S. dollars at 113.50 rupees and sell at 113.90 rupees to help weaken the local currency by 3 percent, Governor Ajith Nivard Cabraal said in a telephone interview today in Colombo. The move was first announced by President Mahinda Rajapaksa yesterday in his budget speech, as he also unveiled proposals to raise salaries for civil servants and increase spending in 2012.
Asian nations including the Philippines, Indonesia and Malaysia have taken fiscal or monetary stimulus steps this year, while the Indian rupee has slumped 14.6 percent against the dollar in 2011. The Sri Lankan rupee had gained 0.5 percent this year before today's depreciation, making the nation's goods relatively expensive in overseas markets.
"This can support exporters to the point that the key European economies, which Sri Lanka supplies to, don't drastically slow down," said Kaushik Das, Mumbai-based economist at Deutsche Bank AG. "Just by depreciating is not enough, the global demand has to be there."
Currency Weakens
The Sri Lankan rupee dropped 3.2 percent to 113.89 per dollar at 2:27 p.m. in Colombo, according to data compiled by Bloomberg. The Colombo All-Share Index has fallen about 9 percent this year, less than the 18 percent decline in the MSCI Asia Pacific Index. The benchmark slid 1.1 percent today.
Sri Lanka's exports including tea, textiles and gems rose 19 percent in August from a year earlier, compared with a 72 percent gain in January. Europe accounts for 35 percent of the Indian Ocean island's overseas sales.
Besides the strengthening currency, local exporters also have had to face the loss of trade privileges previously offered by Europe. The European Union in August 2010 withdrew tariff concessions for Sri Lankan goods due to alleged human rights violations in 2009 during the last stages of the civil war against the Liberation Tigers of Tamil Eelam separatist forces.
"Countries that are competing with us have depreciated their currencies," Rajapaksa said. "To correct this disadvantage, as an incentive to exports, I intend to devalue the currency by 3 percent."
India's Rupee
India's rupee, Asia's worst performer this year, fell to as low as 52.73 per dollar today, the weakest level since at least 1973, when data became available.
Other emerging markets are also depreciating their currencies. Nigeria's central bank yesterday devalued the naira, saying the midpoint of the currency's target band was lowered to 155 per dollar from 150.
"With our appreciation, we were behind competitors like India and Bangladesh," said Hasitha Premaratne, head of corporate finance at Colombo-based Brandix Ltd., Sri Lanka's biggest apparel exporter. "This will be a positive movement in margins for most exporters."
The International Monetary Fund said on Sept. 7 that Sri Lanka's exchange rate must be made more flexible for the economy's "long-run competitiveness."
Inflation in Sri Lanka slowed in October to 5.1 percent, the lowest level in 14 months, giving the central bank scope to adjust its currency policy. Cabraal left interest rates unchanged for 10 straight months, keeping the reverse repurchase rate at 8.5 percent and the repurchase rate at 7 percent.
Tax Cuts
Rajapaksa said Sri Lanka will scrap all customs duties on yarn, and remove the value-added tax on import of equipment required to modernize the nation's textile industry in the financial year starting Jan. 1. Sri Lanka will also offer tax breaks to drug companies and rice processing companies, he said.
The government will inject 10 billion rupees ($91 million) in Sri Lankan Airlines Ltd. to boost the capital of the national carrier, he said.
Total government spending in 2012 will increase by 14 percent to 1.59 trillion rupees, Rajapaksa said. He forecasts the budget deficit to narrow to 6.2 percent of gross domestic product next year from an estimated 7 percent of GDP in 2011.
Sri Lanka's economy may expand 8.5 percent to 9 percent in 2012, from a projected 8.3 percent this year, the central bank said in a report yesterday.
"The fact that the currency is only being depreciated by 3 percent means the impact on debt and inflation is likely to be quite small," Gareth Leather, an economist at Capital Economics Ltd. in London, said in an e-mail. "I don't think other big emerging markets will be too concerned by this move. Sri Lanka is simply too small."