Spain Seizes Banco de Valencia, to Inject 1 Billion Euros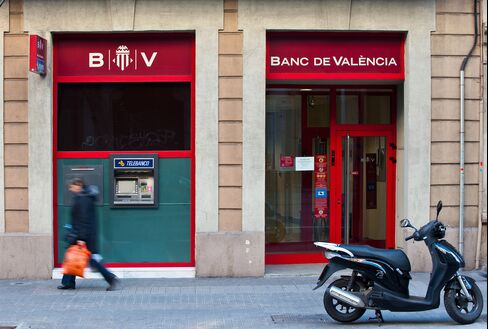 Spain plans to inject as much as 1 billion euros ($1.35 billion) of capital into Banco de Valencia SA, the latest of seven lenders to be either seized or taken over by the central bank.
A state rescue fund, known as FROB, will administer the Valencia, Spain-based lender and provide it with a 2 billion-euro credit line, the Bank of Spain said today in a statement. The central bank removed the administrators of Banco de Valencia at the request of the lender's board, the regulator said.
Banco de Valencia is the latest lender to fall victim to a property crash that has piled up 176 billion euros of soured assets on the books of Spanish banks. Mariano Rajoy, who yesterday won Spain's general elections, has pledged to speed up a clean-up of the country's banks that has so far cost 17.7 billion euros.
"We know that Spanish banks are under pressure to provision their real estate losses and raise capital and those that can't are having to go to the government," said Daragh Quinn, a banks analyst at Nomura International in Madrid.
The Bank of Spain said that it decided to remove Banco de Valencia's managers after determining that "it had not been able to adopt the measures necessary to assure its viability" and having written to the bank demanding an "urgent and definitive solution for its situation." The lender's board notified the regulator today that it hadn't been able to find such a solution, the central bank said.
Bank Rescues
In July, FROB took over Caja de Ahorros del Mediterraneo, an Alicante-based savings bank group that last week disclosed a nine-month loss of 1.73 billion euros as its ratio of defaults to loans jumped to 21 percent. The first bank seized was Caja Castilla-La Mancha in 2009.
Banco de Valencia, which has 24 billion euros of assets, said earlier this month it was under inspection by the Bank of Spain and would need more capital. The bank's ratio of bad loans to total lending was 6.99 percent at the end of June compared with 4.97 percent a year earlier. The lender had a core capital ratio of 7.36 percent, below the 8 percent minimum requirement set by the government for publicly traded banks.
The lender is 27 percent owned by Banco Financiero y de Ahorros SA, the holding company that controls Bankia, Spain's third-biggest bank. Bankia was formed from the merger of seven savings banks led by Caja Madrid.
Three Measures
The takeover of Banco de Valencia "wouldn't have a significant impact" on its solvency, BFA said in a filing to regulators in Madrid today.
Jose Luis Olivas, a former head of the Valencia regional government, resigned his posts as a vice-chairman in charge of company stakes and board member of Bankia, Bankia said in a filing to regulators today. He also gave up his posts as vice-chairman and board member of BFA, Bankia said.
The takeover of Banco de Valencia follows the seizure of CajaSur in 2010 and CAM four months ago. The Bank of Spain also took over banks run by CatalunyaCaixa, Novacaixagalicia and Unnim in September after they failed to meet a deadline to raise more capital.
Banco de Valencia, the first commercial lender to be taken over by FROB, has slumped 77 percent this year in Madrid trading, cutting its market value to 365 million euros. The rescue fund has previously taken over savings banks or lenders linked to them.
"There are three measures they should announce immediately: eliminating impaired assets and valuing them at market prices, the labor market overhaul and measures to tackle the deficit," said Fernando Fernandez, a professor at IE business school in Madrid and a former IMF economist, referring to Spain's new government.