Singapore Says Economic Growth May Slow to 1% to 3% in 2012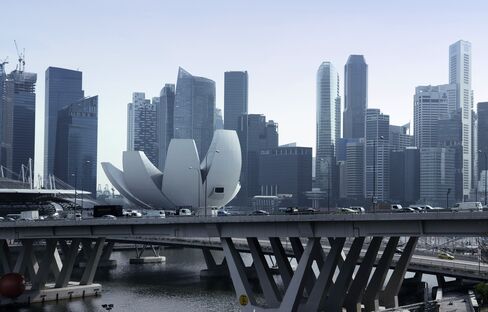 Nov. 21 (Bloomberg) -- Singapore said its economic growth may slow next year, extending a moderation in expansion that's already prompted the central bank to ease monetary policy.
The economy will grow 1 percent to 3 percent in 2012 after expanding 5 percent this year, the trade ministry said in a statement today. Non-oil domestic exports will probably rise 2 percent to 3 percent in 2011, lower than a previous forecast for shipments to grow 6 percent to 7 percent, the trade promotion agency said in a separate statement today.
Europe's debt crisis and disruption caused by flooding in Thailand threaten to hurt Southeast Asian growth, pressuring officials to shield their economies. Indonesia cut interest rates to a record low this month, and Singapore's central bank, which uses the exchange rate to manage inflation, said in October it will slow gains in the local dollar.
"Singapore is a very open economy and if global growth worsens, even this forecast of 1 percent to 3 percent is optimistic," said Kun Lung Wu, a Singapore-based economist at Credit Suisse Group AG. "It all hinges on what happens in the U.S. and Europe. The Singapore dollar will probably continue to trade at the bottom end of the policy band."
The monetary policy stance remains "appropriate," Ong Chong Tee, a deputy managing director at the city-state's central bank, said at a briefing today after the release of revised gross domestic product growth data.
The Singapore dollar weakened 0.3 percent to S$1.2997 against its U.S. counterpart at 8:48 a.m. local time today. It has declined 6.9 percent in the past three months, the second-worst performing major Asian currency in the period.
Fourth-Quarter Slowdown
GDP rose an annualized 1.9 percent last quarter from the previous three months, when it fell a revised 6.4 percent, the ministry said. The median of 10 estimates in a Bloomberg News survey was for a 2 percent gain.
The economy will likely weaken in the fourth quarter "alongside deteriorating external macroeconomic conditions" and a "pullback" in biomedical output growth, the trade ministry said today.
The government's 2012 GDP forecast "does not factor in downside risks to growth, such as a worsening debt situation or a full-blown financial crisis in the advanced economies," it said. "Should these risks materialize, growth in the Singapore economy in 2012 could come in lower than expected."
Export-Growth Risks
The city state, home to the world's second-busiest container port, has remained vulnerable to fluctuations in overseas demand for manufactured goods even as the government boosts financial services and tourism to cut reliance on exports.
Singapore's non-oil exports may expand 3 percent to 5 percent in 2012, the trade promotion board said today. Overseas shipments advanced 22.8 percent last year, the biggest gain since 2003.
Japan's exports fell for the first time in three months in October, indicating that the yen's appreciation and financial turmoil in Europe are slowing that nation's recovery from the March 11 earthquake and tsunami.
China's economy, Singapore's biggest single export market in the 10 months through October, expanded 9.1 percent from a year earlier last quarter after a 9.5 percent gain the previous three months. Singapore's exports fell the most in more than two years in October as electronics shipments by companies such as contract manufacturer Venture Corp. dropped 31.2 percent.
Consumer Sentiment
While Singapore escaped a technical recession, usually defined as two consecutive quarters of declines in GDP, the economy may shrink in the current three-month period on an export decline, said Chua Hak Bin, a Singapore-based economist at Bank of America Merrill Lynch.
Retail sales also weakened, falling for the first time in seven months in September, while growth in credit-card billings has slowed, signaling spending at hotels, restaurants and department stores may moderate.
"Domestically, the downturn appears to have hurt consumer sentiments" as buyers avoided purchases of big-ticket items, Chua said. "If the downturn persists, the government has the fiscal space to implement some measures before or at the February budget next year."
The Philippines unveiled a 72 billion-peso ($1.7 billion) fiscal stimulus package last month to spur the economy, while Malaysian Prime Minister Najib Razak used the country's annual budget in October to distribute cash to low-income families and raise wages for civil servants.
Stock Slump
Growth in Southeast Asian economies may have peaked in the third quarter. The Malaysian economy grew 5.8 percent in the three months through September from a year earlier, after a 4.3 percent expansion the previous quarter, the central bank said Nov. 18. Thailand may say today growth probably quickened to 4.5 percent from 2.6 percent, according to the median estimate in a survey of 11 economists.
The MSCI Asia Pacific Index of stocks has slumped about 18 percent this year. Singapore's benchmark Straits Times Index has dropped about 15 percent in the same period, led by Neptune Orient Lines Ltd., Southeast Asia's biggest container carrier, and commodity supplier Noble Group Ltd.
Consumer prices rose 5.5 percent in September from a year earlier, and inflation is forecast by the monetary authority to average about 5 percent this year and 2.5 percent to 3.5 percent in 2012. The central bank had tightened monetary conditions at each of its previous three reviews before the October decision.
GDP Details
The Monetary Authority of Singapore guides the local dollar against a basket of currencies within an undisclosed band. It adjusts the pace of appreciation or depreciation by changing the slope, width and center of the band.
The $223 billion economy expanded 6.1 percent last quarter from a year earlier, after rising 1 percent the previous quarter, today's report showed. That was higher than the 5.9 percent rate of expansion reported earlier. The quarterly gain of 1.9 percent compares with the previous estimate of 1.3 percent.
Manufacturing rose 14.2 percent from a year earlier in the three months ended Sept. 30, after declining a revised 5.6 percent in the second quarter.
Singapore's services industry grew 3.7 percent last quarter from a year earlier, after climbing 4 percent in the previous three months. The construction industry expanded 0.3 percent, compared with 1.5 percent increase in the quarter ended June.
To contact the reporter on this story: Shamim Adam in Singapore at sadam2@bloomberg.net
To contact the editor responsible for this story: Stephanie Phang at sphang@bloomberg.net