Senior London Bankers' Pay Jumps 21%, Recruitment Firm Says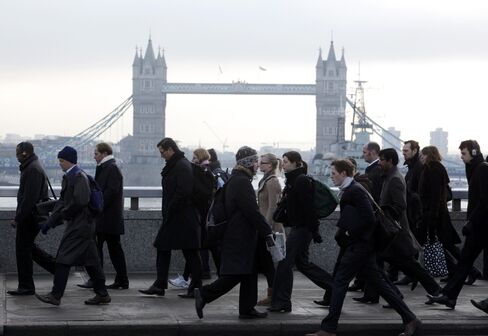 Senior bankers' base pay in London jumped 21 percent to 237,000 pounds ($374,815) as firms curbed bonuses, recruitment firm Astbury Marsden said.
The increase for managing directors compared with an average rise of 12 percent to 83,000 pounds for all bankers in the capital's City and Canary Wharf financial districts in the 12 months to Sept. 30 from a year earlier, the company said in a statement.
"A lot of the pay rises that fed this big increase to average City base pay were awarded in the first half of the year when the confidence amongst the banks was high," said Mark Cameron, chief operating officer at Astbury Marsden said in the statement. "Pay rises in the last six months were far rarer and now City employees are expecting the impact of the eurozone crisis to produce very weak bonuses."
Securities firms are battling a rise in fixed costs, driven by an increase in base salaries after European regulators sought to restrict bonuses while enabling pay to be clawed back if losses occur. Banks in the region including Royal Bank of Scotland Group Plc, Barclays Plc and UBS AG have announced more than 104,000 job cuts in the financial sector as a way of controlling costs amid the sovereign debt crisis.
"The consequence of the regulatory move against City bonuses has been that banks have been left with higher fixed salary costs at a time when banking revenues have slumped," Cameron said. "With less flexibility to pare back bonuses, we are instead seeing aggressive redundancy programs."
The research conducted among 1,380 City professionals, from analysts to senior bankers, Astbury Marsden said. The biggest compensation increases were for workers who changed jobs, the company said.