Qantas Says Regulator Will Decide in Disputes With Unions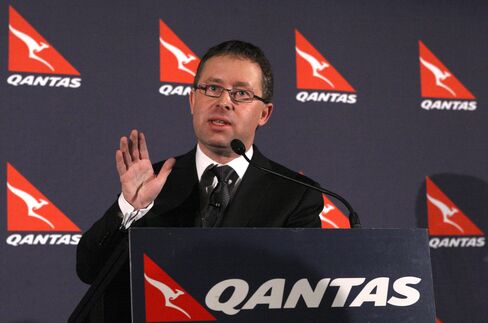 Qantas Airways Ltd., the Australian carrier that grounded planes last month to force an end to strikes, said the nation's labor regulator will decide on new contracts for three unions after talks broke down.
Fair Work Australia will impose a deal after negotiations with long-haul pilots, ground crew and engineers failed to produce agreements by yesterday's deadline, Qantas said in statements. The Sydney-based airline had 21 days to reach accords following a ruling by the regulator last month.
Qantas Chief Executive Officer Alan Joyce ceded control of talks in exchange for a decision by the regulator in the hope of winning a more favorable deal for the airline than he could get from unions. Joyce put the disputes on a path toward an imposed resolution Oct. 29, when he grounded his main fleet ahead of a lockout of workers in a bid to halt six months of sporadic strikes and a plunge in bookings.
"The unions have been outmaneuvered," said Allan Drake-Brockman, head of the Australian Workplace Relations, Employment and Safety Practice Group at DLA Piper LLP in Perth, Australia. Still, it "could potentially backfire" as Qantas won't decide on the final deal, he said.
Fair Work has never imposed a contract in a similar dispute before, Drake-Brockman said. Neither unions nor management is legally able to take any industrial action while the regulator undertakes the arbitration, which includes hearing evidence from both sides and drawing up a binding plan. The process may take months, Qantas said.
Job-Security Measures
Qantas fell 2 percent to A$1.608 at 10:56 a.m. in Sydney. The stock has dropped 37 percent this year compared with a 14 percent decline in the benchmark S&P/ASX 200 index.
Baggage handlers and engineers staged stoppages seeking higher pay and job-security measures. Long-haul pilots held protests in a bid to get the same employment conditions whether they fly for Qantas's namesake carrier or planes from its budget arm, Jetstar.
The decision by Qantas management "is unfortunate," Richard Woodward, vice president of the Australian & International Pilots Association, told reporters in Sydney. "We have a very strong case to bring to arbitration and we're confident of getting a good result."
Increasing Strikes
The dispute comes amid increasing strike action in Australia that has also affected Toyota Motor Corp., BHP Billiton Plc and port operator Asciano Ltd. The number of days lost to industrial disputes tripled in the three months ended June 30, according to the most recent government data.
Qantas said it has held more than 50 meetings with pilots on a new contract and has had six months of talks with the Transport Workers Union, which represents ground crew and baggage handlers.
"We will now let the independent umpire decide," Joyce said in a statement.
Joyce indefinitely halted flights on Oct. 29, affecting 80,000 passengers worldwide, to trigger government intervention in disputes that the airline said had cost A$68 million ($67 million). Services resumed about two days later, after Fair Work banned strikes and Qantas's plans to lock out workers.
The pilots' union sought a review of the Fair Work order in Australian Federal Court, which may lead to a reversal of the tribunal's decision, Woodward said yesterday. A hearing on the union's appeal is scheduled for Dec. 1.
Before it's here, it's on the Bloomberg Terminal.
LEARN MORE