NZ to Vote on System That Forces Key to Woo Minority Parties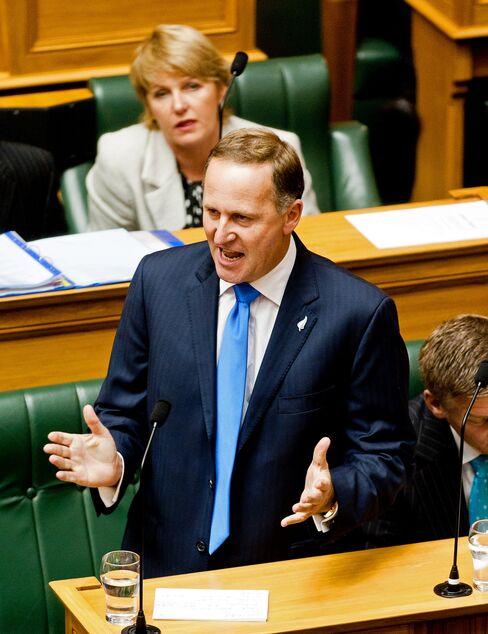 Nov. 22 (Bloomberg) -- New Zealand voters will be asked this week whether they approve of an electoral system that may force the country's most popular political party to align with smaller rivals to govern.
In a referendum alongside a national election Nov. 26, Prime Minister John Key has indicated he'll cast a ballot against the so-called mixed member proportional system, or MMP. Voters approved that method in 1996 to replace an approach, known as "first past the post," that gave power to the party that won the most constituencies.
At issue for voters in the South Pacific nation is whether to keep a system designed to better reflect the political preferences of its 4.4 million citizens. Key has criticized the existing system, telling NewstalkZB radio yesterday that a coalition of four rival parties could form a government even as his National Party attracts nearly half of all votes. MMP supporters say the system ensures a consensus approach.
"With the uncertain economic times we've got at the moment, and threatening by the day to get worse, we actually need a national consensus in what to do rather than taking the risk of putting the power in the hands of one party," Philip Temple, a Dunedin-based MMP campaigner and researcher, said in an interview.
In 2008, Key won 45 percent of the party vote and had 58 members in the 123-seat parliament. He was able to govern by getting support from the ACT and Maori parties, which each had five members in parliament, and a sole United Future member.
Leader Debate
Key yesterday met Labour leader Phil Goff in the second of three televised debates. The session was monitored by a studio audience of 65 undecided voters who were given machines to rate how positively or negatively they viewed each leader when they spoke. Most of the audience indicated that Goff performed better, according to stuff.co.nz.
This week's non-binding referendum will ask voters to elect to retain or change the MMP. In a second question, they are offered four alternatives to the current system.
If at least half of the voters opt to keep the MMP, the government has committed to a review in 2012 to address its functionality. If a majority wants a change, parliament will decide if there is to be another referendum in 2014 to choose between the MMP and the most-favored alternative from this year's options.
MMP Support
In a Colmar Brunton poll of 1,005 voters conducted Nov. 5-9, 51 percent of people supported keeping MMP and 37 percent wanted another voting system.
Under MMP, New Zealanders cast two ballots, one for a party and the other for a candidate in their constituency. There are 63 general constituencies and seven special constituencies reserved for native Maori voters.
Seats in New Zealand's parliament are allocated based on the share of the party vote, with members from a party list joining constituency winners to reach the desired proportion. Parties that receive less than 5 percent support can only enter parliament if one of their candidates wins a constituency.
National is leading in opinion polls, garnering 53 percent support in a survey of 857 voters taken Nov. 7-18, more than twice the 24.5 percent backing for the main opposition Labour party. The Green Party was the most popular small party, with 13 percent support. Both the Maori and New Zealand First parties tied on 3 percent.
Forming Alliances
The MMP system requires governments to work with minor parties if they win less than half of the popular vote. That can delay formation of the new government as dominant parties negotiate for support that will allow them to pass budgets and win a confidence vote -- the bare essentials to govern.
Key's struggle with the proportional system was illustrated when he told reporters he "wouldn't be unhappy" if voters in the Auckland constituency of Epsom backed a candidate for the ACT Party, a potential ally in parliament, rather than the National contender. ACT has just 1.5 percent support and needs to win Epsom to get into parliament.
The prime minister invited media on Nov. 11 to film him talking to ACT candidate, former Auckland mayor John Banks, in a coffee shop. After the event, Key complained to police that his talk with Banks, which was supposed to be private, was secretly recorded by a member of the press.
In 2008, ACT won the Epsom constituency, meaning its 3.7 percent share of the party vote allowed it to have five members in parliament.
To contact the reporters on this story: Tracy Withers in Wellington at twithers@bloomberg.net; Chris Bourke in Wellington at cbourke4@bloomberg.net
To contact the editor responsible for this story: Shamim Adam at sadam2@bloomberg.net