Missile Strike Unlikely Against Wayward Russian Mars Probe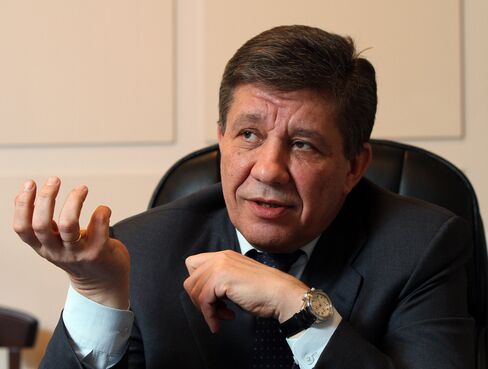 Russia probably isn't capable of shooting down a wayward spacecraft with tons of toxic chemicals inside that may soon crash to Earth, U.S. space engineers said.
The $163 million Phobos-Grunt, made by Moscow-based NPO Lavochkin, got stuck in low-Earth orbit after its Nov. 9 launch. It may crash within weeks if scientists are unable to establish contact and activate its propulsion systems. The window to send the spacecraft to a Martian moon, its destination, ends today, state news agency RIA Novosti reported.
Russia may not have the capability to launch a missile to destroy the probe. The United States shot down a disabled spy satellite in 2008, and China intercepted a defunct weather satellite in 2007.
"This has got such a low orbit life," Wayne Hale, director of human space flight and international programs for Special Aerospace Services LLC, a Boulder, Colorado-based engineering company, said in an interview in Washington. "The time frame to mount any kind of capability to disperse these propellants is just very short."
The craft's 13 tons is mostly fuel, including nitrogen teroxide and hydrazine. Hydrazine is a colorless, corrosive liquid used in products including rocket fuel, pesticides and textile dyes. Acute exposure can damage the liver, kidney and central nervous system, and cause other health problems, according to the U.S. Environmental Protection Agency.
When the U.S. Navy struck an inoperable spy satellite in 2008 with a modified Standard Missile-3 made by Waltham, Massachusetts-based Raytheon Co., the Pentagon said the goal was to destroy a fuel tank with about 1,000 pounds of hydrazine.
Contamination Risk
Frozen hydrazine from the Russian probe may survive as ice or slush on the ground, possibly contaminating an area of tens or hundreds of feet, according to James Oberg, a NASA veteran who works as a space consultant.
Vladimir Popovkin, head of the Russian space agency Roscosmos, played down the re-entry risks, saying the fuel is very likely to explode and destroy the craft during descent, RIA Novosti reported.
Popovkin has said the spacecraft will orbit until January, and that engineers have until early December to re-establish contact and "make it perform its mission," according to the news agency. The craft has reportedly twice corrected, or boosted, its orbit without instruction.
The probe was designed to return soil samples from one of two Martian moons. It lifted off Nov. 9 in a Zenit-2 rocket from the Baikonur cosmodrome in Kazakhstan. It separated from the booster and then failed to ignite its liquid-fuel, upper-stage engine to set a course for Mars.
NASA Collaboration
Popovkin has said the on-board computers may have failed to send a command to ignite the engine. All attempts to communicate with the craft have failed.
A spokeswoman for Roscosmos did not respond to an e-mail requesting comment.
The National Aeronautics and Space Administration offered to help and is working with the Russian space agency to provide requested technical and communications assistance, Michael Braukus, a NASA spokesman, said in an e-mail last week. "These efforts are ongoing."
The collaboration involves the use of NASA's Deep Space Network, which has antennas and communications hubs in California, Spain and Australia to constantly observe spacecraft as Earth rotates, Braukus said.
Scott Pace, director of the Space Policy Institute at George Washington University, said once NASA offered support, it took several days to get enough technical information from Russia to begin searching for the probe with the space network.
'Limited Options'
Among the lessons that may be taken from the experience is the importance of open communications, which allow rapid international support in times of need, Pace wrote in an e-mail.
"A lot of good work has already occurred, particularly between the United States, Europe, and Japan, but clearly more could be done," Pace wrote.
Tom Collina, research director at the Arms Control Association in Washington, said Russia has short- to medium-range air defense systems.
"They don't have systems that would intercept something in space," he said in a telephone interview. "My sense is that they would have limited options if they were actually trying to shoot something down."
Mars Rover
Oberg, a mission control veteran of the shuttle program, said the Russian military recently created an air and space command to defend the country against dangerous missiles and satellites.
"If it turns out that this much ballyhooed new command is impotent to defend against one of their own satellites, it's going to be more than embarrassing," he said in a telephone interview.
The interplanetary mission is Russia's first since losing a Mars lander at a similar stage in 1996. The Phobos-Grunt spacecraft is carrying China's first Mars satellite, Yinghuo-1.
The U.S. plans to search for life on Mars with a rover called Curiosity, as part of NASA's $2.5 billion Mars Science Laboratory, scheduled to launch Saturday from Cape Canaveral Air Force Station, Florida.
The Russian probe may be the third out-of-control spacecraft to return to the Earth in as many months. A U.S. climate satellite crashed into the Pacific Ocean on Sept. 24, and a German space telescope fell into the Bay of Bengal on Oct. 23, according to the state newspaper China Daily.
When asked how officials prepare for such an event, Hale, who was former manager of NASA's space shuttle program, said, "You just try your best to predict where it's going down and you keep your fingers crossed."