Microsoft-Intel Inside Suffer as Governments Cut Spending: Tech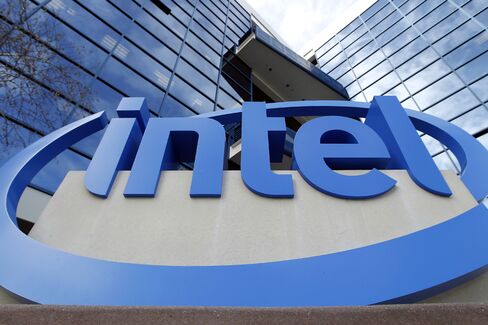 Seattle's chief technology officer, Bill Schrier, is bracing for a 6 percent budget cut in 2012, bigger than this year's, a sign of tighter spending that indicates slower sales gains for Microsoft Corp. and Intel Corp.
"Spending is going to be down, and in some places it's going to be down considerably," Schrier said of technology spending by governments generally.
Schrier is likely to be told to cut even more next year, so he's delaying upgrades to Microsoft's Windows 7, cutting services contracts from International Business Machines Corp. and seeking cheaper alternatives to gear from Cisco Systems Inc.
Belt-tightening in the biggest city in the Pacific Northwest reflects a larger trend: Financial-services companies such as Western & Southern Financial Group and governments, including the state of California, will cut or leave spending on information technology unchanged next year as economic growth slows. That means some technology bellwethers, including Intel, Microsoft, IBM and Cisco, may suffer.
"It will be a tough environment just because there's so much pessimism out there," said Richard Gordon, an analyst at market research firm Gartner Inc. The industry will need to prepare for "general downward pressure everywhere."
While Gartner now expects information technology spending among businesses to rise 3.9 percent next year, less than the 5.9 percent increase for 2011, the Stamford, Connecticut-based research firm will probably cut that forecast at the end of the quarter, Gordon said.
VMware May Benefit
Some businesses that seek to stretch technology dollars may step up spending on products that are designed to save money, such as VMware Inc.'s so-called virtualization software, which helps clients make more efficient use of data centers. Other companies that represent "areas of strength" include Citrix Systems Inc. and SAP AG, according to Morgan Stanley.
Technology budgets will rise just 0.6 percent over the next year, according to a September survey of U.S. and European CIOs by UBS AG.
As a result, sales growth will slow next year for companies like Microsoft and IBM, which rely on government and financial-services customers, said Gordon. Sales at Armonk, New York-based IBM, the largest provider of technology services, will rise only 3 percent in 2012, less than half this year's 7 percent pace, according to analysts surveyed by Bloomberg.
At Redmond, Washington-based Microsoft, the largest software maker, sales in fiscal 2012 will increase only 7 percent, compared with 12 percent in 2011.
'Real Risk'
Revenue will climb 8 percent in fiscal 2012 at Oracle Corp., the top seller of database software, compared with 33 percent the prior year, while the rate of increase at Intel, the biggest maker of computer chips, is projected to be 6 percent, a fraction of this year's estimated 26 percent, according to Bloomberg data.
The outlook for many executives dimmed in the second half as Europe's credit crisis spiraled, and more recently as flooding in Thailand has threatened the supply of computer hard-disk drives. Among corporate chief financial officers surveyed by Duke University and CFO Magazine, 65 percent said they were less optimistic about the U.S. economy in the third quarter than they were in the second.
"There is a real risk, and it would be foolish to say otherwise," said Michael Holland, chairman of Holland & Co., which oversees about $4 billion, including shares of Microsoft, Intel and IBM. "To be realistic is to expect things to be a little less than the level that they were this year."
Zero Spending Growth
Speculation that technology stocks will decline has left options traders at their most bearish since May 2010. Three-month puts to sell the Technology Select Sector SPDR Fund cost 10.44 points more than calls to buy, according to implied-volatility data compiled by Bloomberg. The price relationship known as skew increased 78 percent in the past four months and reached 11.67 on Nov. 9, the widest in 17 months.
Life insurer Western & Southern Financial Group is keeping its technology budget flat next year after a 2 percent increase this year, Chief Technology Officer Douglas Ross said. The Cincinnati-based company is investing in virtualization software from VMware so it can cut purchases of server computers from Dell Inc. and Hewlett-Packard Co. and storage products from EMC Corp. and NetApp Inc., he said.
"There's a lot of scrutiny on whether the economy is slowing," he said. "We're certainly concerned about it. The management team is really looking at every item to figure out what we can dispense with."
Demand from businesses this year was a bright spot for some companies, including Microsoft and Intel, as consumers curtailed spending on personal computers and other electronics. It won't provide as big a cushion in 2012.
Thai Flooding Impact
PC shipments will drop by as much as 13.4 percent in the first quarter because of supply constraints and rising prices related to flooding in Thailand, according to researcher IDC. That's down from a previous forecast for an 8.2 percent gain.
Bank of New York Mellon Corp. will boost its technology spending by 3.7 percent. While that's about the same as last year, it's more modest than the bank's historical increases, which range from 4 percent to 6 percent, Chief Information Officer John Fiore said. The bank is saving money by moving all but the most complicated technology services to India, instead of using vendors like IBM and Accenture Plc, he said.
While the State of California hasn't finished its budget, Secretary of California Technology Carlos Ramos predicts another year of cuts.
Insulated at Oracle
The growth slowdown will hit some areas of technology harder than others. Spending on technology services will rise 4.4 percent in 2012, compared with 7.3 percent growth this year, according to Gartner. Spending on server computers will increase 5.8 percent, down from 11 percent this year, while software spending will climb 7.4 percent next year, below this year's 8.7 percent.
Companies that have a high percentage of recurring revenue from maintenance contracts, such as CA Inc., or large cash piles, including Microsoft and Redwood City, California-based Oracle, have some insulation against sudden swings in customer spending, said Mark Moerdler, an analyst at Sanford C. Bernstein & Co.
Some companies are increasing spending on areas that will help them reduce expenses in the long run or reach new customers. Equifax Inc., the provider of consumer credit information, will lift spending by 4 percent to 6 percent in 2012 after a 4 percent increase this year. The spending is aimed at helping the company deliver on a pledge to investors that 10 percent of sales will come from new products, CIO David Webb said.
'After the Accident'
"Most companies today are totally dependent on technology for growth and even if there is contraction in the general market, to stay abreast of competition you have no choice but to invest in technology," Webb said.
Even companies that plan higher spending may favor modest increases, said Pat Becker Jr., a fund manager at Portland, Oregon-based Becker Capital Management Inc., which oversees $2.2 billion in assets. Continued turmoil in Europe or in the broader market may spook CEOs and CFOs who are still scarred from the recession.
"This is a world of driving after the car accident," he said. "After you get in an accident, you're a little jumpy and you go slower."
Before it's here, it's on the Bloomberg Terminal.
LEARN MORE