John Smale, Procter & Gamble CEO, GM Chairman, Dies at 84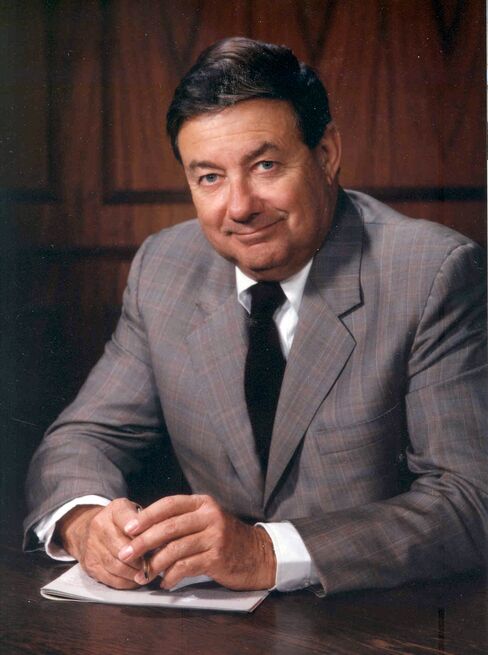 Nov. 21 (Bloomberg) -- John G. Smale, who led Procter & Gamble Co., the world's largest consumer-products maker, and then became chairman of General Motors Corp., died on Nov. 19. He was 84.
The cause of death was complications from pulmonary fibrosis, a type of lung disease, according to Paul Fox, a Procter & Gamble spokesman.
Smale served as P&G's chief executive officer from 1981 to 1990 in a career that spanned 43 years at the Cincinnati-based company. Under his leadership, Procter & Gamble entered 23 new countries, added 15 business categories, and doubled annual sales, to $23.5 billion. Revenue was $82.6 billion in its latest fiscal year, which ended in June.
"More than any other P&G leader I know, John always tried to make sure the longer-term health of the institution was taken into consideration," former Chairman and CEO A.G. Lafley said in a statement sent by the company.
That included an emphasis on research, and, according to Smale, building an organization with strong values.
"All institutions, if they're worth anything, have a soul," he said last November at the dedication of the John G. Smale Auditorium at P&G headquarters. "They have a character that encourages people to really dedicate a working life to them and to the fortunes of the company."
Boardroom Coup
In 1982, while he was leading P&G, Smale joined the board of Detroit-based GM. Ten years later, he led a boardroom coup to oust Chairman and CEO Robert Stempel and remove Stemple's handpicked president, Lloyd Reuss, from that job. GM lost about $24 billion that year and $4.5 billion the prior year. The automaker was on the verge of bankruptcy.
Smale took over as non-executive chairman and made John F. Smith, who had successfully run GM's European business, the new CEO. Under Smale and Smith, the company restructured, stabilized its finances and returned to profitability in 1993. GM then rode the SUV boom to prosperity for the rest of the decade.
John Gray Smale was born on Aug. 1, 1927 in Listowel, Ontario. He graduated from Miami University in Oxford, Ohio, about 30 miles (48 kilometers) north of Cincinnati, in 1949. Three years later, he joined P&G, initially marketing Gleem and Crest toothpastes. He led Crest to a top market share by persuading the American Dental Association to endorse Crest as a product that reduced tooth decay, according to P&G's website.
'Agent for Change'
"The one thing that distinguishes John's career as the leader of our company has been his remarkable record as an agent for change," said Edwin Artzt, who succeeded Smale as CEO.
He retired as chairman and CEO in 1990 and left the board of directors in 1995.
Smale, who was GM chairman from November 1992 until January 1996 and chairman of the executive committee until June 2000, thought the automaker didn't do enough to market its cars. In 1994 he played a key role in hiring then Bausch & Lomb Inc. President Ronald Zarrella as GM's vice president of sales and marketing. Zarrella tried to bring brand management techniques to GM, using marketing to differentiate cars that were mechanically similar and sold by the company's different divisions.
Zarrella was later promoted to president of GM-North America. The marketing efforts that he led, with Smale's backing, failed to turn around GM's decades-long slide in market share. The company had 33 percent of the U.S. auto market in 1994 and 28 percent when Zarrella returned to Bausch & Lomb in 2001.
Giving Back
GM hired former Chrysler President Robert Lutz in September 2001. He eventually dismantled the brand management efforts that Smale and Zarrella had put in place.
Smale led the Cincinnati Infrastructure Commission, known as the Smale Commission, in the late 1980s and was a member of the Greater Cincinnati Business Hall of Fame. He was also an emeritus trustee at Kenyon College in Gambier, Ohio, which awarded him an honorary doctor of laws degree in 1974.
Smale was married to Phyllis Weaver for 56 years, until her death in 2006. He is survived by their four children.
Editors: Steven Gittelson, Charles W. Stevens
To contact the reporter on this story: Lauren Coleman-Lochner in New York at llochner@bloomberg.net
To contact the editor responsible for this story: Robin Ajello at rajello@bloomberg.net