Japan Exports Fall as China Sees Prolonged World Slump: Economy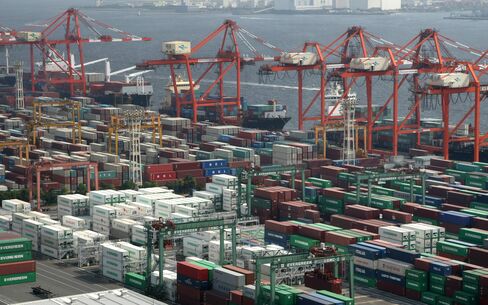 Japanese exports dropped more than forecast in October, Singapore said its growth may slow to 1 percent next year and China signaled the global economy faces an extended slide.
The reports may raise pressure on policy makers in export-reliant Asia to implement further stimulus measures. A record of the Bank of Japan's Oct. 27 meeting today showed one board member favored adding 10 trillion yen ($130 billion) in asset purchases, and Chinese Vice Premier Wang Qishan said his nation must adopt more "forward looking" and flexible monetary policy.
"Things are going to get worse before they get better," said Vishnu Varathan, a Mizuho Corporate Bank Ltd. economist in Singapore. "Export growth will slow across Asia and we may see financial shocks coming through. Asian policy makers are going to become stimulatory all over again."
Japan's finance ministry reported today that shipments abroad fell 3.7 percent in October from a year before, the first drop in three months and an indication the nation's rebound from the record March earthquake will slow. Singapore's trade ministry said the nation's gross domestic product may rise 1 percent to 3 percent in 2012, after a 5 percent gain this year, in a projection that didn't incorporate a European recession.
The world economic situation is "extremely severe," China's Wang said at a financial work meeting in Hubei province, state news agency Xinhua reported late on Nov. 19. "The global economic recession triggered by the international financial crisis will be long-term," Xinhua cited Wang as saying.
Stocks Fall
Stocks in Asia dropped, with the MSCI Asia Pacific Index down 1.3 percent as of 5:45 p.m. in Tokyo. Futures contracts on the U.S. Standard & Poor's 500 Index retreated 1.4 percent after the congressional panel charged with forging a bipartisan fiscal-tightening plan signaled that an agreement won't be reached by the Nov. 23 target date.
Later today, the Federal Reserve Bank of Chicago is scheduled to release a gauge of U.S. economic activity in October. The Chicago Fed national index, which draws on 85 economic indicators, was below zero in August and September, signaling below-trend-growth in the national economy.
The euro region reports on its current-account balance for September. The area's deficit narrowed to a seasonally adjusted 5 billion euros ($6.8 billion) in August from 6.8 billion euros in July. The Netherlands is due to release September consumer spending figures, and Poland has October industrial production, forecast to show a 2 percent drop, according to the median of 11 estimates in a Bloomberg News survey of economists.
Thai Floods
The Thai government cut its forecast for economic growth this year to 1.5 percent because of the impact of flooding, the National Economic and Social Development Board said in Bangkok today.
The nation's economy may shrink 3.7 percent this quarter, after it grew 3.5 percent in the three months through September from a year earlier, the board said. The damage from the flood may reach 300 billion baht ($9.7 billion), it said.
"Third-quarter expansion was lower than expected, raising the chance of a temporary interest-rate reduction," said Usara Wilaipich, an economist at Standard Chartered Plc in Bangkok. The central bank may make a "one-off, 50 basis point" rate cut at the Nov. 30 policy meeting, she said.
Record flooding in Thailand has also disrupted supply chains of Japanese auto and electronics companies including Honda Motor Co., Toyota Motor Corp. and Pioneer Corp. Toyota, Asia's largest carmaker, reported on Nov. 8 that its profit fell 19 percent in the quarter ended Sept. 30, as the Thai disruption and yen gains hurt a rebound from the March temblor.
Singapore Exports
Singapore lowered its forecast for non-oil domestic exports, estimating overseas shipments to rise 2 percent to 3 percent in 2011, lower than a previous forecast of 6 percent to 7 percent, it said today. Shipments may increase 3 percent to 5 percent in 2012, the trade promotion board said.
"Singapore's growth outlook remains negative as a broader downturn takes hold," said Chua Hak Bin, a Singapore-based economist at Bank of America Merrill Lynch.
Singapore's 2012 GDP forecast "does not factor in downside risks to growth, such as a worsening debt situation or a full-blown financial crisis in the advanced economies," the government said. "Should these risks materialize, growth in the Singapore economy in 2012 could come in lower than expected."
Third Quarter Growth
Growth in Southeast Asian economies may have peaked in the third quarter. Malaysia's GDP rose 5.8 percent in the three months through September from a year earlier, after expanding 4.3 percent in the previous quarter. Thailand's GDP rose 3.5 percent in the three months through September from a year earlier, after climbing 2.7 percent in the second quarter.
The Malaysian government cut its forecast for 2011 economic expansion last month and said there is increased pressure to use fiscal resources to bolster growth. The expansion rate will probably be 5 percent to 5.5 percent this year, Prime Minister Najib Razak's administration said Oct. 7, less than an earlier target of as much as 6 percent.
In Taiwan, export orders increased 4.38 percent in October from a year earlier, the Ministry of Economic Affairs said in Taipei today.
Meanwhile, yuan holdings at Chinese banks fell a net 24.9 billion yuan ($3.9 billion) in October, the first decrease since December 2007, according to a statement on the People's Bank of China website. Economists watch the numbers for signs of inflows or outflows of so-called hot money.
'Largest Risk'
Bank of Japan Governor Masaaki Shirakawa told reporters in Tokyo last week that "developments in Europe's sovereign-debt problems are the largest risk now."
Japan may fall into a similar sovereign-debt crisis as Europe if it doesn't get the world's "worst" public debt situation in order, Hirohisa Fujii, chairman of the ruling Democratic Party of Japan's tax commission and a former finance minister, told reporters in Tokyo today.
European policy makers have yet to contain the sovereign-debt crisis that caused bailouts of Greece, Ireland and Portugal and has sent the yield premiums on the debt issued by governments from Spain to Italy to the highest compared with benchmark German securities since the euro's introduction.
"It's a continuum of 2008," International Monetary Fund Managing Director Christine Lagarde said Nov. 18, referring to the global economic and financial turmoil. "I want to believe that countries will understand that they can actually change the course of things," she said in the interview with CBS television's 60 Minutes program that aired yesterday.
Before it's here, it's on the Bloomberg Terminal.
LEARN MORE