Japan Exports Fall as Yen Gains, Europe Crisis Crimp Demand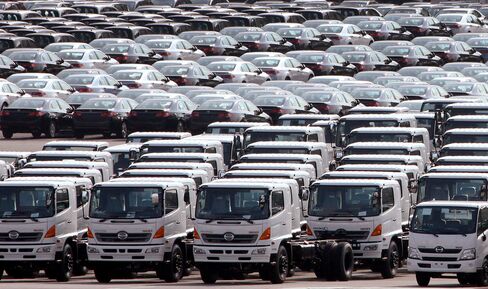 Japan's exports fell for the first time in three months, indicating that the yen's appreciation and financial turmoil in Europe are slowing the nation's recovery from the March disaster.
Shipments dropped 3.7 percent in October from a year earlier, the Ministry of Finance said today in Tokyo, worse than all 29 estimates of economists surveyed by Bloomberg News.
Exports to China, Japan's biggest market, slid 7.7 percent, the largest drop since May, today's report showed. Weakening overseas demand has led companies including Toshiba Corp. and Nippon Yusen K.K. to call on the government to follow up on last month's yen intervention with steps to prevent the currency from appreciating further.
"A sharp slowdown in demand from eurozone countries should be weakening exports from Asia, in turn leading to weakness in exports from Japan," said Masayuki Kichikawa, chief economist at Bank of America Merrill Lynch in Tokyo. "Exports should be weakening toward the end of this year, or possibly until January or February."
The Bank of Japan cut its economic assessment on Nov. 16, saying that the economy is picking up at a "more moderate" pace. Governor Masaaki Shirakawa told reporters in Tokyo that "developments in Europe's sovereign-debt problems are the largest risk now."
Exports slid 3.5 percent on a seasonally adjusted basis from September, today's report showed. From a year ago, imports climbed 17.9 percent on increased demand for food and energy, the government said.
Yen's Appeal
The euro region, Japan's third-biggest export market after the U.S. and China, is embroiled in a debt crisis. Ten-year Italian and Spanish government bond yields are hovering around the 7 percent threshold that led Greece, Portugal and Ireland to seek bailouts. The turmoil has boosted the yen's appeal as a safe haven, driving up the currency against the dollar and euro.
Japan intervened in the foreign exchange market for the third time this year on Oct. 31 as the yen rose to 75.35 yen per dollar, the highest since World War II. Finance Minister Jun Azumi said the sales were conducted to protect the economy and prevent excessive moves in the currency. The government has also pledged to help companies cope with the stronger yen by extending loans to facilitate overseas acquisitions and corporate subsidies to prevent jobs and factories from moving overseas.
Further evidence that Japan's industrial base is hollowing out came with the South Korean state-run Korea Development Bank saying on Nov. 17 that Japanese companies will increase takeovers on the peninsula to take advantage of the strong yen. Seoul-based KDB earlier this year arranged Toshiba Corp.'s $35 million investment in South Korean wind turbine maker Unison Co.
Record flooding in Thailand has also disrupted supply chains of Japanese auto and electronics makers including Honda Motor Co., Toyota Motor Corp. and Pioneer Corp. Toyota, Asia's largest carmaker, reported on Nov. 8 that its profit fell 19 percent in the quarter ended Sept. 30, as the Thai floods and strong yen hampered its recovery from the March earthquake.
Before it's here, it's on the Bloomberg Terminal.
LEARN MORE