Hot off the Griddle: November 21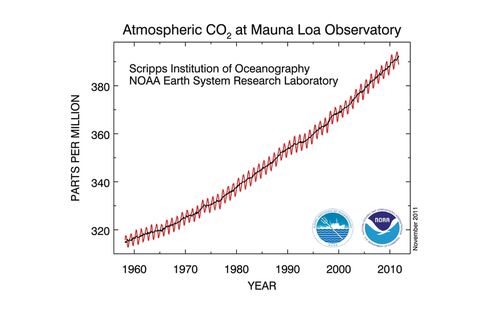 By Eric Roston
Good morning, and welcome back to The Griddle, a morning menu of fortified items for the busy person's media diet. In 1958, a scientist named C. David Keeling started monitoring the carbon dioxide content of the atmosphere, which was then about 314 ppm, or parts CO2 per million parts of air. Within two years, Keeling could tell it was trending up. The National Oceanic and Atmospheric Administration maintains this data set, known as the "Keeling Curve," to this day.
This morning, the World Meteorological Organization issued its annual Greenhouse Gas Bulletin, which measures levels of heat-trapping gases driving climate change. The WMO reports that 2010 set a new CO2 record, of 389 ppm, indicating a rebound in the global economy and a harbinger of the challenges ahead. And now, more news:
Rich nations 'give up' on new climate treaty until 2020 (Guardian)
Congress Nixes National Climate Service (Washington Post)
Greenhouse-Gas Concentration Rose to Record in 2010, United Nations Says (Bloomberg)
Air-Conditioning Gases Must Be Curbed to Protect Climate, UN Says (Bloomberg)
Bill Gates: US government should triple green energy investment (BusinessGreen)
Uncertainty Slows Energy Investments (Chemical & Engineering News)
Warming oceans signal fishery changes, study says (CBC News)
Talking About the Weather Gets a lot More Interesting (Time)
Can Electric Cars Help Automakers Reach 55 MPG? (NPR)
Insurers Expect Rising Costs From Extreme Weather, Climate Change (Dow Jones)
Analysis: Easy loans now a burden for China solar firms (Reuters)
-0- Nov/21/2011 17:29 GMT
Before it's here, it's on the Bloomberg Terminal.
LEARN MORE