Germans Rescue Christmas With Biggest Spending Increase: Retail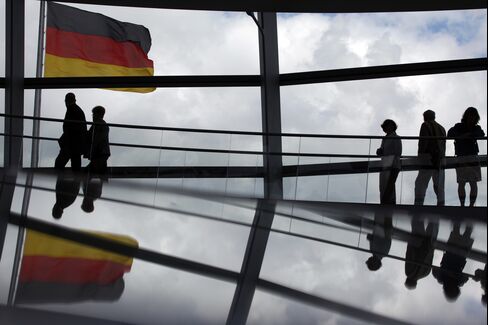 Germany's government is offering 211 billion euros ($284 billion) in guarantees to save the European economy. The country's consumers are doing their part, too.
Germany, where the first Christmas tree was documented 600 years ago, will have the strongest growth out of nine European countries over the holiday season, with consumers increasing budgets by 2.7 percent, a study from the U.K.'s Centre for Retail Research shows. Germans may spend about 630 euros per household on gifts, food and drink, travel and decorations, more than the European average of 605 euros.
"We have a 20-year low in unemployment," said Joerg Frey, an analyst at M.M. Warburg in Hamburg. "The German consumer is concerned by the risks of the debt crisis, but he's not feeling them in his wallet right now."
German shoppers have traditionally been Europe's laggards, with retail sales stagnating for most of the two decades following reunification in 1990. Metro AG, the country's largest retailer, is counting on a Christmas rebound to make its full-year earnings forecast after quarterly profit disappointed investors eight times since the beginning of 2009.
Games, watches, jewelry, books and consumer electronics will be the biggest sellers as German retail sales grow a projected 1.5 percent to 78 billion euros in November and December compared to the year-earlier period, according to the German Retail Federation.
No Spending Effect
"The crisis has definitely no effect on my spending behavior at this time of the year," said Marijo Knezevic, a 29-year-old portfolio manager from Bad Vilbel outside Frankfurt, who said he'll spend 2,000 euros to 2,500 euros on electronic goods, clothes, accessories and luxury goods for the holiday. "My family is trying to give the best to make it as special and as good as it was in the last years."
Germans have little incentive to save, with interest rates at historic lows. The European Central Bank cut its benchmark rate to 1.25 percent on Nov. 3 as Europe fights a two-year sovereign-debt crisis. German unemployment is currently at 7 percent after falling in September to the lowest since reunification.
Metro said it's relying on Christmas to boost full-year earnings 5 percent to 10 percent. Its stock has fallen 36 percent this year, the third-worst performance on the Stoxx 600 Retailing Index of 24 companies.
The company's Saturn consumer-electronics stores went online in October, a decade after Amazon.com Inc. started selling to Germans, often at lower prices than Metro.
Consumer Confidence
"We are confident that our Christmas business will be much better than last year," when heavy snowfall kept many would-be shoppers at home, Chief Executive Officer Eckhard Cordes said Nov. 3.
German consumer confidence will rise for the first time in eight months in November as salaries increase, market research company GfK SE said Oct. 25. Domestic demand is improving as households expect an increase in income prompted by "the currently very favorable employment environment," the Bundesbank said in its monthly report yesterday.
"Companies are still pretty sound, so why should German consumers be afraid?" Frey said. "That's a different situation from Spain or Greece, where people already feel the pinch of a recession."
Greeks Cut Back
European households are expected to spend on average 344 euros on gifts, 187 euros on food and drinks, 47 euros on travel and 27 euros on decorations, according to the CCR study of researchers and retailers in nine countries. Germans will probably spend less only than shoppers in the U.K. and Sweden.
Greek consumers will cut their outlay at least 20 percent, with shoppers in Ireland and Portugal cutting back by more than 7 percent and Italians by 2.3 percent, according to Deloitte LLP. Spaniards are expected to increase their budgets 1.9 percent, said Deloitte, which estimates the German increase at 4.3 percent.
Germany, the biggest contributor to the 440 billion-euro European bailout fund, has another source of revenue: its traditional Christmas markets selling hot spiced wine, or gluehwein, sausages, knitted socks, wooden toys and ornaments.
The 3 million visitors to Frankfurt's Christmas market spend 10 euros each on average, said Kurt Stroscher, who has organized the event for more than 20 years at Tourismus+Congress GmbH, meaning the city alone could produce as much as 30 million euros in revenue. An affiliated U.K. market in Birmingham, the biggest outside Germany, generates about 90 million pounds ($141 million) in sales through 193 stalls, said Mike Whitby, leader of Birmingham city council.
Stable Spending
"The economic crisis hasn't been an issue for us so far," Stroscher said. "The business has been very stable. People want to forget their concerns about the future at Christmas."
Tobias Himmelsbach, a 31-year-old IT-consultant from Berlin, said he'll spend about 100 euros on gifts including books and perfume for his girlfriend.
"The crisis in Europe doesn't affect my Christmas behavior since it's once a year," he said. In at least one way, German consumers don't differ from their counterparts around the globe.
"I haven't started my Christmas shopping yet," Himmelsbach said. "I usually do it two weeks before Christmas."
Before it's here, it's on the Bloomberg Terminal.
LEARN MORE