Franco Makes Cameo in Spanish Election as Fear Factor Fades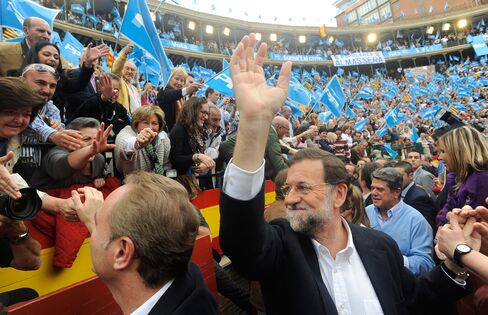 Thirty-six years after his death, Spanish Dictator General Francisco Franco managed to make his presence felt in Spain's general elections yesterday.
Socialist Prime Minister Jose Luis Rodriguez Zapatero had called for the vote to be held on the anniversary of the Generalissimo's death. Nov. 20 is a day celebrated each year by remnants of Franco's fascist following in acts that are loathed by millions of Spaniards who were marked by his dictatorship or scarred by the bloody civil war that produced it.
Still, the vote's outcome shows how the ghost of Franco, and the Socialists' attempts to associate the winning People's Party with its fascists roots, have lost most of their power. The PP, founded by a minister in Franco's last government, won the biggest parliamentary majority in almost 30 years and will bring leader Mariano Rajoy to power within a month.
Zapatero "chose the date to sow division but I don't care," said Maria Asuncion Moreno, a 69 year-old homemaker celebrating victory outside the PP's Madrid headquarters last night. "The PP has nothing to do with Franco."
The pro-business party, which governs in 11 of 17 of the country's autonomous regions, has a chance to unseat the Socialists in their southern stronghold of Andalusia in March elections after yesterday's landslide victory.
In a reflection of how Spain's fascist past stays part of its democratic present, both Rajoy and the Socialist candidate Alfredo Perez Rubalcaba commented on how the incident-free polling day and 72 percent turnout had bolstered Spanish democracy. Rubalcaba's campaign manager, Elena Valenciano, said in a televised statement "the main winner today has been democracy, which emerges strengthened."
'Absolute Power'
The Socialist party traditionally plays on many Spaniards' willingness to associate the PP with its fascist roots. Rubalcaba, trailing by 15 percentage points in the polls, closed the campaign in a Nov. 18 interview in El Pais newspaper by appealing to voters to prevent the right from gaining "absolute power."
Zapatero cited his grandfather, who was shot by Franco's firing squads, as the inspiration for his political career. The man was a soldier who fought to preserve the Second Republic of Spain of the 1930s that was overthrown by Franco's Nationalists.
During the 7 1/2 years of Zapatero's mandate, he stirred controversy by opening an inquiry into Republicans executed by Franco's troops and dumped in unmarked graves around Spain.
The date he chose this year for early elections is when Franco's relatives and sympathizers traditionally gather for a mass in his honor at the Valley of the Fallen memorial in the mountains outside Madrid. Hundreds of Catholics filed past Franco's grave, decorated with flowers, to take communion at yesterday's service in a church that had standing room only.
Mass, Mausoleum
The monument to soldiers killed in the three-year civil war is a magnet for Franco supporters who mark Nov. 20, or "20-N" as it's known in Spain, by holding their traditional mass there. The complex was built partly by prisoners from the socialist and anarchist forces that opposed him.
"There has to be a change and the only party that can lead the change is the PP," Jose Manuel Florez, 39, said yesterday after the mass held at Franco's mausoleum in the mountains outside Madrid. "They have a lot of work to do."
Florez, a dental implant salesman, attended the religious service wearing a fascist flag as a neckerchief. Afterward, outside the basilica where the dictator is buried, his son shot a smartphone photograph of Florez making a fascist salute while others sang Franco's anthem, "Face to the Sun."
PP loyalists say their party has again been left to restore order after the Socialists left the country in a mess. Rajoy's PP predecessor Jose Maria Aznar, came to power in 1996 after the Felipe Gonzalez government was weakened by a string of corruption scandals and a recession.
Aznar Era
"When Aznar came to power he found a country in a very bad state and put it back on the right track," said Moreno. "We hope this is what is going to happen again, that is why we came here today," she said at the Rajoy victory celebration.
Franco's remaining supporters credit the dictator with preventing the country's collapse after the Second Republic or falling under the sway of the Soviet Union.
"Spain was in ruins when Franco took over and he kept the country together," said Luis Alonso Garcia, 59, a fruit and vegetable seller smoking a cigar and leaning on his walking stick outside the basilica. "We didn't have much but what we had was ours. People today have bought a load of useless rubbish on their credit cards and now they can't pay the bills."
Unemployment reached 22 percent in the third quarter while the government's borrowing costs in a bond auction last week were back up at the level investors demanded before Spain joined the single currency in 1999.
Family vs Country
El Pais, the left-leaning daily, which didn't endorse the Socialists in the election, ran a three-page story Nov. 19 on how Franco was "more effective in securing the future of his family than his country." The newspaper described the Franco family's real estate holdings across Spain including a location used to shoot erotic movie scenes southwest of Madrid.
Even with the biggest Parliamentary majority in 29 years, Rajoy faces a challenge to maintain public support, said Antonio Barroso, an analyst at Eurasia Group. The new leader's program is likely to include additional spending cuts as he aims to restore the country's AAA-rating.
Unions will likely resist attempts to loosen labor laws and even some PP voters were turned off by corruption charges that forced the party's regional leader for Valencia to resign.
"I'll vote for the PP while holding my nose," said Agustin Velasco, 75, in an interview yesterday outside the mass. "I don't like the PP but I want the Socialists out."