Federer, Nadal Open ATP Finals With Victories Over Tsonga, Fish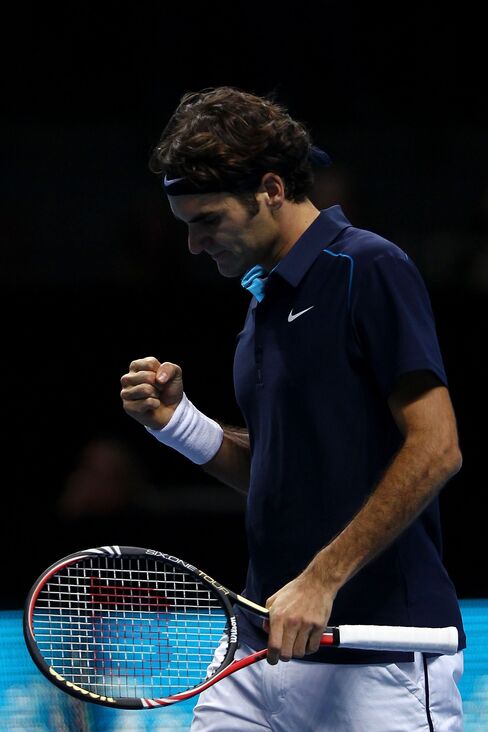 Nov. 21 (Bloomberg) -- Defending champion Roger Federer and No. 2-ranked Rafael Nadal opened the season-ending ATP World Tour Finals with three-set victories.
Federer, seeking a record sixth Tour Finals title, beat Jo-Wilfried Tsonga of France 6-2, 2-6, 6-4 at London's O2 arena before Nadal overcame a stomach ailment to defeat Mardy Fish, 6-2, 3-6, 7-6 (7-3). Federer and Nadal will play each other in their second group match tomorrow.
"Because it was a first-round match, I think that's maybe why we saw some ups and downs from both players," Switzerland's Federer told reporters after his victory. "That's why I'm actually pretty happy that I was able to come through."
Federer, 30, is making his 10th straight appearance at the eight-man event after winning back-to-back titles in Basel, Switzerland, and Paris. For the first time since 2002, Federer is playing the Finals without having won one of the year's four Grand Slams. He last won a major at the 2010 Australian Open.
Nadal, who now leads Fish 8-1, entered the London event following a five-week break from tennis. He told reporters three days ago that he'd needed to recharge "mentally as well as physically" following an upset opening round loss in Shanghai in October to Germany's Florian Mayer.
Although the Spaniard won the French Open, he's been overshadowed by Novak Djokovic this season. The Serb, who took the other three Grand Slam titles this year, knocked Nadal off the No. 1 ranking in July and also beat him in six finals, including at Wimbledon and the U.S. Open.
'Important Victory'
It was "a very important victory for me," Nadal said in a courtside interview after beating Fish. He apologized to the crowd and his opponent for leaving the court when 2-0 up in the third set. "I felt terrible from the stomach."
The ATP Finals feature a round-robin format, with the top eight singles and doubles players on the ATP rankings divided into two groups. Each plays the three others in the group, with the top two in each section moving into the knockout semifinals.
Nadal said his next match will be a "big challenge."
Federer is "playing fantastic, winning two tournaments in a row," he said. "But after coming back from more than a month outside of the competition, this is a fantastic start for me."
Watched from his box by his family and French soccer player Thierry Henry, Federer took the first set in 21 minutes, serving three love games. The momentum shifted in the second set, as Tsonga twice broke Federer's serve as his ground strokes finally found their range.
Final Set
In the final set, play went with serve until the 10th game, when Federer set up three match points as he attacked Tsonga's serve with deep returns. The Swiss won on his second match point with a backhand passing shot.
Tsonga, 26, also lost to Federer in the Nov. 13 Paris Masters final. The Frenchman beat the six-time Wimbledon champion at the All England Club in June, when he fought back from two sets down to win their quarterfinal in five sets. It was the first time in his career that Federer lost a Grand Slam match when leading two sets to love.
Nadal and Fish split the first two sets before each dropped their serve twice at the start of the third set. Serving to avoid defeat at 5-4 down, Fish saved two match points. Nadal raced to a 6-3 lead in the tiebreaker and clinched the victory when the American netted a backhand smash.
Fish, 29, is making his debut at the ATP Tour Finals after a career-best season in which he won a title in Atlanta and reached the Wimbledon quarterfinals. For the first time in his career, Fish will finish the year inside the top 10.
"It's a spectacular event all the way through," Fish said at a news conference. "I have a couple matches left. I want to win those."
Djokovic and third-ranked Andy Murray of Britain are scheduled to play their first group matches today against seventh-ranked Tomas Berdych of the Czech Republic and David Ferrer, the world No. 5 from Spain.
To contact the reporter on this story: Danielle Rossingh at the O2 through the London sports desk at drossingh@bloomberg.net
To contact the editor responsible for this story: Christopher Elser at celser@bloomberg.net