Fired Olympus Chief Woodford to Attend Tokyo Board Meeting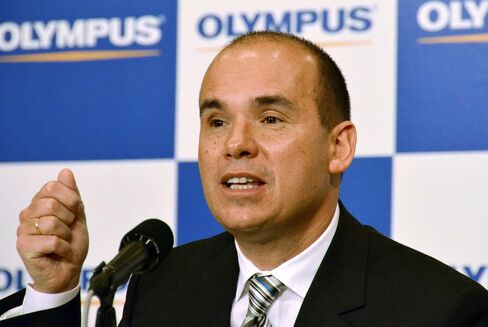 Former Olympus Corp. President Michael C. Woodford will attend a company board meeting this week for the first time since he was fired for questioning $687 million in advisory fees paid by the Japanese company.
Woodford will ask the board on Nov. 25 for a forensic investigation of the accounting on past acquisitions, he said in a telephone interview from London yesterday. Olympus on Nov. 8 admitted to using inflated costs related to takeovers to help cover up losses on investments it had been hiding for decades.
"We need a fair and thorough investigation of everything that's gone on," said Woodford, who remained on the Tokyo-based camera and endoscope maker's board following his Oct. 14 dismissal.
The 51-year-old Briton flies into Tokyo tomorrow, where he will also meet prosecutors. Olympus's first foreign president left the Japanese capital the same day he was fired, citing concerns for his safety because of allegations the payments may have involved organized criminals. Tokyo Metropolitan Police will ensure his protection during his visit to Japan.
Olympus shares jumped as much as 20 percent in Tokyo trading today, after an outside panel appointed to probe the company's accounting yesterday said there was no evidence of mob involvement in the transactions.
The panel's declaration was premature and undermined its credibility, Woodford said at a press conference later, according to Kyodo news agency.
Yakuza Link
Japanese officials are investigating whether Olympus worked with organized crime to hide billions of dollars of losses, the New York Times reported, citing a memo circulated at a meeting of police and regulatory authorities. At least $4.2 billion remains unaccounted for, according to the report.
Woodford is also scheduled to meet with U.S. investigators including the Securities and Exchange Commission as part of a probe of the accounting scandal, according to a person familiar with the matter. Law enforcement agencies in the U.S., Japan and U.K. are all looking into the payments.
Olympus spokesman Tsuyoshi Kitada didn't immediately respond to calls seeking comment.
The Japanese company admitted earlier this month that at least three executives colluded to hide losses from investors. Chairman Tsuyoshi Kikukawa and auditor Hideo Yamada stood down over the scandal, while Executive Vice President Hisashi Mori was fired. The company first denied there was any wrongdoing involving the advisory fees paid on the $2.1 billion acquisition of Gyrus Group Plc in 2008.
Woodford Return
Calls for Woodford to be reinstated have come from the company's biggest shareholder, Southeastern Asset Management Inc., and former director Koji Miyata.
"Any objection for Woodford coming back is getting weaker and weaker and weaker as this thing gets stinkier," Josh Shores, a London-based principal for Southeastern, said after the New York Times allegations.
Woodford "was the only one who acted right as a director when all the allegations emerged," said Koji Miyata, 70, a director at Olympus between 1995 and 2006.
Woodford also has met with the intelligence team at Britain's Serious Fraud Office, which started a formal probe into accounting irregularities at the camera and endoscope maker, according to another person familiar with that case, who also declined to be identified because the matter isn't public. The SFO, which prosecutes white-collar crime, will work with the U.S. Justice Department and Japanese authorities, the person said.
Before it's here, it's on the Bloomberg Terminal.
LEARN MORE