Fatal Egypt Clashes Fuel Investor Concern Before First Vote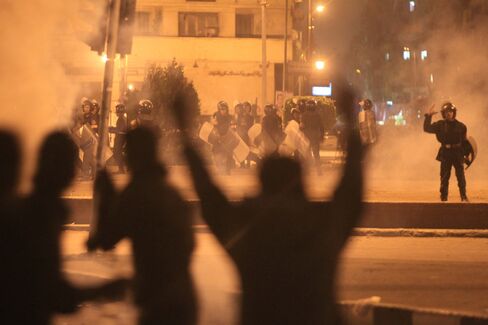 Mohammed Mohsen waded through the protesters in Tahrir Square as they fought with police in deadly clashes. Briefcase in hand and a surgical mask on his face against the tear gas, Mohsen wasn't in the square to protest. He was trying to get to his job at a downtown Cairo medical lab.
"This paralyzes our lives," he said yesterday, pointing to protesters, some wielding sticks as they fled the gas. "People will see these images playing out on satellite channels. Then the investors who we've been pleading with to return will stay away."
Egypt's new violence ahead of Nov. 28 elections may hobble an economy already struggling to recover as tourists and foreign investors shun the country following the February overthrow of President Hosni Mubarak. The vote is the first step in a drawn-out handover that may fuel more economic troubles as tensions rise between activists and the ruling military council. The fighting, which erupted for the third day today, has left at least 22 people dead, Health Ministry spokesman Mohammed el-Sherbeeny said in a telephone interview.
Gross domestic product contracted an annual 4.2 percent in the quarter through March and grew only 1.8 percent in the fiscal year that ended in June, the slowest in at least a decade. Private spending, more than two-thirds of the economy, grew at a 3.5 percent pace in the last quarter of that year, down from 8.9 percent in the year-earlier period, said Mona Mansour, co-head of research at Cairo-based investment bank CI Capital.
Falling Index
Egypt's benchmark stock index is down more than 45 percent this year, more than double the drop of the MSCI Emerging Markets Index, and the government is paying almost 15 percent, the highest in at least five years, to borrow for nine months on domestic markets. Shares in Orascom Telecom Holding SAE, North Africa's biggest mobile network operator, are down more than 30 percent this year.
"One of the main concerns for investors after the protests and the exit of Mubarak from the scene has been how long and protracted the transition period is," said Raza Agha, senior economist for the Middle East and North Africa at Royal Bank of Scotland Plc in London.
"For an economy with as pressing considerations as Egypt, with high financing requirements, these day-to-day protests and strikes have a huge impact on risk perceptions," he said. "The parliamentary elections are important but they're certainly not the end of the uncertainty."
Lack of Security
The economy's troubles stem from the government's failure to restore security, not protests or workers' strikes, said Khaled el-Sayed, a member of a youth alliance that helped organize the uprising that ended Mubarak's rule.
"The Egyptian economy caters to businessmen and investors," said el-Sayed, a parliamentary candidate. "Even if it suffers, this doesn't hurt the average Egyptian," he said. "All this talk is propagated by the military council, state media and the government to turn people against the revolution and its demands."
Makram Mehany, chairman of Global Napi Pharmaceuticals, canceled overnight shifts at factories as it became unsafe for workers. In June, "outlaws" fired at guards at one of the factories, he said.
A member of one of the many parties that sprung up after the revolution, Mehany said he remains hopeful tensions may diffuse at the end of the electoral process, which he called "a step toward stability."
Military Council
Mubarak stepped down on Feb. 11 after 18 days of mass protests, ceding power to a military council that pledged to steer the country toward democracy. The council dissolved parliament and suspended the constitution, saying it aimed to hand power to a democratically elected government within six months or when elections are held.
The November vote is the first of three phases, ending in January, to choose 498 elected members of parliament's lower chamber. Elections for the upper house will end in March and parliament will select a committee to write a new constitution that will be put to a referendum before a president may be elected. The generals will remain at the helm until then.
On Nov. 18, tens of thousands of protesters poured into Tahrir Square to demand a quicker transfer to civilian rule. The demonstrations were fueled by a government-sponsored draft of constitutional guidelines that includes articles protesters said aim to enshrine a political role for the military and shield its budget from civilian scrutiny.
Economic Interests
Egypt's military has its own economic interests to protect. Military-run companies span a wide range of businesses, from hotel administration to janitorial services, household appliances, pest control and catering, according to company officials and company websites.
"The economic situation is very bad," Muslim Brotherhood spokesman Mahmoud Ghozlan said in a telephone interview today. "So long as the military council continues to rule the country and we have no parliament or president, there will be capital flight."
For Ragab al-Attar, a Cairo spice and nut wholesaler, business has worsened since Mubarak's fall. A crime wave forced him to triple the guards on his payroll, and in Ramadan -- a high season for his almonds, hazelnuts and other delicacies -- he imported 80 percent less because of falling demand.
'Afraid to Spend'
"If I had got more products, I wouldn't have been able to sell them," al-Attar, 65, said in an interview at his office on a bustling Cairo market street where vendors peddled clothes, kitchenware and cakes. "There's no security for people to go out and shop. People are afraid to spend, tomorrow is an unknown."
Mohsen says fewer customers have been visiting the downtown medical lab where he works since the start of the revolt.
"People are afraid to come to our branch in Tahrir," the square that has been the center of the revolt and site of protests and confrontations since. "I worry that we may not meet our targets at work," he said.
The April 6 Youth Movement, one of the groups that organized the anti-Mubarak uprising, has called for weekly demonstrations throughout the elections.
Deadly clashes also erupted between feuding clans in the southern city of Sohag in recent months. In Sinai, Egypt's natural gas pipeline running to Israel and Jordan was attacked for the seventh time since February, disrupting gas exports.
Protest Over Plant
One person was killed after clashes between security forces and demonstrators who were blocking a main road to the northern port of Damietta. They were protesting over the operations of an Egyptian nitrogen plant partially owned by Agrium Inc., North America's largest fertilizer producer by revenue, saying it causes pollution.
The Damietta port's closure costs the state 35 million Egyptian pounds ($5.8 million) a day, Transport Minister Ali Zein el-Abidine told reporters on Nov. 16. "Closing the port, means that 10,000 people are out of work," he said.
Minister of Industry and Foreign Trade Mahmoud Eissa asked Damietta residents to urge protesters to "have mercy on the economy and industry of Egypt."
"We don't have much left to lose anymore," he said in televised comments. "The consequences are grave."
Egypt may ask the International Monetary Fund for the $3 billion loan it rejected this year, after domestic borrowing costs soared, Finance Minister Hazem El Beblawi said in a Nov. 18 interview.
Rising Yields
Egypt's nine-month treasury bill yields rose to the highest level in at least five years yesterday. The country sold 2 billion pounds of the 3.5 billion pounds it sought in nine-month securities at an average yield of 14.705 percent, the highest since Bloomberg started tracking the data in 2006.
Businessman Rafik Abbasi says he had to cut the number of workers at his jewelry factory from 450 to 150. When the remaining workers refused to resume work until they get a severance package like those who were let go, he closed the factory altogether, he said.
"They wanted their own revolution even though they saw business was slow and they were still getting paid."
Spice merchant al-Attar said he used to vote for Mubarak's former ruling party in previous elections, marred by wide accusations of fraud, because "it was virtually the only party there." This time, he says he probably won't vote, saying he doesn't know any of the candidates or their platforms.
"I just pray that the polls pass by without troubles," said al-Attar, who employs more than 100 people. "I want to feel safe; I want a strong government. We want Egypt to be stable for people to work and we want tourists to come back."
Before it's here, it's on the Bloomberg Terminal.
LEARN MORE