Djokovic Struggles to Win ATP Finals Opener, Murray May Withdraw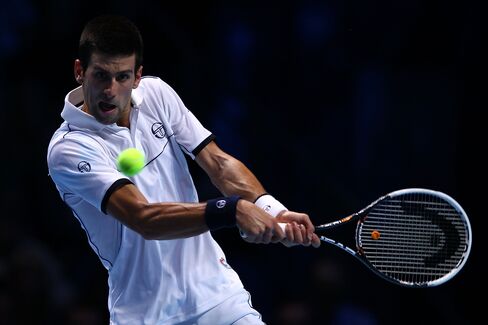 Top-ranked Novak Djokovic fought back from a set and match point down to beat Tomas Berdych in his ATP World Tour Finals opener. Andy Murray may quit the season-ending event in London because of a groin injury.
Djokovic, the 2008 champion, defeated the seventh-ranked Czech 3-6, 6-3, 7-6 (7-3) at the O2 arena last night. The Serb is 70-4 this year and has won 10 titles, including three Grand Slams. He took the No. 1 ranking from Rafael Nadal in July.
"I was just hanging in there," Djokovic, 24, said in a courtside interview. "You have to be top of your game in order to win the matches in this event. I wasn't on top of my game, but I managed to take my chances."
Djokovic, who began the tennis season with a 41-match winning streak that was the longest since John McEnroe in 1984, took 24 minutes to get on the scoreboard against Berdych, who won the first four games and put his opponent under pressure with serves of up to 133 mph (214 kph)
The momentum shifted in the second set when Djokovic improved his service percentage and forced Berdych into errors. The Serb recovered a break of service in the third set before saving a match point at 5-6 when Berdych netted a forehand and the match went into a decisive tiebreaker.
Berdych's 42nd unforced error of the match, a backhand into the net, made Djokovic the winner in two hours, 38 minutes. Djokovic made 33 unforced errors.
"I'm feeling really disappointed," Berdych said. "I just need to get through this, through this feeling."
Britain's Murray earlier lost 6-4, 7-5 in his opening group match to David Ferrer, the world No. 5 from Spain.
Groin Injury
Third-ranked Murray, who is trying to win his first ATP Finals title, said after the match that he may withdraw from the event today because of a groin injury sustained in training. He was treated on court by the trainer after the first set against Ferrer.
Murray said he wouldn't have played this week if it hadn't been a Tour Finals or a Grand Slam tournament and that having to end his season by withdrawing would be "really gutting."
Should he play on, Murray could still advance because the ATP Finals feature a round-robin format, with the top eight singles players in the ATP rankings divided into two groups. The top two in each section move into the knockout semifinals.
Murray, who is scheduled to meet Berdych tomorrow, said he'd undergo treatment for his injury and hope for the best.
"There's stuff you do any time you have injuries to try to help it," he said. "Ice it, wearing compression shorts, massage, do an ice bath. You can get acupuncture, needles, and sometimes those things can help and make it feel better."
If Murray does pull out, he would be replaced by world No. 9 Janko Tipsarevic, who has been practicing with fellow Serb Djokovic this week.
'Bad Luck'
Murray's withdrawal would rob the tournament of one of its biggest attractions. Pictures of the 24-year-old have adorned billboards in the U.K. capital and have been featured on the front and back pages of most British newspapers in the run-up to the event, where Murray made the semifinals last year.
"It's bad luck," Djokovic said at a news conference. "I'm sure that everybody wants to see him go all the way here, playing in his home country. Getting a trophy would be a huge win for him and all the people here."
Defending champion Roger Federer of Switzerland meets Nadal, of Spain, in today's evening session, their 26th match in a rivalry that began in Miami in 2004. Nadal, who leads Federer 18-7, has won their three previous meetings this year. Federer beat Nadal at last year's ATP Finals to secure his fifth title.
Mardy Fish of the U.S. faces France's Jo-Wilfried Tsonga in the day session. Fish lost to Nadal, while Federer beat Tsonga on the opening day.