Credit Suisse Bankers Said to Seek Dismissal of Indictment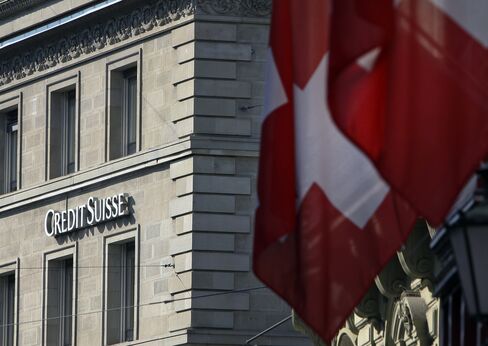 Credit Suisse Group AG bankers accused of helping Americans cheat on taxes plan to ask the Justice Department to dismiss their indictment amid talks to resolve a U.S.-Swiss dispute over tax evasion and a probe of the bank, according to five people familiar with the matter.
Seven current and former Credit Suisse bankers in Switzerland were indicted July 21 in Alexandria, Virginia, on one charge each of conspiring to defraud the U.S. The bank also has said it is a target of a criminal investigation by the U.S. Justice Department, and that it is cooperating.
Lawyers for six of the bankers and a Swiss trust company owner charged with helping them wrote to Deputy U.S. Attorney General James Cole Nov. 8 to say they wanted to resolve their case as part of a U.S. settlement with the Swiss government, and any accord between the Justice Department and Credit Suisse, the people said. Lawyers for the seven defendants, who have yet to appear in a U.S. court, asked Cole for a meeting, according to the people.
"I kind of doubt the Justice Department's tax division would be willing to walk away from this indictment and dismiss it," Larry Campagna, a tax attorney who isn't involved in the case, said in a telephone interview. "After convicting other bankers and taxpayers, giving a pass to these people is somewhat unlikely."
"But if I were representing them," the lawyer added, "I'd probably do the same thing."
Charles Miller, a Justice Department spokesman, and David Walker, a spokesman for Zurich-based Credit Suisse, declined to comment on the case.
Banker Pawns
While the Swiss government won't extradite defendants to the U.S. for alleged tax crimes, the accused may be arrested if they leave Switzerland. Lawyers for the bankers seek to argue that their clients are pawns in the larger dispute between the U.S. and Switzerland, and that their conduct was no different from others in the industry, according to the people, who declined to be identified because the matter isn't public.
The request will be "really challenging" for defense lawyers, said Lawrence Lustberg, an attorney in Newark, New Jersey, who isn't involved in the case.
"They have to convince the Justice Department to do two things that they say they don't do -- one, is to negotiate with fugitives, and second, they say they won't let a person buy their way out of criminal exposure," Lustberg said in an interview.
"While it's difficult, it's possible in rare circumstances to persuade DOJ to resolve the matter proactively if you can establish that otherwise they might never see a resolution," he said.
$4 Billion Assets
The defendants include Markus Walder, the former head of North America offshore banking at Credit Suisse; Marco Parenti Adami, a senior manager and private banker; and Susanne D. Ruegg Meier, also a senior manager and private banker.
Managers and bankers in the cross-border business "knew and should have known that they were aiding and abetting U.S. customers in evading their U.S. income taxes," according to the indictment. In the fall of 2008, the bank had thousands of undeclared accounts with $4 billion in assets, prosecutors said.
The indictment traces how the bankers helped 35 American customers hide their funds in undeclared accounts from the Internal Revenue Service. One of clients, identified as Customer 17, secretly carried $250,000 from the U.S. to Switzerland by hiding the cash in nylon pantyhose wrapped around their body.
Comply, Cooperate
"Credit Suisse is committed to a fully compliant cross-border business," the bank said after the indictment. "Subject to our Swiss legal obligations and throughout this process we will continue to cooperate with the U.S. authorities in an effort to resolve these matters."
Tax attorney Bryan Skarlatos of Kostelanetz & Fink LLP in New York said in August that Credit Suisse will probably avoid U.S. prosecution by admitting wrongdoing, paying a penalty and handing over the names of U.S. taxpayers.
On Nov. 2, the bank told U.S. clients that it was giving confidential client account data to the Swiss tax authorities, who would decide whether to disclose it to the IRS.
IRS Data
UBS AG, the largest Swiss bank, was charged by the U.S. in 2009 with aiding tax evasion by American clients. Zurich-based UBS avoided prosecution by paying $780 million, admitting it fostered tax evasion, and giving the IRS data on more than 250 accounts. It later turned over data on another 4,450 accounts.
The U.S. is conducting criminal probes of 11 financial institutions as part of its investigation. U.S. and Swiss officials are concluding talks on a civil settlement that will probably require Swiss banks to pay billions of dollars and hand over the names of thousands of Americans who have secret accounts, according to people familiar with the talks.
Cole has told Swiss authorities that the Justice Department is willing to resolve separately the criminal liability of each of the banks under investigation, the people said.
The U.S. will indict bankers and advisers from around the world "for the foreseeable future," tax attorney Charles Rettig said in an e-mail.
"Ongoing criminal investigations of foreign financial institutions will lead to more indictments of account holders, advisers, bankers and perhaps banks," Rettig said. "However, the institutions will do all they can to avoid being indicted, including delivering account holder information to the U.S. government on a wholesale basis."
The case is U.S. v. Adami, 11-cr-00095, U.S. District Court, Eastern District of Virginia (Alexandria).
Before it's here, it's on the Bloomberg Terminal.
LEARN MORE