China's 2012 Passenger-Car Sales Forecast to Rise as Much as 10%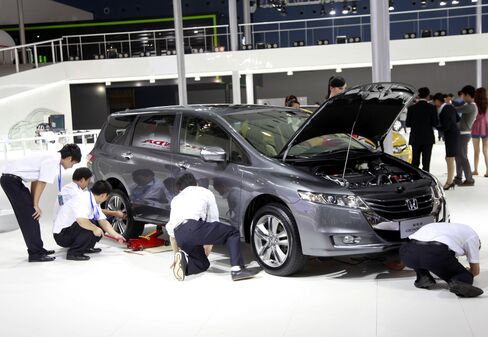 China's passenger-car sales will rise as much as 10 percent next year, faster than the current pace of deliveries, supported by first-time buyers, according to General Motors Co., Volkswagen AG and Honda Motor Co.
GM, the biggest overseas automaker in China, projects nationwide car sales will expand 10 percent next year, while Volkswagen, Honda and Nissan Motor Co. estimate as much as 10 percent growth. Sales in China climbed 5.9 percent in the first 10 months of 2011, according to the China Association of Automobile Manufacturers.
The automakers' predictions for a pickup in the pace of car sales contrast with warnings by Chinese Vice Premier Wang Qishan of risks to the world's second-largest economy posed by a prolonged global recession. Vehicle sales have slowed this year after the end of sales-tax breaks and incentives combined with higher borrowing costs to curb demand.
"Customers are finding it tougher to get loans now and dealers are facing issues as well," Seiji Kuraishi, Honda's head of China operations, said yesterday at the Guangzhou auto show. "At the same time, demand from central and western parts of China is still propping up demand for passenger cars."
The auto association has projected nationwide sales of passenger and commercial vehicles to increase less than 5 percent in 2011, which would be the slowest pace of expansion in 13 years. The People's Bank of China raised interest rates five times and increased lenders' reserve-requirement ratios on nine occasions since September 2010 to tame inflation.
'Extremely Severe'
The current world economic situation is "extremely severe," Vice Premier Wang said at a financial work meeting in the central province of Hubei, according to the official Xinhua News Agency.
"Any major economic headwinds next year will affect auto demand," said Han Weiqi, a Shanghai-based analyst at CSC International Holdings Ltd. "Automakers will step up incentives to promote their cars next year and demand for commercial vehicles may recover."
Low ownership levels and rising incomes will help support demand for passenger cars, said Karl-Thomas Neumann, chief executive officer of Wolfsburg, Germany-based VW's China unit.
"There is so much growth potential," Neumann said yesterday at the car show. "The point where people earn enough money that they consider buying a car and then buy one has been reached for so many people here."
Boosting Deliveries
VW, Europe's largest automaker, is on course to surpass 2 million deliveries in China this year and plans to double production capacity by 2015, Neumann said. The maker of the Jetta sedan and Tiguan SUV sold 1.89 million vehicles in the first 10 months, an increase of 15 percent from a year earlier, it said on Nov. 11.
Nissan, Japan's second-biggest automaker, said sales at its passenger-car business in China will likely exceed 800,000 units this year. The carmaker yesterday announced it will sell the D50 mid-class sedan, its first model under the new Venucia line, in the first half of 2012.
"As the market moves into a period of slower growth, we need to raise our game," Fumiaki Matsumoto, vice president of Nissan's Chinese joint venture with Dongfeng Motor Group Co., said yesterday. The automaker is discussing measures to boost sales and will seek to improve its after-sale service, he said.
GM, whose sales in China have surpassed 2 million units this year, said it aims to double deliveries in the country to 5 million by 2015. The automaker will sell its Chevrolet Volt plug-in hybrid car for 498,000 yuan ($78,300) in China through 13 dealerships in eight cities, according to the company.
"The fundamentals of growth are still good," Kevin Wale, president of the Detroit-based company's China unit, said in a Nov. 18 interview. "Demand and aspiration for cars is still strong."