Cameron Says U.K. Must Deal With Debts, 'Go for Growth'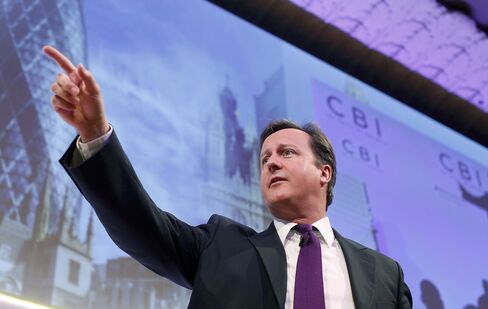 Nov. 21 (Bloomberg) -- U.K. Prime Minister David Cameron will promise "a new type of growth" in a speech to business leaders that will also acknowledge that the euro-area crisis is having a "chilling effect" on the economy.
"When the nightly news is about rising interest rates in Europe and uncertainty about the future, it is not surprising that that affects business and consumer confidence," the prime minister will tell the Confederation of British Industry's conference in London today, according to speech extracts released by his office. "I am absolutely clear about the right answer for the U.K. economy. We need to deal with our debts and go for growth."
The prime minister will say the country's economy has been "lopsided -- too dependent on debt, consumption and financial services." He will promise to make Britain a better place to do business, through "radical deregulation" and changes to employment law.
The U.K. has seen three quarters of growth below 0.5 percent, having shrunk in the final quarter of 2010. The CBI said yesterday that business leaders' confidence in the outlook for the economy had deteriorated.
Seventy percent of senior executives surveyed said their confidence deteriorated since August, the CBI said, citing a poll of 122 executives from Oct. 6 to Nov. 4. Eighty-two percent said they supported the government's economic policy, and 17 percent said deficit reduction needed to be scaled back.
To contact the reporter on this story: Robert Hutton in London at rhutton1@bloomberg.net
To contact the editor responsible for this story: James Hertling at jhertling@bloomberg.net