Buffett Says Berkshire Could Spend Up to $10 Billion on Deal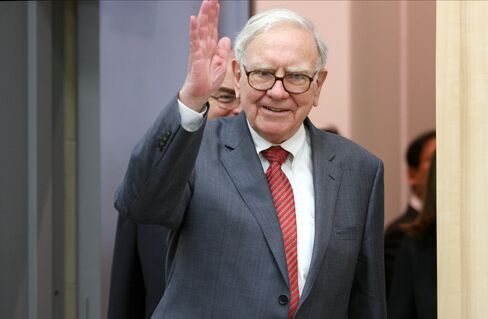 Warren Buffett, who invested $23.9 billion for his Berkshire Hathaway Inc. in the third quarter, said the company could spend as much as $10 billion on its next acquisition.
Buffett has $8 billion to $10 billion to spend on the right investment, though he has no specific merger-and-acquisition plans currently, he said yesterday in a visit to Japan.
"We like the A part better," Buffett, 81, said in an interview with Bloomberg News in Fukushima prefecture in northern Japan, referring to a preference for acquisitions over mergers. "On the Lubrizol transaction I think we spent about $8.7 billion. We'd love another one like that -- we can handle that. We can manage somewhat larger. We can handle a $10 billion deal very comfortably."
Buffett, Berkshire's chairman and chief executive officer, has turned to stocks and takeovers this year after interest-rate declines limited returns in the bond market. He spent more than $10 billion on International Business Machines Corp. shares and acquired Lubrizol Corp.
"It can be any place," he said of Berkshire's next deal. "If I can find something here in Japan that was a business that I like and understood, like their competitive position, like the price, like the financial position, like the management, we would do that tomorrow."
Asia Visit
Berkshire's investable funds were boosted in October by a $3.3 billion payment from General Electric Co. that ended Buffett's 2008 financing deal with the Fairfield, Connecticut-based firm. Many of Berkshire's units, including railroad Burlington Northern Santa Fe, are producing better results than last year, when the company posted about $13 billion of profit, Buffett said in September.
Buffett's largest deal was paying $26.5 billion last year for the 77.5 percent of Burlington that Omaha, Nebraska-based Berkshire didn't already own. Buffett, who issued debt and stock to help fund that purchase, began repurchasing Berkshire stock this year after shares declined and has said he wants to maintain at least $20 billion in cash.
Berkshire's cash fell 27 percent in the third quarter to $34.8 billion at the end of September as bets on Lubrizol and IBM joined investments in plants and equipment, and a $5 billion injection in Bank of America Corp. Berkshire, which gets the biggest portion of its profits from insurance units, keeps cash on hand to pay policyholder claims.
'Competitive Advantage'
The billionaire traveled to Japan to view a factory used by Berkshire's tool-making unit, Iscar Metalworking Cos. He canceled a scheduled stop in March after a record earthquake in the country. Buffett, the world's third-richest person, has visited China, South Korea and India in the last two years to promote philanthropy and scout investment opportunities.
He said he was unfazed by the recent scandal at Japanese camera maker Olympus Corp. and is looking for investment opportunities in the nation's companies. Olympus said this month that it concealed losses by paying inflated advisory fees, raising concern among investors about corporate governance in Asia's second-largest economy.
"We're looking for companies that have some kind of sustainable competitive advantage," Buffett said at a news conference yesterday. "The fact that Olympus happens here or Enron happens in the U.S. doesn't affect our attitudes at all."
Too Small
Buffett's biggest non-U.S. acquisition was in 2006 when Berkshire paid $4 billion for 80 percent of Iscar, based in Tefen, Israel. Berkshire holds stakes in South Korean steelmaker Posco, German reinsurer Munich Re and U.K. retailer Tesco Plc. Buffett has bullish equity-derivative bets tied to the Nikkei 225 Stock Average, the Euro Stoxx 50 Index, and the U.K.'s FTSE 100 as well as the Standard & Poor's 500 Index in the U.S.
Investing in Jefferies Group Inc., the securities firm that lost more than half its market value this year, was not on the radar because it would be too small, said Buffett, who injected funds into Goldman Sachs Group Inc. and Bank of America after their shares plunged.
"I don't know anything specific about Jefferies," he said. "Jefferies would be small in terms of the size of investments." Buffett said he looks to put at least $1 billion into one investment.
Leucadia
Leucadia National Corp., the largest holder of Jefferies stock, has partnered with Buffett in investment ventures including the 2009 purchase of Capmark, which was renamed Berkadia Commercial Mortgage. Buffett has said he was encouraged by the success of a 2001 deal with Leucadia to extend a $6 billion loan to Finova Group Inc., a Scottsdale, Arizona-based lender.
Buffett, whose investments and remarks are scrutinized for insight on the global economy and markets, draws more than 30,000 visitors to Omaha's Qwest Center for Berkshire's annual meeting, where he and Vice Chairman Charles Munger take questions from shareholders and journalists. This year, three analysts who cover the company, including Jay Gelb of Barclays Plc, will also be permitted to ask questions, Buffett told the Wall Street Journal.
No European Debt
When asked about Europe, Buffett said that the region will eventually emerge from a crisis that has been amplified by the inability of euro-zone members to print their own currency.
"We're not buying any debt," Buffett said, adding that he prefers European equities and declining to name any companies. "One way or another, Europeans will solve their problems. But in the process of solving them there already have been very important dislocations and they will have effects on individual countries."
Iscar Chairman Eitan Wertheimer, who has described himself as Buffett's "travel agent," helped arrange the visit in Japan. In 2008, Wertheimer worked with Angelo Moratti, vice chairman of Saras SpA, to plan a trip to Germany, Spain and Switzerland, where Buffett promoted Berkshire as a buyer for family-run businesses.
Before it's here, it's on the Bloomberg Terminal.
LEARN MORE