Belgian Coalition Talks on Hold as Di Rupo Seeks to Quit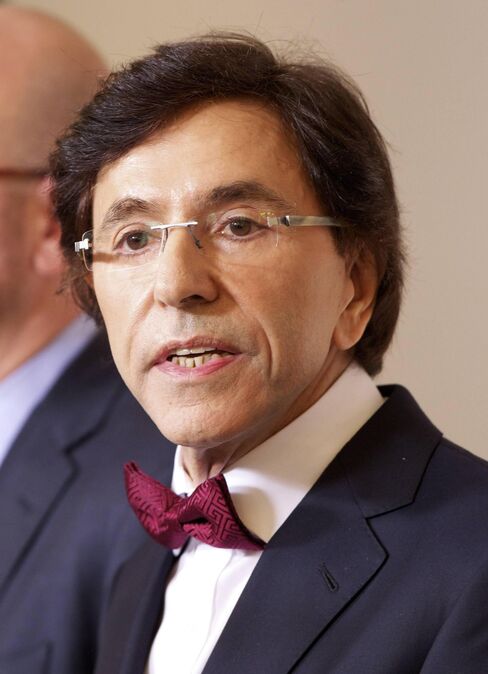 Belgium's coalition talks were suspended as Elio Di Rupo offered to resign from leading the negotiations after the six parties involved failed to agree about how to cut the budget deficit.
King Albert II put his decision on hold after receiving Di Rupo's resignation offer during a meeting yesterday, the royal palace said in a statement. Di Rupo, 60, went to meet the king after six-party talks to hammer out a 2012 budget and cut the deficit to 2.8 percent of gross domestic product next year ran aground.
"The king asks each negotiator to take some time for reflection in the coming hours, consider the consequences of a failure and actively seek a solution," according to the palace's statement. "He reminds" them "about the gravity of the current situation." The king will meet with each of the six parties today, Belga newswire reported.
Belgium may face European Union sanctions as early as next month for failing to tackle a budget deficit that's projected to widen in 2012 because of slowing economic growth. After 17 months, Belgian coalition talks have produced only institutional agreements over the distribution of tax revenue and regional fiscal autonomy. It's the second time Di Rupo has offered his resignation to the king since his appointment on May 16 to form a federal government.
Budget Shortfall
Belgian government bonds fell today and the extra yield investors demand to hold the nation's 10-year securities instead of German bunds of similar maturity, Europe's benchmark, widened 6 basis points to 296. The so-called spread reached a record 321 basis points on Nov. 17.
The EU forecast on Nov. 10 that Belgium's budget shortfall would widen to 4.6 percent of GDP next year from an estimated 3.6 percent this year.
Belgian coalition negotiators assumed the economy's expansion will slow to 0.8 percent in 2012, which would translate into a deficit of 5.3 percent of GDP without spending cuts or additional taxes, according to projections by the High Council of Finances published on Oct. 31.
King Albert didn't accept Di Rupo's first resignation offer in July after Bart De Wever's New-Flemish Alliance, the top vote-getter in the June 2010 election, refused to revive coalition talks that broke down 10 months earlier.
Institutional Aspects
Di Rupo, the president of the French-speaking Socialists, instead left out the Flemish nationalist party and started eight-party talks about institutional aspects that required a two-thirds majority in parliament. He began six-party government-formation talks in October.
The EU plans to move against Belgium for failing to take "effective action" to tackle the deficit unless it presents a 2012 budget by mid-December, Amadeu Altafaj, spokesman for EU Economic and Monetary Affairs Commissioner Olli Rehn said last week. Rehn said on Nov. 10 that Belgium needs to provide "convincing evidence of permanent fiscal measures" to tackle its budget shortfall by the middle of next month.