Alleghany Said to Be in Talks to Buy Reinsurer Transatlantic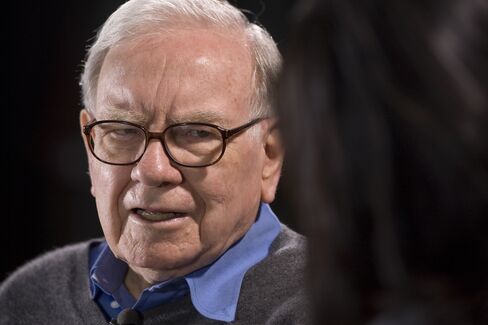 Alleghany Corp., an insurer likened to Warren Buffett's Berkshire Hathaway Inc., is in talks to buy reinsurer Transatlantic Holdings Inc. for about $3.4 billion, said two people with knowledge of the matter.
Alleghany may pay about $59 to $60 a share in stock and cash, said the people, who spoke on condition of anonymity because the talks are private. That's as much as 10 percent more than Transatlantic's closing price on Nov. 18. A deal between the two New York-based companies could be announced as soon as today, the people said.
An agreement would cap months of takeover interest in Transatlantic, a former unit of American International Group Inc. that helps insurance companies pool their biggest risks. Shareholders rejected a merger with Allied World Assurance Co., proposed in June, and later the company shunned offers from Omaha, Nebraska-based Berkshire and Bermuda-based rival Validus Holdings Ltd.
"It looks to be a better deal for the buyer as there isn't much of a premium being paid," said Sandy Mehta, chief executive officer of Hong Kong-based Value Investment Principals Ltd. "Several extreme catastrophic events in the first six months of this year and losses for property and casualty insurance have collapsed income statements, stressed balance sheets and led to a rash of consolidation among property and casualty insurers."
Best Offer
The price being discussed would value Transatlantic at about $3.7 billion, based on the company's 61.6 million shares outstanding as of Sept. 30. Transatlantic said in September it planned a $600 million share buyback and would repurchase half that amount this year, reducing the shares outstanding by the time a deal with Alleghany would be completed.
Talks between Alleghany and Transatlantic could break down and an agreement may not be reached, the people said. Officials at Alleghany and Transatlantic didn't return calls outside of regular business hours. A Validus spokesman declined to comment.
Transatlantic, in an effort to identify the best offer, held talks in recent days with two other potential bidders, the people said. They include Validus, which is pursuing a hostile offer for the company, and an investor group led by private-equity firm Stone Point Capital LLC.
Alleghany, a property and liability insurer led by Chief Executive Officer Weston Hicks, sometimes is compared with Berkshire because of its focus on value investing using the accumulated premium, or "float," of an insurance business. Hicks writes an annual letter to shareholders in which he muses about his investments, as does Buffett, Berkshire's 81-year-old chairman and CEO.
Insurers Gain
"We shun investment fads and fashions in favor of acquiring relatively few interests in basic financial and industrial enterprises," Alleghany says on its website. Hicks joined the firm in 2002, previously working as chief financial officer at Chubb Corp. and as a research analyst.
Transatlantic climbed 1.2 percent to $54.43 on Nov. 18 and has advanced 5.4 percent this year. Alleghany gained 0.6 percent to $314.26 and is up 4.6 percent for 2011.
With a market value of $2.7 billion as of last week's close, Alleghany is smaller than the company it aims to acquire. It's been working on the offer with Joseph Brandon, the former CEO of General Re Corp., according to one of the people with knowledge of the matter. He plans to have a role at the company when the takeover is completed, the person said.
Founded in 1929 as a holding company for a group of railroads, Alleghany was later overseen for 39 years by Fred "F.M." Kirby II, heir to the Woolworth retail fortune.
Before it's here, it's on the Bloomberg Terminal.
LEARN MORE