Wen Pledged to Obama More Flexibility on Yuan Moves, CCTV Says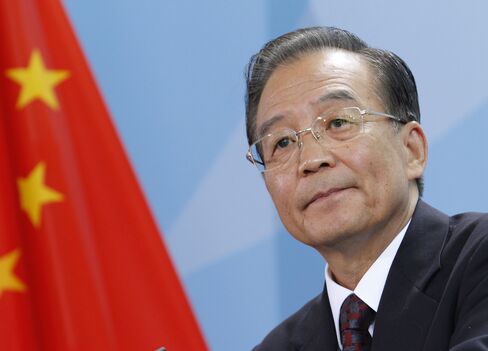 Premier Wen Jiabao pledged to U.S. President Barack Obama that China will increase the flexibility of fluctuations in its currency, the official China Central Television reported.
China will push forward yuan reform in an active, gradual and controllable manner, the television station cited Wen as telling Obama Nov. 19 in Bali, Indonesia. China is closely monitoring changes in the yuan's exchange rate, the report said.
Policy makers in the world's second-largest economy have pledged to adjust the nation's growth toward domestic demand and narrow its external surplus to help address lopsided flows of trade and investment that contributed to the global financial crisis of 2008. Unbalanced trade flows have triggered calls from the U.S. and other Group of 20 nations for China to allow its currency to trade more flexibly.
Chinese President Hu Jintao told Obama at a Nov. 12 meeting that a large appreciation won't solve U.S. problems. During a trip that began Nov. 11 in Hawaii, Obama announced steps to expand trade and military cooperation with Asia-Pacific nations that share U.S. concerns over China's currency and intellectual property policies and territorial claims.
The yuan is allowed to fluctuate 0.5 percent on either side of the daily fixing rate set by the central bank. China's yuan has appreciated 4.13 percent against the dollar this year, according to Bloomberg data, the best performance of 10 Asian currencies tracked by Bloomberg.
Final Stop
Obama's meeting with Wen was on the final leg of the president's Asia-Pacific journey that also included a stop in Australia.
The non-deliverable forwards market reflected expectations of a depreciation since the end of September, which is the market's reaction to the yuan's exchange rate rather than an artificial move, Wen told Obama, according to the report.
The currency will climb 4.3 percent to 6.08 per dollar in Shanghai by the end of next year, according to the median estimate of 18 analysts surveyed by Bloomberg.
The U.S. welcomes China's commitment to increase yuan flexibility, Gary Locke, the U.S. Ambassador to China, said Nov. 18 at a conference in Beijing.
Before it's here, it's on the Bloomberg Terminal.
LEARN MORE