U.S. Stocks Drop as S&P Posts Worst Losing Streak in Two Months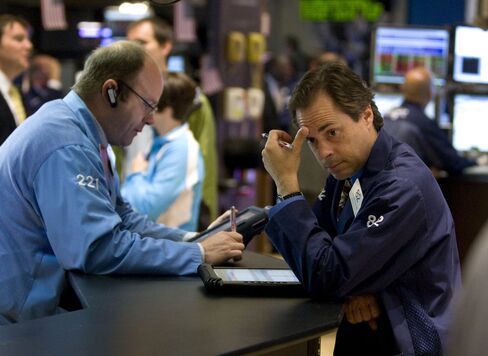 U.S. stocks slumped, giving the Standard & Poor's 500 Index its longest decline since September, amid concern the U.S. government will be forced to submit to $1.2 trillion in automatic spending cuts.
All 10 industries in the benchmark measure declined as 468 out of 500 companies retreated. Bank of America Corp. tumbled 5 percent to pace losses in financial shares. Hewlett-Packard Co. and Caterpillar Inc. dropped at least 2.9 percent. The Dow Jones Transportation Average slid 2.3 percent. Gilead Sciences Inc. plunged 9.1 percent after agreeing to buy Pharmasset Inc. for about $11 billion in cash. Pharmasset soared 85 percent.
The S&P 500 fell 1.9 percent to 1,192.98 at 4 p.m. New York time. The benchmark gauge for American equities has lost 5.2 percent in four days. The Dow Jones Industrial Average declined 248.85 points, or 2.1 percent, to 11,547.31 today. The supercommittee created to cut the deficit said after the close of U.S. exchanges that it failed to reach a deal.
"The supercommittee was expected to pave the way to extend the stimulus that is in the system," Barry Knapp, the New York-based head of U.S. equity strategy at Barclays Plc, said in a telephone interview. If stimulus is not extended, "you get a big hit to the economy in the first quarter right at the point when the economic fallout from the European debt crisis is hitting," he said.
The decline pushed the S&P 500 below levels representing the top of a price range that prevailed in the two months after the U.S. was stripped of its AAA credit rating by S&P on Aug. 5. Rallies after the downgrade brought the S&P 500 to closing highs of 1,204.49 on Aug. 15, 1,218.89 on Aug. 31 and 1,216.01 on Sept. 16, according to data compiled by Bloomberg.
'Best Interests'
The S&P 500 may fall to 1,100 if the supercommittee fails to reach an agreement, according to Goldman Sachs Group Inc.'s David Kostin. The strategist said in a note dated Nov. 18 that lawmakers' failure to agree on at least the minimum required savings would demonstrate "the inability of elected officials to act in the long-term best interests of all Americans."
U.S. shares joined European equities in retreating. The Stoxx Europe 600 Index declined 3.2 percent, the most since Nov. 1. France's rising financing costs are increasing the nation's fiscal challenges, according to report issued by Moody's Investors Service. Germany's Finance Ministry said the country's expansion is "noticeably slower" this quarter.
"The selloff in risk assets reflects concerns about the inability of policy makers to catch up with unsettling economic and financial realities, particularly in Europe and America," Mohamed A. El-Erian, the chief executive officer at Pacific Investment Management Co. in Newport Beach, California, said in an e-mail. His firm runs the biggest bond fund.
Bond Yields
Stocks slumped last week as higher government bond yields in Spain, France and Italy spurred concern the European debt crisis is intensifying outside Greece. Financial stocks in the S&P 500 lost 5.6 percent last week, the biggest drop among 10 industries, after Fitch Ratings said further contagion from Europe's debt turmoil would be a risk for U.S. banks.
Financial, industrial and technology shares had the biggest losses in the S&P 500 among 10 groups today, slumping at least 1.9 percent. The Morgan Stanley Cyclical Index slid 2.4 percent on concern about economic growth. Bank of America sank 5 percent to $5.49. Caterpillar dropped 3 percent to $91.12. Hewlett-Packard fell 4 percent to $26.86.
Gilead Sciences tumbled 9.1 percent to $36.26, while Pharmasset soared 85 percent to $134.14. Gilead agreed to buy Pharmasset, betting that its experimental hepatitis C treatments will lead the next generation of therapies in a market that may reach $20 billion by 2020.
Cut Stakes
Jefferies Group Inc. rose 0.4 percent to $10.20, after losing 9.5 percent last week. The investment bank whose stock dropped in the wake of MF Global Holdings Ltd.'s bankruptcy, cut stakes in European debt again to fend off speculation about its financial strength.
Focus Media Holding Ltd. plummeted 39 percent to $15.43 after Muddy Waters LLC, the short-selling firm known for prompting Sino-Forest Corp.'s retreat, recommended betting against the digital advertising company.
Muddy Waters spurred a 74 percent drop in Sino-Forest between June and August after saying the timber owner overstated the value of its assets. Today's report said Focus Media has fewer television screens in its ad network than it says and may have overpaid for takeovers to mask losses.
Cut Bullish Bets
Barton Biggs, the hedge fund manager who reduced U.S. equity investments in September before the biggest monthly rally since 1991, cut bullish bets again on concern the odds of a U.S. recession have increased.
The Traxis Global Equity Macro Fund's net long position has been lowered to less than 40 percent, and may be reduced another 15 percentage points, Biggs said during an interview on Bloomberg Television "In the Loop" with Betty Liu today.
"It's a much more bearish environment than I anticipated," he said. "We are going to have a decline at least back to the lows of last summer. God forbid, maybe even testing the lows of 2008 and 2009." testing the lows of 2008 and 2009.''
The money manager's optimism on U.S. stocks has gyrated along with the market. He raised the Traxis Global fund's long equity position to 65 percent after slashing it to 40 percent in September, he said in an Oct. 17 interview. Biggs then boosted the figure to 80 percent, he said two weeks later.