New Zealand Readies to Vote as Polls Indicate Key Victory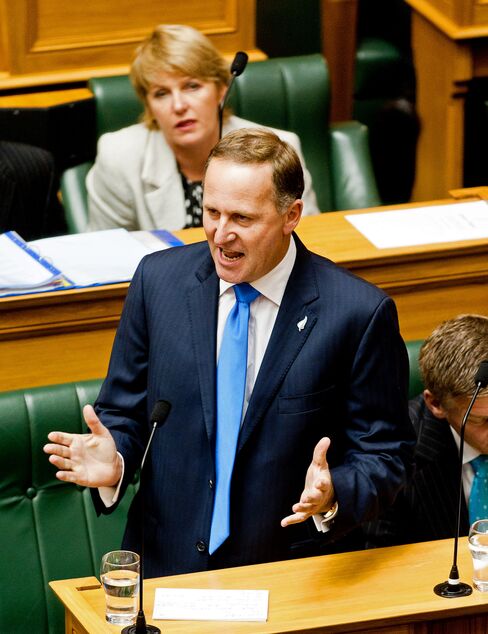 New Zealanders are preparing to vote for their next prime minister this week as John Key's National Party is projected to win a second term in government.
National received 53 percent support in a Roy Morgan poll of 857 voters taken Nov. 7-18, with the main opposition Labour Party backed by 24.5 percent. The government's rating was unchanged from a previous poll and would see National win more than half the seats in parliament for the first time since 1993 if reflected in the Nov. 26 vote, the pollster's website shows.
"There are a lot of New Zealanders saying the last three years were tough, but boy the next three years won't be a lot better internationally," Key, 50, said in a NewstalkZB radio interview today. "We do need stability and we do need a government that's not going to put us further in hock."
The poll results suggest a spat between Key and media last week had no effect on voters' opinion of the prime minister. Public support for Key, a former head of foreign-exchange trading at Merrill Lynch & Co., has hardly waned since he was elected in 2008, even as the country recovers from earthquakes, recession and its first credit rating downgrade in 13 years.
Key complained to authorities that a private conversation with ACT Party candidate John Banks was unlawfully recorded by a media worker. The Nov. 11 incident took place during a symbolic "cup of tea" event in an Auckland coffee shop to highlight Key's endorsement of a party that could be an ally in parliament.
MMP Referendum
New Zealand also votes Saturday on whether to keep its electoral process, which changed to a mixed member proportional system from first-past-the-post in the 1996 election. The MMP system requires governments to seek support from minor parties if they win less than half of the popular vote.
The Green Party was the most popular minority in the Roy Morgan poll, with 13 percent of support. Both the Maori and New Zealand First parties tied on 3 percent. Under MMP, if a party fails to win any electorates, it will still get parliamentary seats if backed by at least 5 percent of the public vote.
"There is a real possibility that despite us polling potentially a very large number, that the coalition of the unwilling on the other side come together," said Key, who plans to vote against MMP.
Policy Clash
Voters are hoping Key will steer the economy through the consequences of the euro-area debt crisis better than Labour leader Phil Goff, 58.
"We don't want an empty slogan -- 'building a brighter future'," Goff said in an interview yesterday on Television New Zealand. "We want to know how we're going to do that. We're going to do that by long-term policies."
Labour pledged a capital gains tax and income tax increases for the highest earners to help pay for spending plans, and rejected a government plan to sell as much as 49 percent of four state-owned energy companies.
If re-elected, Key plans to carry into a second three-year term his agenda to sell state assets, end budget deficits and create 150,000 jobs.
"Labour's proposition for New Zealanders is: 'We'll put more debt, more on the credit card, and we hope we'll work it all out'," Key said in a television interview yesterday.
Before it's here, it's on the Bloomberg Terminal.
LEARN MORE