New Cameco Bid Topping Rio Seen in Record Hathor Value: Real M&A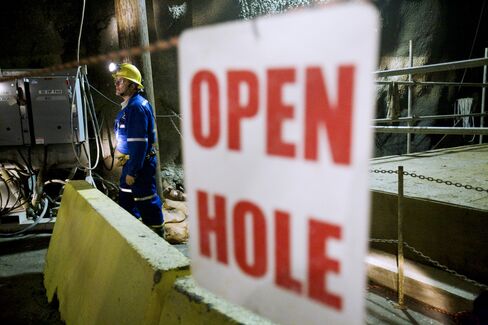 The future of nuclear power is so bright that the industry's richest takeover offer may still not be enough to let Rio Tinto Group win a bidding contest for Hathor Exploration Ltd.
Hathor, which owns a Canadian uranium deposit, climbed to C$5.06 last week after the world's third-largest mining company raised its deal price to C$4.70 a share. While the 65 percent premium that Rio agreed to pay topped Cameco Corp.'s hostile bid, arbitragers that pushed Hathor to an all-time high are now betting that Cameco will increase its offer for a second time, according to data compiled by Bloomberg.
Rio is vying with Cameco, the world's largest uranium producer, for control of Hathor's Roughrider deposit in northern Saskatchewan's Athabasca Basin as developing nations from China to India turn to nuclear power to meet energy demands in the world's fastest-growing economies. While uranium prices have yet to recover from a partial meltdown in Japan eight months ago that caused the worst atomic disaster since Chernobyl, Cameco may be willing to pay more to keep Rio from owning a deposit that is just 25 kilometers (16 miles) from its own operations, Mackie Research Capital Corp. and Dundee Securities said.
"This is like two bullies in a parking lot and guessing when they are going to stop fighting," Barry Allan, senior mining analyst at Mackie Research in Toronto, said in a telephone interview. "The chances of Cameco coming back with another offer are pretty high. It's become less about value and more about strategic significance. The world has recognized it's very difficult to live without nuclear energy."
Bidding Contest
Murray Lyons, a spokesman at Saskatoon, Saskatchewan-based Cameco, said he couldn't immediately comment on whether the company has considered making a counteroffer.
Representatives for London-based Rio didn't respond to telephone calls or e-mails seeking comment.
Hathor's board said in a statement on Nov. 17 that it supported Rio Tinto's increased offer and recommended shareholders tender their shares. Kelsea Murray, a spokeswoman for Hathor, said it declined to comment beyond the statement.
Last week, shares of Vancouver-based Hathor rose 7.7 percent above the price of its deal with Rio. Today, Hathor fell 0.8 percent to C$5.02 as of 11:07 a.m. in Toronto. Cameco slid 4 percent, while Rio declined 5.9 percent in London.
Rio's bid for Hathor began on Oct. 19, when it announced that Hathor agreed to sell itself for C$4.15 a share in cash. The C$578 million ($566 million) agreement surpassed a C$3.75-a-share unsolicited proposal that Cameco made in August, which Hathor said was "predatory."
Land Grab
After Hathor's board unanimously recommended investors accept Rio's offer, Cameco boosted its hostile bid to C$4.50 a share on Nov. 14. Three days later, Rio agreed to pay 20 cents more, topping Cameco for a second time.
The C$654 million agreement with Rio is 65 percent higher than Hathor's average price in the 20 days before Cameco announced its tender offer on Aug. 26. The premium would also be the biggest for any takeover worth at least $250 million in the non-ferrous metals industry, data compiled by Bloomberg show.
Buying Hathor would give Rio, a $104 billion global mining company with uranium mines in Australia and Namibia, a foothold in a region where Cameco has been exploring for decades.
Cameco, which says the Athabasca Basin is home to the world's richest high-grade uranium deposits, has seven major projects in the area and produced 22.8 million pounds (10.3 million kilograms) of uranium last year, its website said.
Fukushima Fallout
Hathor's Roughrider deposit, which is near Cameco's Rabbit Lake mill, may contain as much as 78 million pounds of uranium, according to Bart Jaworski, an analyst at Raymond James Financial Inc. in Vancouver.
"This is the only way that Rio can get into the basin," David Talbot, a Toronto-based analyst for Dundee Securities, said in a telephone interview. "It's in Cameco's best interest not to let Rio anywhere near the basin. For them to be in the Athabasca Basin means that Cameco down the road is going to have to pay up for its assets and pay up for its people. The balance of power will change."
Rio and Cameco are both betting demand for uranium will rebound as developing countries from China to India and Russia build more nuclear reactors to power their economic growth.
China has 14 reactors, 27 under construction and 51 more planned, according to the World Nuclear Association's website. India has six under construction and 17 planned, while Russia has 10 being built and 14 more in the lineup.
Triuranium Octoxide
Prices for the nuclear-reactor fuel plunged after the magnitude-9 earthquake and subsequent tsunami that struck Japan on March 11 knocked out power and disabled back-up generators at Tokyo Electric Power Co.'s Fukushima Dai-Ichi plant, leading to explosions and radiation leaks as cooling water boiled away.
Uranium's tradable form, U3O8, plummeted 27 percent in three days to $49.99 per pound before extending its decline to a low of $48.75 on Aug. 30. It has since advanced 7.7 percent to $52.50, according to data compiled by Bloomberg.
Prices may climb to $65 next year and $80 by 2014, when the shortfall of uranium supplies will start to worsen, according to a forecast published by Adam Schatzker, an analyst at RBC Capital Markets in Toronto.
"The bidding war indicates the significant value that industry insiders and experts see on uranium companies," Bruno del Ama, who runs the Global X Uranium ETF and oversees $1.3 billion as chief executive officer of Global X Management Co. in New York, said via telephone. "Nuclear demand will continue to be significant, driven primarily by significant buildup of nuclear reactors in emerging markets such as China."
'Toe-to-Toe'
Rio's financial wherewithal may dissuade Cameco from making another offer and disappoint traders that are betting on a higher bid, according to Peter Sorrentino, a senior fund manager at Huntington Asset Advisors in Cincinnati.
Rio had $8 billion in cash and short-term investments, about seven times more than Cameco's $1.15 billion, data compiled by Bloomberg show. Rio also dwarfs Cameco, which has a market value of $7.45 billion.
"I don't think Cameco's board is going to be foolish enough to go toe-to-toe with a big player like that," Sorrentino, whose firm oversees $14.5 billion, including shares of Rio and Cameco, said in a telephone interview. Cameco "can't afford to make a mistake of that magnitude. I can't see anybody wanting to play chicken on a deal like this," he said.
A joint bid may also be a possibility, according to Ben-Ari Elias, a New York-based analyst at Sterne Agee & Leach Inc. Working together would allow Rio to take advantage of Cameco's experience with Saskatchewan's geology, while Cameco could prolong the profitability of its nearby mill, he said.
Nimby Principle
Still, Cameco may ultimately feel pressured to increase its own bid to keep a larger competitor out of its own "backyard," according to Mackie Research's Allan.
"The offers keep increasing, so the question will come down to, how badly do they really want it?" John Kinsey, a Toronto-based fund manager for Caldwell Securities Ltd., which oversees C$1 billion, including shares of Cameco and Rio, said in a telephone interview. "For Cameco, having Hathor so close to their existing mine and mill at Rabbit Lake would be a good fit. So the ball is in their court once again."