Buffett Sees Investment Opportunities in Japan After Olympus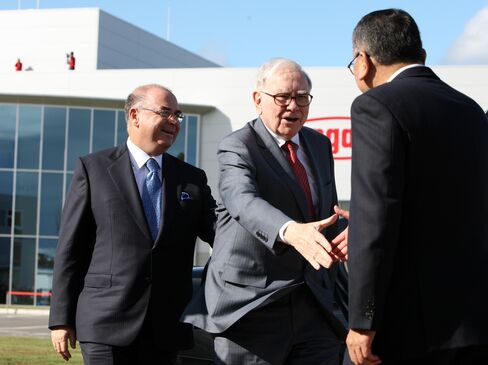 Billionaire investor Warren Buffett said he's unfazed by the recent scandal at Japanese camera maker Olympus Corp. and is looking for investment opportunities in the nation's companies.
"We're looking for companies that have some kind of sustainable competitive advantage," Buffett, chairman of Berkshire Hathaway Inc., said today at a news conference in Fukushima prefecture, northern Japan. "The fact that Olympus happens here or Enron happens in the U.S. doesn't affect our attitudes at all."
Buffett, chairman of Berkshire Hathaway Inc., is visiting Japan for the first time to tour a plant of tool maker Tungaloy Corp., after canceling his trip in March when the country was struck by a record earthquake. Olympus said this month that it concealed losses by paying inflated advisory fees, raising concern among investors about corporate governance in Asia's second-largest economy.
"There are lots of opportunities in Japan," Buffett, 81, said in Iwaki city, adding that the earthquake hasn't changed his view on investing in the country. He said he is interested in "businesses that will be around for many, many decades."
Iwaki is about 40 kilometers (25 miles) from the Fukushima Dai-Ichi nuclear plant that leaked radiation after it was crippled by the March 11 earthquake and tsunami. Buffett, who became the world's third-richest person through long-term value investing, said earlier this year that the disaster created a "buying opportunity."
'Means a Lot'
"The fact that a renowned investor like Mr. Buffett is actually coming all the way to Japan and to the very place that became the center of the disaster means a lot and may shine a light," said Shuhei Abe, president of Tokyo-based Sparx Group Co., Asia's second-biggest hedge fund. "There are expectations that Mr. Buffett may invest more in Japan."
Iscar Metalworking Cos., an Israeli company that was Berkshire's largest acquisition of a non-U.S. firm, in 2008 bought a 71.5 percent stake in Tungaloy, which makes tools for cars and planes.
Japan's stock benchmark Nikkei 225 Stock Average fell 0.3 percent today, extending losses to 18 percent this year. The gauge is set for the worst annual decline since 2008, as Europe's escalating debt crisis and a global economic slowdown roil markets worldwide. Buffett, who is also Berkshire's chief executive officer, has made bullish bets on the index through derivative contracts.
Costliest Natural Disaster
The earthquake and tsunami left more than 19,000 people dead or missing and led to an overall economic loss of $210 billion, making it the costliest natural catastrophe on record, Munich Re has said. Losses assumed by insurers, which Munich Re estimates at $30 billion, won't reach the $62.2 billion caused by Hurricane Katrina in 2005, it said.
"Buffett's investment is beautiful," said Yutaka Kobayashi, president of Star Mica Asset Management Co., a boutique Japanese private bank. "Looking at the way he invests in this current market, it may well be a good time to be buying. His style of long-term investment makes sense under the current market climate."
Buffett also said today that Europe will eventually emerge from a crisis that has been amplified by the inability of euro-zone members to print their own currency.
"One way or another, Europeans will solve their problems," he said at the briefing. "But in the process of solving them there already have been very important dislocations and they will have effects on individual countries" and banks in the region that need capital, he said.
Broadened Portfolio
Buffett broadened the portfolio of Omaha, Nebraska-based Berkshire this year as he built a stake of more than $10 billion in International Business Machines Corp., injected $5 billion into Bank of America Corp. and completed the acquisition of Lubrizol Corp. for about $9 billion. Last year, Berkshire spent $26.5 billion to acquire the 77.5 percent of railroad Burlington Northern Santa Fe Corp. it didn't already own.
Among Berkshire's Asian investments are stakes in Chinese carmaker BYD Co. and South Korea's Posco, the world's third-largest steelmaker. Iscar has invested in TaeguTec Ltd., a South Korean cutting-tools maker, and Berkshire announced a plan this year to enter India's insurance market by selling motor coverage as a corporate agent of Bajaj Allianz General Insurance.
Berkshire's insurance business posted a first-quarter underwriting loss of $1.28 billion pretax, compared with a profit of $345 million a year earlier. The Japan quake cost the firm about $1.1 billion. Buffett said at Berkshire's annual meeting on April 30 that the insurance industry had its second-worst quarter in terms of catastrophes worldwide.
Buffett has visited nations including South Korea, China, India, Italy, Germany, Spain and Switzerland since early 2008 scouting opportunities for Berkshire.
Before it's here, it's on the Bloomberg Terminal.
LEARN MORE