Ackermann Says Europe Needs 'Firewall' to Stop Crisis Contagion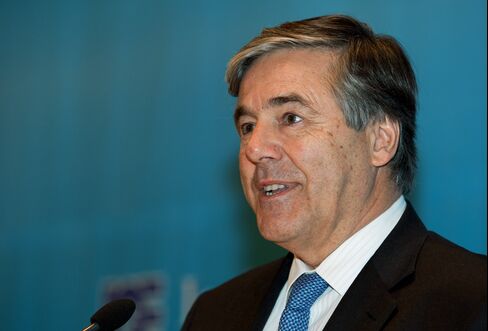 Deutsche Bank AG Chief Executive Officer Josef Ackermann said Europe needs a "firewall" to prevent its debt crisis from spreading and should increase the size of its rescue fund.
"We need the firewall to cope with the spillover effect, if it occurs," Ackermann, who also chairs the Institute of International Finance, said yesterday at a conference in Seoul held by the Asian Development Bank and the Institute for Global Economics. "The stability facility should be increased."
The failure of European leaders to end the debt crisis has revived a Franco-German dispute over the European Central Bank's role and fueled investor concerns over policy makers' economic impotence. German Chancellor Angela Merkel has rejected French calls to deploy the ECB as a crisis backstop.
French Finance Minister Francois Baroin said in a speech in Paris on Nov. 16 that "the best way to avoid contagion is to have a solid firewall" by using central bank support for Europe's 440 billion-euro ($595 billion) rescue fund.
The European Financial Stability Facility should be increased to 1 trillion to 2 trillion euros, Ackermann said, without explaining what he meant by "firewall."
Banks represented by the IIF reached an agreement on Oct. 26 in Brussels with European leaders to accept a 50 percent writedown in the face value of Greek government bond holdings as part of wider measures to tackle the sovereign debt crisis. The Greek deal was part of a European plan to cut the country's debt load, recapitalize banks and boost the region's rescue fund to 1 trillion euros.
System Deficiencies
European governments must make clear that the deal on Greece is an exception and won't be applied to other European countries because investor concern has worsened the situation, Ackermann, 63, said on Nov. 18. The financial crisis has exposed a number of deficiencies in the international monetary system, he said yesterday in his speech in Seoul.
"Lack of effective discipline to avoid imbalances, excess reserve accumulation, some exchange-rate misalignments" are among the faults, Ackermann said.
Global regulators are ordering banks to hold more capital to increase their financial strength while firms shed sovereign-debt holdings investors consider risky. Under rules written by regulators in Basel, banks will have to hold higher levels of capital and different definitions for determining the risk their portfolios carry.
'Less Profitable'
"The profitability of the sector as a whole will be reduced, and it will negatively impact the ability of the financial sector to support the growth of the real economy," Ackermann said. The results of regulation "will be a financial industry that is less profitable, less dynamic, and presumably less international," he said.
Ackermann last week abandoned a plan to become supervisory board chairman of Deutsche Bank, while repeating that he aims to step down as CEO at the end of May.
He said yesterday that he is confident about Italy's funding capacity.
"The household, private debt to GDP in Italy is only about 36 percent, so actually it's a wealthy country. Net assets to GDP is over 200 percent," he said. "So under the new government, I'm pretty confident, if they initiate the right measures, Italy will be able to raise funds again."
Deutsche Bank said its risks tied to Italian debt more than doubled in the third quarter as the Frankfurt-based bank stepped up market-making, more than offsetting risk reduction in other peripheral European nations, according to a statement on Oct. 25. The risks of Germany's biggest lender related to Italy surged to 2.25 billion euros as of Sept. 30 from 996 million euros in the prior three-month period, the statement showed.
Before it's here, it's on the Bloomberg Terminal.
LEARN MORE