Indian Investigators Raid Vodafone, Airtel in Spectrum Probe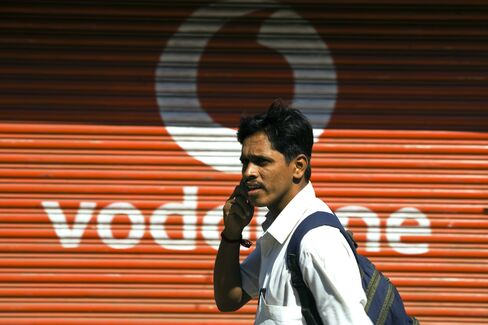 Indian investigators raided the offices of Vodafone India Ltd. and Bharti Airtel Ltd., two of the country's largest mobile-phone companies, in a widening probe into alleged irregularities in the sale of mobile-phone airwaves dating back to 2001.
The Central Bureau of Investigation registered a case against three phone companies and two government officials for alleged wrongdoing during the granting of additional second-generation spectrum, causing a loss of about 5.1 billion rupees ($100 million) during 2001-2007, it said on its website.
A deeper CBI investigation targeting the sale of phone licenses under the previous government may aid Prime Minister Manmohan Singh by blunting opposition parties' attacks over his failure to tackle corruption. Rival parties have channeled growing public anger at scandals, including allegations of graft in the 2008 sale of phone licenses, stalling parliament and disrupting the government's legislative agenda.
Spokesmen at Bharti Airtel, India's biggest mobile-phone company, and Vodafone India, a unit of Vodafone Group Plc, denied any wrongdoing. The bureau also searched residences of Shyamal Ghosh, the telecom secretary in the federal government during 2001-02, and J.R. Gupta, then director at state-owned telecom company Bharat Sanchar Nigam Ltd., according to Dharini Mishra, a spokeswoman at the bureau.
In 2007, Newbury, England-based Vodafone entered the Indian market when it bought a 67 percent stake in Hutchison Essar, Hutchison Whampoa Ltd.'s local unit and India's third-biggest mobile-phone carrier, for about $10.7 billion.
BJP Rule
Bharti shares fell 1.5 percent to 391.75 rupees as of 10.54 a.m. in Mumbai today. The benchmark BSE India Sensitive Index was down 1.1 percent.
The probe seeks information about possible malpractice in allocating spectrum during 2001-02 when Pramod Mahajan was the telecom minister under the National Democratic Alliance government led by the Bharatiya Janata Party, the main opposition to the current government, Mishra said. Mahajan has been excluded from the case since he is deceased, the bureau said.
"All our documents are in complete compliance with the governing laws and regulations," Suresh Rangarajan, spokesman at Vodafone, said in an e-mailed statement on Nov. 19. "Vodafone India is completely co-operating with the officials and will provide them all the required details as part of their checks."
'Criminal Conspiracy'
Bharti Airtel's spokesman Prem Subedi said the company secured all spectrum blocks as per the government policy.
"It has been alleged that the then-secretary in the ministry and another official entered into a criminal conspiracy with three beneficiary private companies and abused their official positions as public servants," the agency's statement said. "The public servants, with approval of the then minister of telecom took an alleged hurried decision on Jan. 31, 2002 to allocate additional spectrum beyond 6.2 megahertz in violation of the report of a technical committee."
In a separate probe, India's chief auditor said last year that former minister Andimuthu Raja in the Congress-led government and others conspired to grant licenses to unqualified companies for personal benefit, reducing state revenues by as much as $31 billion. The CBI put the loss at 220 billion rupees ($4.3 billion). Raja and others charged in the case have denied wrongdoing.
Investor Confidence
The scandal has weakened Prime Minister Manmohan Singh's government, lowered investor confidence in the economy, paralyzed legislation in parliament and sparked nationwide street protests.
The government is cracking down on corruption as it's under pressure from social activists and opposition parties to curb official graft and make a stronger anti-corruption law. The government may seek lawmakers' approval for such a law in its winter session from Nov. 22 to Dec. 21.
Before it's here, it's on the Bloomberg Terminal.
LEARN MORE