Warren Touts Fighting Wall Street in Senate Bid Versus Brown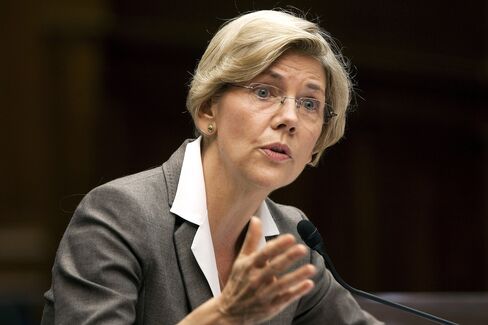 Republican Scott Brown tapped into anger with Washington to capture a U.S. Senate seat in 2010. Elizabeth Warren, a consumer advocate and Harvard law professor, is wagering on public disgust with Wall Street to help Democrats win it back in 2012
One year out, the race in Massachusetts is emerging as one of the nation's premier Senate contests, already featuring attack ads from both flanks, packed rallies, and a poll that shows Warren, a newcomer to electoral politics, close to Brown.
"I really, quite frankly, was not ready for the campaign in terms of getting my mind right," Brown said Nov. 11 at a fundraiser in Whitinsville where several dozen supporters crowded around him, sipping drinks in the living room of a supporter. "I'm laser-focused sharp right now."
A poll published Oct. 2 by the Boston Herald and University of Massachusetts at Lowell may have helped focus Brown's attention. It showed him ahead of Warren, 41 percent to 38 percent, with a survey error margin of 3.8 percentage points.
The campaign intensified last month after Warren claimed credit for the "intellectual foundation" of Occupy Wall Street, the loose associations of nationwide protests against the growing wealth gap in America.
Mayhem 'Matriarch'
Republicans quickly branded her the "matriarch of mayhem," and issue regular "incident reports" detailing "the antics of Professor Warren's intellectual offspring." Crossroads GPS, a group established with help from Karl Rove, a former political adviser to President George W. Bush, paid for ads assailing Warren for siding "with extreme left protests."
Warren, 62, responded with commercials that touted her humble origins and said "Wall Street and the big banks are crushing middle-class families." The League of Conservation Voters ran ads against Brown, 52, over his vote against closing oil-industry tax breaks, echoing the Democratic strategy of framing him as a Republican foot soldier.
The Massachusetts race offers Democrats -- defending 23 Senate seats next year versus 10 for Republicans -- one of their few chances for a pickup as they bid to maintain their chamber majority. Democrats also are itching to avenge a historic loss. In January 2010, Brown captured the seat vacated by the death of Democratic icon Edward Kennedy in a special election held amid voter outrage over the health-care overhaul President Barack Obama ultimately signed into law.
Warren's Entry
Brown seemed on track to easily win a full term in 2012 until Warren entered the race in September. Warren, who gained a national profile by fighting to create a new federal financial consumer-protection agency, is expected to win the Democratic nomination at a June convention or in a September primary.
Her challenge is to become better-known and win the trust of independent voters who swung the 2010 election to Brown, said Mary Anne Marsh, a Democratic consultant with the Boston-based Dewey Square Group.
"Nobody has had a better start to a campaign than Elizabeth Warren has had," Marsh said. "But she needs it to be a 12-month-race."
Brown's allies will try to vilify Warren before she can define herself with voters while cultivating his personality as, in the Massachusetts vernacular, a "regulah guy," other consultants say.
"Brown caught on in the final days and no one had time to catch him" in the 2010 vote, said David Guarino, a partner at the Boston consultant firm of Melwood Global. "He can't have that again."
Tea Party Reaction
One part of Brown's 2010 victory formula that may be missing next year is committed assistance from Tea Party activists. Key Brown votes, notably in favor of the 2010 overhaul of financial regulations that Warren championed, have left some of them unwilling to mobilize for him, said Carlos Hernandez, head of Massachusetts' North Shore Tea Party.
"We were on the ground for Brown, and then we got slapped in the face," Hernandez said.
Warren has been greeted by large crowds as she travels the state telling her story and recruiting volunteers.
At a meeting in a Boston gymnasium on Nov. 13, Warren shook about 1,000 hands and, in her speech to the crowd, depicted herself as a political neophyte.
'Fancy-Pants Professor'
The Oklahoma-born daughter of a carpet salesman and a mother who worked at a department store, she was nine months pregnant when she earned her law degree from Rutgers University in New Jersey. Two decades ago, she moved to Massachusetts to become what she called a "fancy-pants professor at Harvard."
She earned a standing ovation after saying, "I have only run one campaign: to get a Consumer Financial Protection Bureau."
Warren went to Washington in 2008 to head the congressional panel overseeing the bank bailout program and worked with Obama to create the consumer bureau, an idea she is credited with originating. The president nominated someone else in July to head the agency as it became clear Senate Republicans would block Warren's confirmation.
Warren is attracting support from some people who haven't worked in campaigns. "I never put a sign in my yard, never put a bumper sticker on my car," said Frank Iamelli, 59, a retired insurance executive, as he waited at the Boston rally to sign up with her campaign.
As Brown seeks to broaden his support in traditionally Democratic Massachusetts, he has focused on issues with statewide appeal.
Fishing Issue
He has pushed the federal government to alter fishing catch rules, garnering praise in coastal towns like Gloucester and New Bedford. He and Representative Barney Frank, a Massachusetts Democrat, called on Obama to fire Jane Lubchenco, the administrator of the National Oceanic and Atmospheric Association, which enforces rules on fishing stocks.
He also endorsed Richard Cordray, the former Ohio attorney general Obama nominated to run the consumer agency Warren set up. Other Senate Republicans have been blocking a confirmation vote on Cordray until changes are made in the agency's structure and funding.
Cemetery Visit
The Brown who can win next November, Republicans say, is the one who on Veteran's Day -- Nov. 11 -- visited a cemetery in the Boston suburb of West Roxbury, turned up the collar of his farm jacket and shook hands as the blustery sky threatened rain.
He unveiled a monument to service members, sponsored by the motorcycle group Rolling Thunder, after talking about his service in the National Guard.
"We're all Americans first, folks," Brown said, to murmurs of approval.
"I don't see anybody with a love of country like him," said Marie O'Donnell, 68, a retired fourth-grade school teacher.
Democrats like to refer to Brown as "Kentucky's third senator," a reference to his alleged fealty to Mitch McConnell, the Senate Republican minority leader, and Rand Paul, a Tea Party favorite, who both represent the Bluegrass State in the Senate.
"If Brown stands too tight with the Tea Party or the Republican leadership, he's in trouble," said Guarino, the Boston-based consultant.
John Walsh, the Massachusetts Democratic Party chairman, said Brown will suffer from the simple math of running in a general election. Walsh estimates that Brown won by 50 votes per precinct in the 2010 special vote. He estimates 135 Democrats per precinct who didn't vote then will cast ballots in a presidential election.
"If they come to the polls," Walsh said, "they will not vote for Scott Brown."
Nate Little, Massachusetts' Republican Party executive director, is betting that energized Democrats can't trump voters' trust in Brown. "That determines, to a great extent, who is going to win," Little said.