U.S. Stocks Fall as S&P 500 Completes Worst Week in Two Months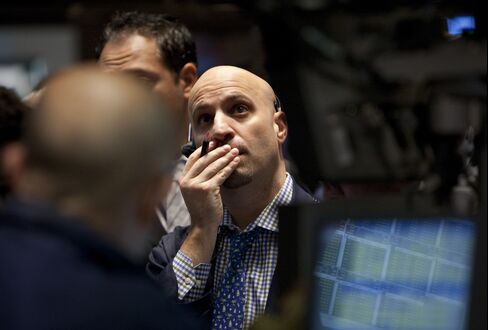 U.S. stocks fell, with the Standard & Poor's 500 Index completing its biggest weekly drop in two months, as a decline in technology and energy companies overshadowed optimism that the economy is accelerating.
Chevron Corp. and Halliburton Co. slumped at least 2.2 percent as oil fell for a second day. Salesforce.com Inc., the largest maker of online customer-management software, lost 10 percent as billings missed some estimates. Hewlett-Packard Co. rallied 2.6 percent after adding Relational Investors LLC's Ralph Whitworth to its board. Boeing Co. advanced 2.1 percent after winning a provisional order for 230 planes from Lion Air.
The S&P 500 fell less than 0.1 percent to 1,215.65 at 4 p.m. New York time after rising 0.6 percent earlier. It retreated 3.8 percent this week. The Dow Jones Industrial Average increased 25.43 points, or 0.2 percent, to 11,796.16.
"Until we have some sense of stability in Europe, the volatility will continue," Mark Bronzo, who helps manage $24 billion at Security Global Investors in Irvington, New York, said in an e-mail. "Better economic growth in the U.S. will provide support for the markets and potentially set the stage for a nice rally if and when Europe does stabilize."
The S&P 500 swung between gains and losses as investors watched developments in Europe. The Conference Board's index of U.S. leading indicators rose more than forecast, signaling the largest economy will keep growing in 2012. The U.S. economy may end 2011 expanding at its fastest pace in 18 months as analysts increase their forecasts for the fourth quarter.
Boosting Forecasts
Economists at JPMorgan Chase & Co. in New York now see gross domestic product rising 3 percent in the final quarter, up from a previous prediction of 2.5 percent. Macroeconomic Advisers in St. Louis increased its forecast to 3.2 percent from 2.9 percent at the start of November, while Morgan Stanley boosted its outlook to 3.5 percent from 3 percent.
"The next big catalyst for the stock market will probably be a growing appreciation that not only is the U.S. economy not recessing, but U.S. economic growth is actually accelerating," James Paulsen, who helps oversee about $333 billion as chief investment strategist at Minneapolis-based Wells Capital Management, said in an e-mail.
Stocks erased gains earlier as Deutsche Presse-Agentur reported that Germany's Foreign Ministry said the nation was considering the possibility of "orderly defaults" beyond Greece. The euro snapped a four-day slump as European Central Bank purchases pushed down Italian and Spanish bond yields and speculation grew that the International Monetary Fund may play a larger role in fighting the debt crisis.
Biggest Declines
Technology and energy shares had the biggest declines in the S&P 500 among 10 industries, falling at least 0.4 percent. Chevron decreased 2.2 percent to $97.88. Halliburton lost 2.9 percent to $35.96.
Salesforce.com tumbled 10 percent to $113.43. Billings rose 29 percent in the fiscal third quarter from a year earlier, said Pat Walravens, an analyst at JMP Securities LLC, who has an "outperform" rating on the shares. That missed his 33 percent growth estimate. The figure is seen as a benchmark of momentum at the company, whose shares had climbed more than 10 percent in the past six weeks before today.
Clearwire Corp. plunged 21 percent to $1.47 after the Wall Street Journal reported the unprofitable wholesale wireless carrier is evaluating whether to make a Dec. 1 debt payment, citing its chief executive officer. Susan Johnston, a Clearwire spokeswoman, declined to comment on the interest payment or the Wall Street Journal's story.
Ketchup Maker
H.J. Heinz Co. fell 3.3 percent to $51.07. The biggest ketchup maker affirmed its forecast for current fiscal year earnings of no more than $3.32 a share. Analysts on average estimated $3.34 a share, according to a Bloomberg survey.
Hewlett-Packard jumped 2.6 percent to $27.99. Whitworth, whose Relational Investors held about 17.5 million Hewlett-Packard shares as of Sept. 30, is joining the board's compensation committee and its finance and investment committee. The stock retreated 35 percent this year through yesterday.
"It's definitely a positive development," said Brian Marshall, an analyst at ISI Group in San Francisco. "The board needs help, and Ralph has the background to help them."
Boeing added 2.1 percent to $67.46. The order from Indonesian budget carrier Lion Air would be worth $21.7 billion at list prices, making it a record transaction for Boeing.
Fertilizer producers gained as Lazard Capital Markets initiated coverage of the industry with a bullish view, citing potentially higher prices in nitrogen and a possible rebound in potash. Mosaic Co. added 4.1 percent to $52.86 and CF Industries Holdings Inc. rose 2.4 percent to $151.68.
NYSE Euronext rose 1.9 percent to $27.08. The owner of the New York and Deutsche Boerse AG offered to sell overlapping derivatives businesses and give rivals some access to their clearing services to soothe European regulators' concerns over their proposed merger.
Before it's here, it's on the Bloomberg Terminal.
LEARN MORE